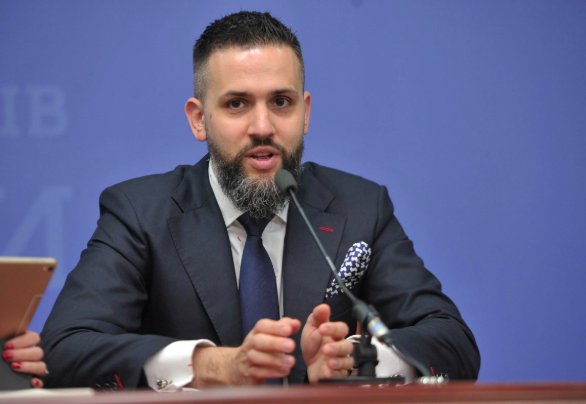 Thursday, June 27
Nefyodov: Clean up Man for Customs...Foreign Business Execs Complain of Corruption...Zelenskiy to Canada for Reform Conference...Starting Monday, Ukraine Bans Imports of Russian Cars, Fertilizers...Naftogaz to Tap Eurobond Market in July
Maxim Nefyodov, Ukraine's energetic 35-year-old deputy economy minister, has won a competition to head the new Customs Service, the Finance Ministry announced Wednesday. To cut corruption, the Cabinet of Ministers decided in March to cut the State Fiscal Service into two agencies: the Customs Service and the Tax Service. "Creating an efficient, transparent and corruption-free Customs Service is the top requirement that comes from honest businesses and a key condition for accelerating economic growth," the Finance Ministry says. "The Finance Ministry entrusts the new head of customs with an ambitious task — to create a European-style customs office in Ukraine."
The new Customs Service will be up and running by September, Nefydov tells Interfax-Ukraine. A former investment banking director at Dragon Capital, Nefydov helped to launch in 2016 the ProZorro electronic system of state procurements, a system that has won anti-corruption awards. Looking at the challenge of cleaning up Customs, he writes on Facebook:"I can't say I feel joy in my heart, but who, if not us, will break through this mountain?"
Concorde Capital's Alexander Paraschiy writes: "Ukrainian customs has the image as one of the most corrupted state bodies, with annual damages to the state from inefficient clearance estimated at several billions of dollars…Based on Nefyodov's performance in the economy ministry however, we see a new chance for positive changes in customs that could enormously benefit the Ukrainian economy."
Cleaning up customs was one of several complaints voiced by business leaders to William B. Taylor, the new acting US ambassador, at a discussion sponsored Wednesday by the US-Ukraine Business Council. Peter Kerekgyarto, Royal Dutch Shell Ukraine director, complained of shakedown attempts by inspectors looking for bribes – "fire safety, labor safety – always ending up in the courts." Michael Bleyzer, president of SigmaBleyzer, called for a "decentralized, merit-based, market economy [ending] the systemic corruption where civil servants milk this country for their own benefit."
Michalis Alexandrakis, Philip Morris Ukraine managing director, complained: "They are coming to us, asking for 34 million for this, 70 million for that, 100 million for this." John Hynansky, CEO and owner of Winner Group Ukraine, concluded: "All we need is rule of law.
Hiroshi Mikitani, founder and CEO of Japan's Rakuten e-commerce company, met with President Zelenskiy on Tuesday in Kyiv. Mikitani, the owner of the Viber messaging service, discussed his plans to expand Rakuten's office in Odesa and to open an office in Kyiv. Often referred to as 'the Amazon of Japan,' Rakuten owns Japan's largest e-commerce site, largest Internet bank and largest credit card company. After the meeting in Kyiv, Mikitani said of Zelenskiy's IT plan: "All government services in the smartphone are a very real prospect for Ukraine." Zelenskiy invited Mikitani, to join the National Investment Council, a group of 16 major multinational companies with investments in Ukraine.
President Zelenskiy will be in Toronto Monday through Wednesday, meeting with Prime Minister Justin Trudeau and participating in the annual Ukraine Reform Conference. The conference is to gather 300 international bank executives, foreign ministers civil society activists, and diaspora leaders, giving North Americans the first opportunity to size up the man who is to run Ukraine through May 2024. About 1.3 million Canadians – and a similar number of Americans — trace their ancestry to Ukraine.
As of Monday, Ukraine's bans imports from Russia of cars, fertilizer, cement and metal pipes. Covering $510 million worth of 2018 imports, the list constitutes the biggest expansion in three years of Ukraine's bans on imports from Russia. Ukraine drew up the new list of banned products on May 15 in response to trade bans announced in Russia in April. As of March 1, Ukraine will ban the import of used rail freight cars. With record grain harvests, Ukraine has a shortage of Soviet gauge rail cars.
Commodity trader ED&F Man Holdings Ltd. plans to sell underperforming sugar assets, a list expected to include a sugar beet-processing plant in Ukraine, reports Bloomberg. Sugar traders have struggled to make money after bumper crops in India and Thailand depressed prices and curbed volatility. After world sugar prices hit a 10-year low last August, many Ukrainian farmers cut their sugar beet plantings this spring. Ukraine is the world's 10th largest sugar producer.
Naftogaz will hold an investor roadshow in July to market a EUR-denominated bond of at least €500 million, Bloomberg reports. Dragon Capital calculates the potential yield of the bond at 8%, far better than the expected 11% yield of an aborted Eurobond launch last November. "Naftogaz needs to increase stocks in its underground reservoirs to at least 20 bcm from current 13 bcm to maintain sufficient pressure in the gas transit system if Russian flows are halted," Dragon writes. "Given the recent drop in gas prices in Europe, raising $1 billion would sufficiently cover Naftogaz's import needs."
The Finance Ministry continues to lower yields on hryvnia bonds and to sell longer maturities, analysts write of Tuesday's weekly auction.
Dragon Capital writes: "Demand for UAH bonds was expectedly strong yesterday (at UAH 8.5billion)…Strong demand for medium-term bonds points to significant foreign participation, but not necessarily inflows of fresh money, as some non-residents likely reinvested the proceeds from 3-month bonds maturing today…. With yesterday's auction, the 1H19 rollover rate on UAH bonds reached a solid 163% (vs. 93% in 1H18), for a net placement of UAH 50bn ($1.9bn), which owed almost entirely to foreign inflows."
Concorde Capital notes that UAH 4.4 billion – or almost 60% of the hryvnia auction receipts – were for six year bonds, with a weighted average interest rate of 15.85%. Eager for returns and confident in Ukraine's near term financial administration, investors accepted the Finance Ministry lowering interest rates on dollar bonds from one week to the next. The interest rate for one-year dollar-denominated bonds dropped to 7%, from 7.25% last week. Th yield on two year bonds dropped to 7.5%, from 7.75% last week.
Concorde's Evgeniya Akhtyrko writes: "Apparently, the relatively easy placement of seven-year international Eurobonds for €1 billion at 6.75% last week gave the government enough confidence to go further by lowering interest rates at the local debt market. Seeing that the government now has alternative sources of attracting debt, market participants had to accept the lower interest rates.
With Ukraine's new Road Fund filling up at the rate of $2 billion a year, managers of waterways and railways want a liberal interpretation of its mandate. In addition to building roads, the Road Fund could help repair shipping locks on the dams of the Dnipro cascade, argues the State Enterprise of Waterways. Similarly, Andriy Ryazantsev, Ukrzaliznytsia's business development director, says the Road Fund could pay for 15 new 10-car trains for the state railroad. In response, Ukravtodor, the state highway agency, says the purpose of the Road Fund is to build roads.
Note from the Editor: An eagle-eyed reader pounced on a big typo. Ukraine's last census was in 2001. The next one is to be in 2020. Best Jim Brooke jbrooke@ubn.news