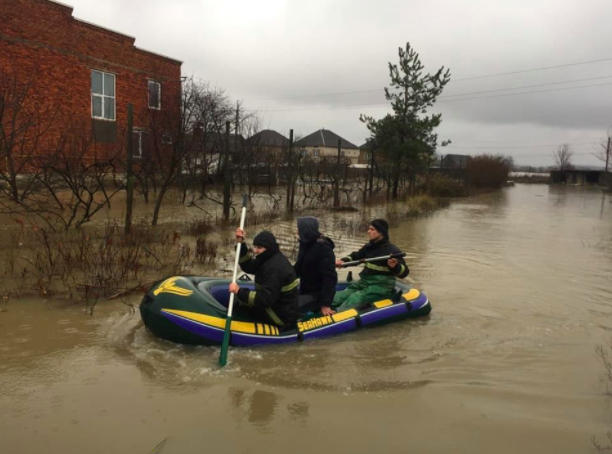 Thursday, June 25
Floods Cut off Carpathians...Too Much Rain, Not Too Much Logging, says Forest Agency...Dragon Buys 11th Warehouse...Office Real Estate Takes a Hit...EU May Open Up to Ukrainian Workers, not Tourists...Train Service Returns Today to Lviv...
The heaviest rains in over a decade have cut much of Western Ukraine's road and rail links to the Carpathians. River floods and mudslides have destroyed 90 bridges, 110 km of roads and long sections of river embankments. Ukravtodor, the state highway agency, reports that 130 more bridges are damaged and 427 km of roads are damaged.
More than 200 towns and villages were flooded in Ivano-Frankivsk, Lviv and Chernivtsi regions. After receiving almost one month's worth of rain in 48 hours — Tuesday and Wednesday — the Prut, the Dnestr and the Tisa rivers flooded. "The situation is critical," Prime Minister Shmyhal said after flying over the area. He promised $20 million in government aid.
Commercial logging has dropped by 20% over the last five years in the Carpathians and is not to blame for the floods, says Andriy Zablotsky, head of the State Forest Resources Agency. Logging last year was 3.3 million cubic meters. He asserts that illegal logging in the Carpathians, fell last year to 3,600 cubic meters, down from 12,000 cubic meters in 2016. Saying "the forest is not a dam for flood prevention and water retention," he said 2.8 billion cubic meters of rain fell on Ivano-Frankivsk region this week, 10 times more than the forest's retention capacity.
Britain's Earthsight NGO charges in a report that Swedish furniture retailer IKEA made folding chairs from 4,000 truckloads of beech wood illegally logged last year in Ukraine's Carpathian Mountains during a 10-week "silent period" when lynx and brown bears try to mate. In response, VGSM, successor company to Swedwood Ukraine, said it has not supplied wood for IKEA's Terje chairs in a decade and that it is legally permitted to log during the April to mid-June mating period in Zakarpattia's Velyky Bychkiv forest. In Stockholm, IKEA tells Reuters it will review its wood supply chain in Ukraine.
With the government's "Big Construction" program in full swing, Ukravtodor is working on 224 road sections, totaling 3,000 km in 23 regions. With a budget this year of $3.4 billion, the road construction plan envisages rebuilding 4,200 km by the October close of the construction season.
Dragon Capital has bought its 11th logistics facility in Ukraine, a pharmaceutical warehouse complex, 10 km west of Kyiv's Ring Road. The price was not disclosed for the 13,800 square meter Falbi complex bought at auction for the settlement of nonperforming loan from Ukreximbank. "Today, warehousing space accounts for almost half of our commercial real estate portfolio," Tomas Fiala, CEO of Dragon Capital, said of a portfolio with a total area of 335,000 sq. m. The Falbi complex is located in Svyatopetrivske, 13 km south of the Zhytomyr highway.
Commercial real estate "has suffered the greatest blow from the pandemic," the National Bank of Ukraine says in its latest Report on Financial Stability. Shopping center rents are 13% below the level of last June. Hardest hit is the office segment where vacancies have more than doubled, the volume of new offerings have dropped by 85%, and landlords started offering 20% discounts to new tenants.
The IMF has sharply downgraded its forecast for global economy's economic fall this year — to 4.9%, from 3% in April. A fall of 4.9% can be compared to the disappearance of Germany's economy, which accounts for 4.6% of global GDP. The IMF makes these new forecasts: US – 8%; Germany – 7.8%. India – 4.5%. and China +1%. "Good news about the [coronavirus] vaccine and treatment options, and additional political support can lead to a faster recovery in economic activity," the IMF says. "But…further waves of infection can reverse the growth."
When the EU reopens Wednesday for limited tourism, Ukraine may not be on the  "green list" of approved countries, reports eurointegration.com.ua. Approved countries have infection rates below the EU's rate of 16 cases per 100,000 people, recorded during the past two weeks. Ukraine's current rate is 26.6 per 100,000 – and rising.
Concorde Capital's Zenon Zawada writes: "Statistics are not apparent on how many Ukrainians will have access to the E.U. as of July 1 based on legitimate work visas, and how many have employment by accessing the E.U. with tourist visas. But we estimate the tourist visa share at no less than 50%."
Labor remittances, Ukraine's second largest foreign exchange earner after food exports, dropped 11.2% yoy in April, reports the National Bank of Ukraine. Last year's remittances of at least $12 billion represent almost 10% of GDP and are about six times foreign direct investment, according to a new European Commission report, The Impact of Labor Migration on the Ukrainian Economy.
Ukraine announced yesterday a record number of new Covid-19 infections – 940. The highest numbers of new cases were in: Lviv Region – 203; Rivne – 126; and Kyiv City – 99. With the increasing numbers, specialized hospitals are filling up. Health Minister Maksym Stepanov said yesterday in a televised briefing: "In some regions there is a sharp increase in the number of people who are hospitalized. In this regard, we need to open the second-line [hospitals]."
Stepanov said that Kyiv City and 13 regions do not meet the criteria for easing quarantine measures.
Locking down, Volyn region, on the Polish border, announced Monday on Facebook that it is re-imposing bans on shopping malls, fitness centers, large religious gatherings, inter-regional transport and indoor restaurant dining.
Opening up, Kyiv Mayor Vitaliy Klitschko said yesterday the city has authorized the re-opening of indoor dining in restaurants, swimming pools, and limited seating in cinemas and live theaters.
Today, Ukrzaliznytsia restores train service from Kyiv and Odesa to Lviv. It also re-starts 20 suburban trains the Lviv Railway region.  UZ's trains no longer offer food or water.
Ukraine's Foreign Ministry has posted an interactive, updatable online map that shows where in the world Ukrainians can and cannot go in the age of coronavirus. Pass your cursor over a country and a Ukrainian language list of restrictions and conditions appears. Although designed for Ukrainian nationals, some country restrictions may apply to residents of Ukraine or to anyone boarding a plane in Ukraine.
On the Move: Naftogaz has appointed Willem Koppuls, a 25-year veteran of Eastern European gas markets, as Director of the state energy company's new Commerce Division. Koppuls, a native of Holland, has worked in Ukraine and the region for Gaz de France, EDF, GDF SUEZ, ENGIE, reports Naftogaz. In April, Andriy Favorov director of integrated gas business at Naftogaz was let go and his division was split into Commerce and Exploration and Production. In May, Sanzhar Zharkeshov, from Kazakhstan, was appointed head of Exploration and Development.
From the Editor: The new EU report on Ukrainian labor migration spotlights an uncomfortable truth: the volume of money workers sent home last year was six times greater than foreign direct investment. Rather than regulate this labor flow, the government should get out of the way. Ideally, foreign investment will come as European multinationals seek to lessen their supply chain dependence on China. But, until that promised land arrives, work in Europe serves as a societal internship, exposing Ukrainians to such European niceties as not parking on sidewalks and living under the rule of law. With Best Regards Jim Brooke jbrooke@ubn.news