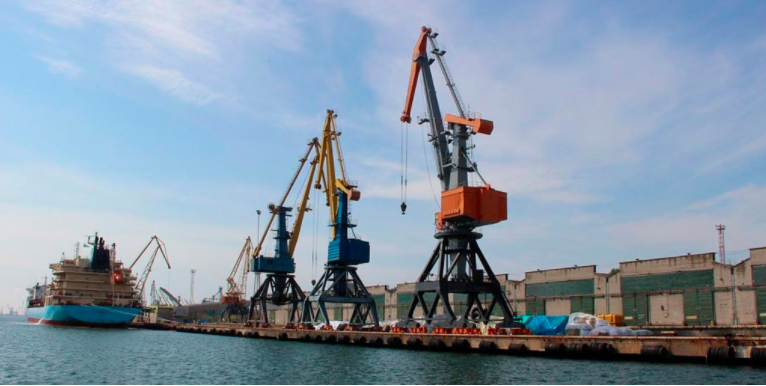 During the first five months of this year – the height of the corona lockdown – Ukraine's sea ports handled 11% more cargo than during January-May 2019.  Exports were up 10%, to 52 million tons. Imports were up 12%, to 10 million tons, reports the Sea Ports Authority. Grain accounted for 41% of exports. Iron ore was the most dynamic, jumping by 51% to 14 million tons. Five ports accounted for 91% of cargo: Pivdennii port +34% to 26 million tons; Mykolaiv -5% to 12.5 million tons; Odesa + 3% to 10.4 million tons; Chornomorsk – 3% to 10.3 million tons; and Mariupol +23% to 2.7 million tons.
New York-based Argentem Creek Partners LP is investing $75 million in Odesa's GN Terminals in a bid to push the Ukrainian grain handling and trading company into the nation's top 10 next year. Moving to strengthen corporate governance and transparency at the privately-owned company, Argentem has installed two independent board directors, Bohdan Chomiak and Oleksiy Pavlenko.
Eight grain silos with a total capacity 117,000 tons and an annual transshipment of 2.5 million tons a year will be built by Specialized Grain Terminal Chornomorsk LLC, reports Agro Portal. The complex for transportation, storage and transshipment will be capable of handling 1,000 tons of grain an hour.
Nibulon has inaugurated its 18th river reloading terminal, a $23 million, 16-silo complex in Mar'yans'ke, a right bank Dnipro river town in Dnipropetrovsk region. With equipment from Italy, Spain, Germany, and Great Britain, the terminal was partly funded by the EBRD and European Investment Bank. At the opening last Friday, Nibulon CEO Alexei Vadatursky said of his company's shipbuilding and river transport investments: "As a result, the rivers are working, and tens of thousands of trucks are not driving Ukrainian roads."
Rada approval of the government's Inland Water Transport bill would set the stage for quadrupling river cargo during the 2020s, to 45 million tons a year, Infrastructure Minister Vladyslav Krykliy promises on Facebook. Attending the Nibulon river terminal inauguration, Krykliy wrote: "1 million tons of cargo transported by the river saves about UAH 1 billion for 4 years on road repair." Last year, the Dnipro carried almost 12 billion tons of cargo. Parliament is expected to vote on the bill before going in July on its summer break.
Ukrainian Danube Shipping Company wants to raise up to €200 million by 2025 to modernize its Soviet-era cargo and passenger fleet, Oleksiy Khomiakov, acting board chairman of the Izmail-based company, tells Interfax-Ukraine. He said the state company is negotiating with institutional investors interested in buying modern, environmentally friendly barges, tugs and cruise ships. In recent years, Chinese companies have express interested in investing in the shipping company, which plies 2,000 km of Danube waters, from the Black Sea to southern Germany.
Nova Poshta Global is doubling its frequency of Kyiv-Beijing-Kyiv cargo flights to twice a week. "Now the Chinese direction is one of the most promising in international trade," the delivery company's press service reports. "In May, we delivered almost 2.5 times more orders from Chinese online stores than in April."
Containerized rail cargo is up by 17% yoy through May, reports Ukrzaliznytsia. With about 32 scheduled container trains now running, largely from the Black Sea ports, the state railroad moved 185,545 containers January through May.
After a delay due to the coronavirus pandemic, Kyiv's state-owned Dnipro Hotel is to be sold at auctioned July 15. Bids start at $3 million. The 12-story hotel overlooks European Square and the Dnipro River, and has 186 rooms, restaurants and conference halls. Among the requirements are to keep the name and to maintain hotel at four stars or higher, stipulates the State Property Fund.
Moody's has upgraded its credit assessments of six Ukrainian banks: PrivatBank, Oschadbank, Ukreximbank, Raiffeisen Bank Aval, Sberbank and Pivdenny Bank. The move comes after Moody's upgraded on Friday Ukraine's sovereign rating to B3. "Given that most Ukrainian banks have substantial reserves of domestic government bonds, their BCAs are limited by the country's sovereign rating," Moody's writes.
The IMF Stand-By program provides Ukraine the country with needed funding, but there is a risk of a serious slowdown of reforms, Fitch ratings agency writes Tuesday. "The key task facing the Zelenskiy administration is to renew its reform powers with potentially growing political costs," Fitch writes from London. "There is visible resistance to reform from interested circles, including oligarchs, and impressive fragmentation of the presidential party in the Rada and the rapid change of the Cabinet's key positions influenced the dynamics of reforms, weakened key laws such as agricultural land reform, and risk creating political uncertainty."
Almost 15 million Ukrainians – about half of the adult population – use 4G mobile services, reports the Digital Transformation Ministry. Another 12 million smartphone owners do not use the high speed service because they have not switched their SIM card to one that supports high-speed Internet. The switch is free.
Ukraine's broadband Internet ranks second in the world for a combination of speed and low price, according to study by British telecommunications resource Cable.co.uk. In the annual study, Ukraine is sandwiched between Syria (1) and Russia (3). For price, Ukraine has the fifth cheapest mobile Internet — 46 US cents per gigabyte. The four cheaper countries are: India – 9 cents per gigabyte; Israel – 11 cents; Kyrgyzstan – 21 cents; and Italy – 43 cents. The most expensive are British islands: St. Helena $52; Falklands – $40; and Bermuda – $29.
Record Covid-19 deaths and infections prompted the government yesterday to extend Ukraine's 'adaptive quarantine' to July 31. Yesterday morning, the Health Ministry gave the latest daily toll: 31 deaths – triple the historic average – and 758 new cases, double the rate of last month. Almost 5,000 new cases were diagnosed over the last week. Prime Minister Shmygal said. "We understand that people are tired of quarantine restrictions, but the coronavirus threat didn't disappear."  Under this kind of quarantine, each region can adjust restrictions according to the infection rate. After infection rates grew in Kyiv, the city re-imposed last week the ban on indoor dining.
Concorde Capital's Zenon Zawada writes: "With such disturbing data, we advise anyone doing business in Ukraine to prepare for the possibility that significant restrictions may be re-imposed in the coming days…Plans to allow Ukrainians to travel to the E.U. on July 1 may be derailed as well."
Ukraine started to reconnect air links with Europe yesterday. Kyiv's Sikorsky re-opened and Wizz Air sent flights to seven EU cities: Budapest, Copenhagen, Dortmund, London Luton and Memmingen Germany, and Talinn. Today, Wizz Air has one flight to Berlin and Belavia has two flights to Minsk. Flights to Poland and Italy have been postponed until July 1.
From Kyiv Boryspil, flights took off for seven foreign cities, largely special 'evacuation' flights. Today, flights leave for eight foreign cities. Through June 30, UIA is offering one time flights to and from these cities:  London Heathrow; Bangkok; New York; Istanbul; Amsterdam; Miami, Paris; Athens, Dubai; and Tel Aviv.
From the Editor: Covid is coming back. In Kyiv, we enjoyed restaurant dining indoors for only one week. Flights are offered, then cancelled. This summer, think local – and prepare to change  plans. With Best Regards Jim Brooke jbrooke@ubn.news