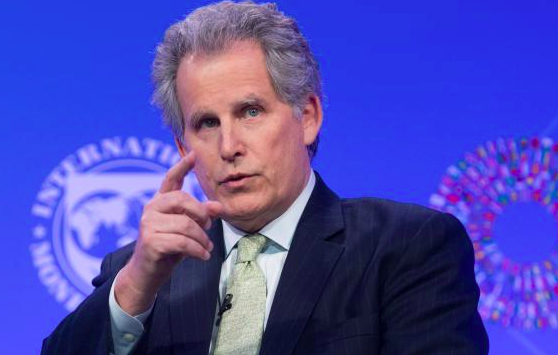 Thursday, July 4
IMF to Ukraine: Seize the Day!...$1 Billion Canadian Iron Mine Advances in Ze's Hometown...Canada Opens for Ukrainian Youth Work/Study Visas...Road Spending to Rise by One Third in 2020...Bloomberg: Buy Hryvnia Bonds...One-Quarter Million Used Car Imports Hit Ukraine's Roads Since Jan. 1
With a new President, and soon a new Rada, Ukraine has a unique chance to shift gears and to join the economic growth big leagues, David Lipton, IMF acting managing director, told a Toronto reform conference panel, "Ukraine: Sovereign, Safe and Prosperous." "If Ukraine wants to grow — not by 3%, but by 5-6% every year and catch up with the world — that's what it takes: Ukraine needs a new business model," said Lipton who first worked with Eastern Europe during the early 1990s transition from communism. Recalling his experience in Poland, he said: "There is no reason in the world why Ukraine cannot do it. The business model of Ukraine should be to supply goods, not people, to Europe. This can be achieved by working on creating such an environment in Ukraine where there would be investments, productive workplaces."
The near doubling of iron ore prices this year is attracting Asian investor interest in Black Iron, a $1 billion mining project billed by the Toronto company as the "Largest Ukraine-Canada Investment." While talks are underway for big funding for the Shymanivske project, Black Iron reports that two Asian engineerings, procurement and construction companies "might make a US$45 million equity investment — 10% of the total [phase one] project construction cost — in exchange for being awarded the construction contract."
Located in President Zelenskiy's hometown, Kryvyi Rih, the project has been slowed by neighboring mining companies who are not eager to have a massive new competitor. Believing in the future, Black Iron recently renewed its letter of intent with Ukzaliznytsia for a '3 billion tons km' contract – moving 10 million tons of iron ore a year, 300 km from Kryvyi Rih to Pivdenii (Yuzhne) port on the Black Sea.
Concorde Capital's Dmytro Khoroshun warns about today's $123 a ton iron ore price: "The currently-high iron ore prices, which Black Iron mentioned in its release as a factor that is attracting potential investors to its project, should also incentivize iron ore development projects worldwide, potentially resulting in overinvestment and supply surplus in a few years."
Work and study for young Ukrainians in Canada is to be eased by a new, simplified 1-year visa system to be put in place by next spring, President Zelenskiy said Wednesday at a joint press conference in Toronto with Prime Minister Justin Trudeau. Canada also invited Ukraine to join its "Trusted Traveler" program, a system to speed repeat visitors, largely business executives, through passport controls. During Zelenskiy's three-day visit to Canada, both leaders agreed to expand the two-year-old Canada-Ukraine Free Trade Agreement to cover services and investment. Zelenskiy said: "This means that Ukrainian IT specialists and entrepreneurs from different industries will be able to better cooperate with Canada without leaving Ukraine. This means more jobs."
Next year, the government plans to increase spending on road works by one third, to almost $3 billion, Prime Minister Groysman said Wednesday while inspecting a Chinese company's work on the 22 km highway bypass around Zhytomyr. In 2018, Ukraine established the Road Fund, funded by gas and diesel taxes paid at the pump. In 2018, funding was $1.5 billion. This year, it is $2 billion.
Whittling away at Ukraine's state property mountain, 197 'small privatization' auctions have earned the national treasury $10 million since the start of the year. With online sales now routine, another 104 properties nationwide are to go up for auction on the ProZorro site in coming months. Started one year ago, the program moves 'economically dead' state-owned properties – generally real estate – into private hands.
"Top Emerging Bond Manager Sees Payoff in Frontier Markets" headlines a Bloomberg story about Claudia Calich, a Singapore-based bond manager who says local realities make good investments of Ukrainian hryvnia bonds and Nigerian naira bonds. "[Zelenskiy] is appointing the right people to do the job and is committed to IMF reforms," says Calich who has beaten 93% of her peers in the past three years based on the performance of the $1 billion M&G (Lux) Emerging Markets Bond Fund. Calich's bet on hryvnia bonds earlier this year is paying off, Bloomberg reports. "In the dollar-bond segment, frontier-market debt are headed for their best performance in two years. They've handed investors a return of almost 14% this year, compared with a loss in 2018…The Ukrainian hryvnia is the fourth-best performing currency in the world against the dollar this year."
Demand for government hryvnia bonds remains strong. UAH10 billion in bids were placed Tuesday for UAH 8 billion in borrowings. Both were the highest levels in two months. Of sales, 44% were for longer-term bonds: UAH 2.4 billion of 2-year bonds at 17.94% per annum, and UAH 1.1billion of 3-year bonds at 16.93% per annum. The Finance Ministry auction was the first this year that did not offer foreign currency denominated bonds. Flush with cash, the Ministry says it will offer only one foreign currency local bond in July. For foreign investors — about 7% of the market — the year to date rollover rate on hryvnia bonds is 160%, for a net placement of UAH 51 billion, or $1.9 billion.
To double GDP growth rates to 5% and above, Ukraine needs "relentless improvement of the investment climate," Matteo Patrone, the EBRD's regional managing director, writes in the Kyiv Post. "The basic preconditions for this to happen are a stable macroeconomic environment, sound institutions that guarantee property rights and provide rule of law and an open competitive economy." He writes: "Only sound public institutions and professional public administration with high integrity, providing high-quality public services can guarantee private property rights and rule of law. That is why the EU and the EBRD have created the Ukrainian Reform Architecture, a holistic approach to public administration reform." But, he adds: "The anticorruption legislation is not enforced, anti-corruption institutions are still weak, lack capacity and there are significant efforts to undermine their independence and efficiency."
First-time registrations of imported used cars, hit 250,100 during the first half of this year, six times the number of the first half of last year. Lower import duties and a tax amnesty deadline boosted used car import numbers. But by June, when there was no tax amnesty, 19,200 used imported cars were registered, almost three times the 7,300 new imported cars registered. In June, cars over 10 years old accounted for 35% of the used imports, according to Ukravtoprom, the national car dealer association.
Editorial – Ahh, Kyiv's kooky courts. A day does not go by without a judgment seemingly dictated by the Mad Hatter. A bank is to be returned to owners who emptied it of $5 billion. A complaint about a flight that ever existed, by a 'passenger'  who never flew on an airplane, is enough for a small town judge to order the grounding of an airline that carries 200,000 passengers a month. Then, we learn today that a Kyiv judge suspended Ukrposhta's strategy of buying vans to provide mobile postal offices to dwindling rural populations. A politician panicked at the prospect of losing patronage power over appointing postmasters. Presumably, Kyiv judges vacation incognito, on faraway beaches, hiding under dark glasses and floppy hats. Best Jim Brooke jbrooke@ubn.news