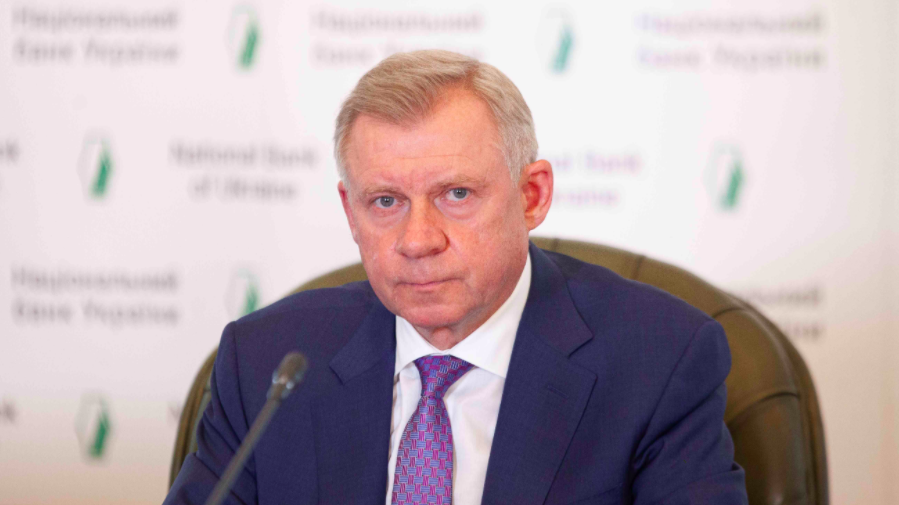 Thursday, July 2
Central Bank Chief Quits...Smoliy's Departure Could Hit $5 billion IMF Deal, Derail Sale of $1.7 billion Eurobonds...Dragon CEO Fiala: 'Last Straw'...Ze Says All Will Be OK...Rada to Vote Casino Bill Today...Crackdown Starts on Speeders and Drunk Drivers...Flights Re-Start to Turkey and Poland...
In a shock move, the head of Ukraine's central bank unexpectedly resigned last night, blaming "systematic political pressure" that "makes it impossible for me, as the Chairman, to effectively manage the National Bank." Today, a Rada committee is expected to review the resignation by Yakiv Smoliy. If accepted it would go to a full Rada vote tomorrow.
Running the central bank for the last three years, Smoliy is seen by foreign investors as an anchor for Ukraine's macro-economic stability. He and his team are largely credited with Ukraine's strong numbers: 2% inflation, $25 billion reserves, and a stable exchange rate through corona crisis. Over the last year, his team slashed Ukraine's prime interest rate by two thirds – from 18% to 6%.
The resignation could rattle the $5 billion IMF Standby Arrangement, approved only three weeks ago. On approval of the program, after nine months of negotiations, IMF Managing Director Kristalina Georgieva, made three calls for continued central bank independence in a 371-word statement. She wrote June 9: "The National Bank of Ukraine (NBU) has skillfully managed monetary policy during a very challenging period. Central Bank independence should be preserved." The IMF deal unlocks billions more in soft loans from the World Bank and the EU.
Timothy Ash emailed from London last night: "Macro stability is now under threat…There must now be huge question marks about the future of the IMF program. The Fund will want to see a credible replacement for Smoliy."
Tomas Fiala, CEO Dragon Capital, emailed the Kyiv Post: "We will put new investments on hold as the authorities have been doing for the last five months exactly the opposite from what investors, both domestic and international, expect from them and advise them. This is the last straw…One can only guess what are the motives, complete incompetence or Russian motivated sabotage."
The votes are probably in the Rada to accept the resignation. One faction of President Zelenskiy's party is loyal to Igor Kolomoisky, the oligarch fighting in courts to reverse nationalization of his former bank, PrivatBank. In 2016, the bank was bailed out with $5.5 billion in public money. Return of PrivatBank is a red line for the IMF. Pro-Russian TV stations, about half of Ukraine's media market, campaign against the IMF. In a nationwide poll completed two weeks ago for the Kyiv International Institute of Sociology, 61% of respondents said it is better not to cooperate with the IMF and to receive new loans. Since April, respondents in favor of working with the IMF dropped from 32% to 24%.
Zelenskiy issued a statement last night: "Ensuring the central bank's independence remains our priority." He said discussions about the central bank must be "professional."
Political pressure may have come to a head Tuesday when Smoliy vowed to fight the central bank Board to win renewal of the 7-year contract of his deputy, Oleh Churiy. Only six weeks ago, Smoliy told BBC Ukraine that he intended to stay until the end of his own seven-year contract. He said: "My tenure ends in 2025. That means that there's still time and there are a lot of tasks that we need to do."
Smoliy's resignation went public three hours after terms were announced for Ukraine's big return to the Eurobond market. Ukraine seeks to place $1.75 billion worth of 12.5 year bonds with an annual yield of 7.3%. Yesterday morning New York time, these terms were passed to Bloomberg as 'final.'  But investors may have second thoughts overnight. Goldman Sachs International and J.P.Morgan are the bookrunners.
Timothy Ash writes again from London last night: "Questions being asked whether this deal can be closed given the news of the resignation of the central bank Governor. Is this material news which should have been revealed to investors in the course of the marketing today?….The danger here for Ukraine is that investors will be sold bonds which could immediately trade down very significantly on this news. Some investors may decide to walk away prior to settlement."
A final bill legalizing gambling is to be passed today by the Rada, David Arakhamia, chair of the Servant of the People faction told reporters yesterday. Gambling is to be limited to hotels and to hotels. Licenses are expected to become a major source of revenue for the government.
Of the $2.4 billion Covid-19 Anti-Crisis Fund, 54%, or $1.3  billion has been allocated for road construction and maintenance, Prime Minister Shmyhal writes on Facebook. After a Cabinet of Ministers meeting yesterday, Infrastructure Minister Vladyslav Krikliy said: "This is an additional 1,459 km of public roads this year."
Kyiv's new tow trucks are towing illegally parked cars at the rate of 100 a day. From April through June, 9,065 cars were towed from central Kyiv, ringing up $185,000 in parking fines. For drivers who are slow learners, the traffic police are marking illegal spots: "A place for lovers of fines." Today, July 1, Ukraine introduces a tougher punishment for drivers for driving while intoxicated. In particular, for offending drivers, the amount of fines increases significantly.
Drunk driving now is a criminal offense in Ukraine. Starting yesterday, maximum fines for first time offenders tripled, to $1,275. Repeat offenders face a fine of $1,900 and loss of license for three years.
Speeding fines would increase 6-fold, to $130, under a bill that the government plans to submit to the Rada in September, Anton Gerashchenko, Deputy Internal Affairs Minister, told reporters yesterday. Last week, Ukraine's new speed cameras clocked 223 cases of cars moving faster than 170 kph (106 mph). The champion was a Mercedes Benz recorded traveling at 210 kph (130 mph) on the Kyiv-Kharkiv highway. The top repeat offender was the driver of a Mitsubishi Lancer. He was clocked 22 times in one week traveling at 170 kph in a 110 kph zone.
Flights resumed yesterday from Ukraine to Turkey and Poland. Ukrainian tourists can fly to Turkey without self-isolation and testing. On Tuesday, Poland's Council of Ministers announced that they will not follow the EU's ban on visitors from Ukraine. Yesterday, Wizz Air flew from Kyiv Sikorsky to Krakow, Warsaw and Wroclaw.
Polish farmers want Ukrainian workers to come back, Poland's Minister of Agriculture and Rural Development, Jan Krzysztof Ardanowski, told Ukraine's Ambassador to Poland, Andriy Deshchytsia, in a special meeting in Warsaw on Monday. The Minister said: "We want the citizens of Ukraine to come willingly to work in the agricultural and consumer sector of Poland, because the needs for are very high."
Wizz Air opened its new base in Lviv yesterday, stationing one Airbus A320 at the airport. Today, Wizz Air will fly from Lviv to five EU cities. Infrastructure Minister Vladyslav Krikliy said yesterday that Ukrainian tourists also can fly to:  Albania, Croatia, Egypt and Montenegro.
From the Editor:  In the Peanuts comic strip, Charlie Brown (think IMF), repeatedly charges up to a football teed up by Lucy (think Ukraine). As soon as Charlie commits, Lucy yanks the ball away. The last panel always shows trusting Charlie Brown lying flat on his back, staring at the clouds – a portrait of disillusionment. On June 9, the head of the IMF agreed to loan Ukraine $5 billion, saying clearly: 'Don't fire Smoliy'. On June 12, the IMF's first tranche of $2.1 billion dropped into Ukraine's accounts. Ka-ching! On July 1, Smoliy is pushed out, along with his deputy. In American shorthand, this is called: 'Lucy-and-the-football.' With Best Regards Jim Brooke jbrooke@ubn.news