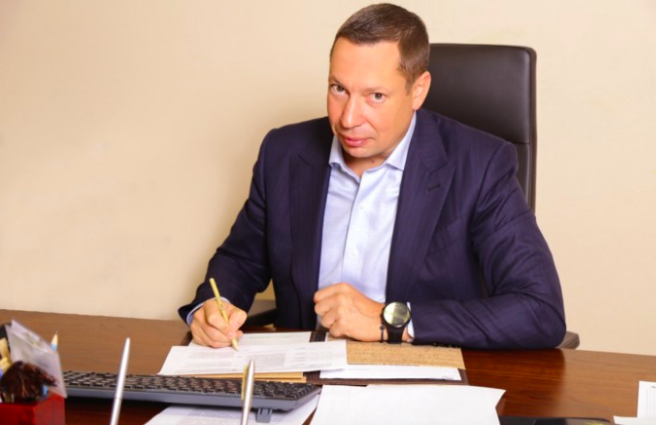 Thursday, July 16
Zelenskiy Nominates Ukrgasbank's Shevchenko to Head Central Bank...State-owned Dnipro Hotel Sells for 14 Times the Starting Auction Bid...Washington Prepares More Nord Stream 2 Sanctions...Forget About That European Vacation This Summer...
The Rada will debate this morning President Zelenskiy's nomination of Kyrylo Shevchenko, to be the next governor of National Bank of Ukraine. A lifelong banker in Kyiv, Shevchenko, aged 47, has run state-owned Ukrgasbank since 2014. At the bank, Shevchenko specialized in 'green' loans to solar and wind projects. Six months ago, the bank took a €30 million loan from the World Bank's International Finance Corporation, a step seen as preparing the bank for privatization during the Zelenskiy presidency.
UNIAN news agency describes Shevchenko as a state banker who would pursue two goals of President Zelenskiy – an expansionary monetary policy and closer relations with the President. Last fall, Shevchenko, criticized the central bank's monetary policy as too hawkish. Zelenskiy recently praised Ukrgasbank as the first bank to issue cheaper loans to small businesses under a government coronavirus remediation program.
The Rada is expected to approve Shevchenko. But it is unclear if he will have the character to stand up to oligarchs who want their bankrupt banks back. In face of pressure that included death threats, the last two governors resigned halfway through their 7-year terms. On Tuesday, Zelenskiy promised IMF Managing Director Kristalina Georgieva in a telephone conversation that he would appoint "an independent technocrat" to the central bank post. Georgieva made clear that central bank independence is a major condition for continuation of the $5 billion IMF agreement with Ukraine. Bloomberg headlined a story yesterday: "IMF Billions in Peril as Ukraine's Leader Boxes Himself In."
Kyiv's state-owned Dnipro Hotel was sold by online auction yesterday to a real estate company for $41 million – 14 times the starting bid of $3 million. With 29 investors participating in the ProZorro auction, interest in the 186-room hotel may have grown after the Rada approved Tuesday a law allowing casinos in hotels with 150 rooms or more. Inga Ioanno, spokesperson for the State Property Fund, told the Kyiv Post: "As of today, it is the best location and the hotel meets all the criteria of this law for opening a gambling hall."
Under state ownership, the Soviet-built hotel charged as little as $23 a night last year and recorded a $11,000 profit for 2019. "The hotel will get a second life – the hotel will function," predicted Dmitry Sennichenko, head of the State Property Fund, which is managing the privatization. Under the privatization rules, the auction winner, a little-known real estate real estate company called Smartland, has one month to prove that it will pay for the hotel with legitimate, non-Russian money. After the deal is finalized, in September, the new owner is to keep the name Dnipro, raise the quality to four stars, and retain the staff.
Zelenskiy and other government officials hailed the sale of the 12-story Dnipro as the start of Ukraine's "big" privatization – state companies worth over $10 million. "Big privatization has started!" Zelenskiy wrote on Facebook. "Privatization is a great way to attract investment in our country." He said that over the last year, 8,000 'small' privatization auctions has taken place, netting the treasury $100 million.  Prime Minister  Shmygal tweeted: "Ukraine has made first truly successful privatization agreement in many years."
The Hotel Ukraina, overlooking the Maidan, is to be the next state-owned hotel to go up for sale. First, government lawyers have to break several legal "poison pills" that make the property unattractive to outside investors. Sennichenko, of the state property fund, said that last year Ukraine's 3,000 state enterprises caused the government losses of $6.3 billion.
During the first half of this year, a period that includes the height of the coronavirus lockdown, Ukraine's exports of goods were down 6% yoy, and imports were down 12% yoy. The trade deficit shriveled to $305 million – 87% below last year's first half deficit of $3.5 billion. China fully eclipsed Russia as Ukraine's largest trading partner. Ukraine's top three export destinations were: China – 13%; Poland – 6%; and Russia – 6%. Ukraine's top three sources of imports were: China – 15%; Germany – 9%; and Russia – 9%.
With Gazprom moving to finish Nord Stream 2 gas line by the end of this year, Washington is preparing harsher sanctions in an effort to stop the project. "Get out now, or risk of the consequences," US Secretary of State Mike Pompeo, said Wednesday in a warning to Western companies that supply fuel, insurance, and pipeline certification services to the $11 billion Russia-Germany project. He described the twin pipelines under the Baltic as "the Kremlin's key tools to exploit this bad European dependence on Russian energy supplies, tools that undermine Ukraine by cutting off gas transiting that critical democracy."
On July 9, Denmark's Energy Agency approved that Gazprom's request to complete the last 120 km of the pipeline using Russia's anchor-stabilized pipelaying ship. The agency says that in that section of the Baltic there are no records of water burials of chemical weapons that could be disturbed by anchors. An additional 30 kilometers of pipeline in German waters remains to be built. According to The Wall Street Journal, a US Senate bill calls for sanctions against companies that provide certification, port facilities, tethering services or insurance to the project. The US House is discussing a similar measure.
The 26 nations of Europe's Schengen Area will remain closed to Ukrainians for "the nearest future," Ukraine's Foreign Minister Dmytro Kuleba tells segodnya.ua news site. The reason: Ukraine's new corona infection rate of 62 per 100,000 people is almost four times the EU average of 16.3 per 100,000. Yesterday, Hungary closed its borders to most Ukrainians. In advance, crowds of unmasked people formed Tuesday at land border crossings with Ukraine.
Ukraine will extend its COVID-19 quarantine at least until September, Health Minister Maksym Stepanov tells RBK-Ukraine. In Kyiv, measures could be kept in place until the end of next year, Oleh Ruban, head of the State Food and Beverage Service in Kyiv, tells RBK-Ukraine in a separate interview. He said three more seasons are needed for 80% of the population to be exposed to the virus, creating a collective immunity. On average, 62 people per 100,000 contract COVID-19 every day in Ukraine.
Due to high coronavirus levels in Israel and Ukraine, Ukraine will not permit the annual pilgrimage of 30,000 Hasidic Jews to Uman, Cherkasy. Normally, the pilgrimage would take place two months from now, in the days before the Sept. 18-20 Jewish New Year holiday. "In Uman, the [coronavirus] situation is under control," Uman Mayor Oleksander Tsebriy writes on Facebook. "But the arrival of a large number of foreigners from different countries could cause a coronavirus outbreak in our town."
Ukrzaliznytsia has resumed half of its pre-quarantine passenger train service, reports Ivan Yurik, acting chairman of the state railroad. Currently, UZ runs 65 long-distance trains and 700 suburban trains.
UIA currently uses eight of its 35 aircraft, Sergey Fomenko, UIA commercial director, tells the Center for Transportation Strategies. Of the fleet, six Boeings are in long term storage, the rest are based at Kyiv Boryspil. Sixteen are ready for immediate use, he said.
From the Editor: Located on European Square, the Dnipro Hotel is indeed a perfect location for a casino. With 56 parking places, gamblers can arrive by limousine. With the Maidan subway station nearby, they can go home by metro. With best regards, Jim Brooke