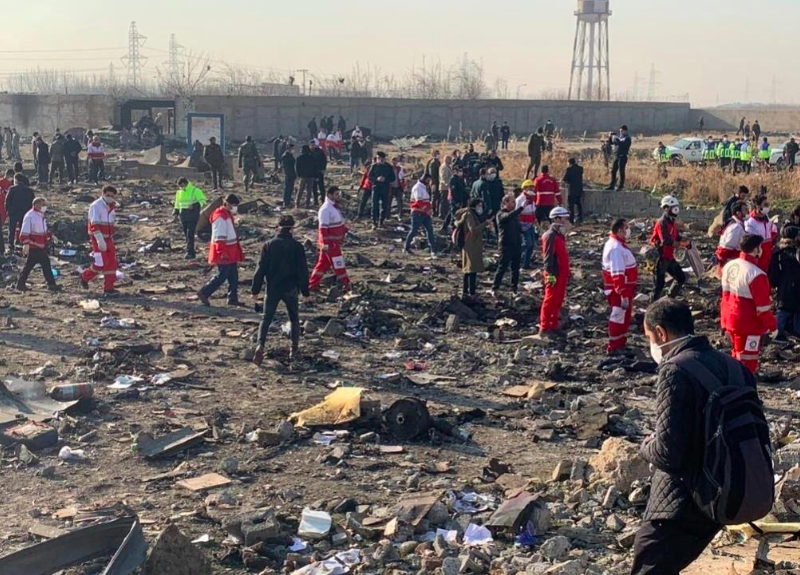 Thursday, January 9
Timeline Raises Suspicions About Iran Crash...New Plane, Experienced Crew Crash Hours After Iran Fires Missiles...UIA Flight Was to Hub Passengers Through Boryspil...Crash Comes as UIA Cuts, Discount Airlines Grow...Ukraine Air Travel Jumped by Almost 20% Last Year
Mystery surrounds the crash yesterday morning of the Ukraine International Airlines flight from Tehran to Kyiv Boryspil. In the first fatal accident in the 27-year-history of Ukraine's flag airline, all 176 onboard the Boeing 737-800 were killed. They were: 82 Iranians, 63 Canadians, 11 Ukrainians, 10 Swedes, 4 Afghans, 3 Germans, and 3 Britons.
The three-year-old jet went through routine maintenance on Monday. The 3-man Ukrainian crew had a total of 31,200 hours of flying time. A video believed to capture the doomed plane in its final seconds shows a flaming jet hurtling straight down to the ground. Control tower officials at Tehran's Imam Khomeini International Airport say they received no distress call from the plane's crew.
The timeline raises suspicions. All times Tehran time: 1:20 am: Iran fires 15 missiles across its border, toward US bases in Iraq. 4:00 am: US Federal Aviation Administration bans all US commercial planes from flying over Iran and Iraq; 4-6:12 am: International airline jets continue taking off from Tehran's Airport; 6:12 am UIA flight PS 752 takes off, after a one-hour delay; 6:14 am it stops automatic data transmission; 6:16 a.m. the flaming plane drops 1,400 meters, hitting the ground and exploding on impact.
With some Iranians tweeting about the possibility of a bomb or missile downing the passenger jet, Abolfazl Shekarchi, a spokesman for Iran's armed forces, said the crash was not a result of military action. "They are spreading propaganda that the Ukrainian flight was targeted," the Iranian news media quoted Mr. Shekarchi as saying. "This is ridiculous. Most of the passengers on this flight were our valued young Iranian men and women."
Ali Abedzadeh, head of Iran's Civil Aviation Organization, told Iran's the semiofficial Mehr News Agency that there was no sign of a technical malfunction. Although the jet's flight recorder has been recovered, he said: "We will not give the black box to the manufacturer and the Americans." He said he would work with Ukrainian investigators. Canadian Prime Minister Justin Trudeau said in a statement: "Our government will continue to work closely with its international partners to ensure that this crash is thoroughly investigated and that Canadians' questions are answered."
The fact that only two of the 167 passengers were Ukrainians, highlights UIA's strategy of using Boryspil as a hub for international flights. The Canadians were flying to Boryspil to catch an outbound UIA flight to Toronto. Under pressure from discount airlines, Ukraine's flag carrier has cut flights on highly competitive domestic and international routes and has raised the portion of its transit passengers to about half of the total.
Boosted by UIA's hub strategy, Boryspil accounted for 63% of the 22.6 million passengers who used Ukraine's airports through November. This passenger flow is 19% higher than during the first 11 months of 2018. But attesting to the fierce competition from foreign low-cost carriers, Ukrainian carriers only increased their passenger numbers by 10%. About 90% of all air passengers using Ukrainian airports fly internationally.
"UIA Keeps Axing Flight Program," headlined a company press release last fall about the end of flights to Amman, Bangkok, Beijing, Krakow, Minsk, and Riga. "To bring the business back to the profit zone, Ukraine International keeps optimizing its east- and westbound route network."
Faced with discount airline competition, UIA plans withdraw three medium-haul Boeing 737-800s by May and is considering giving up two more, reports Avianews. In addition, the airline decided last year not to take delivery of three Boeing 737 MAX 8 that was already painted in the airline's blue and gold colors. At last count, the airline has 35 Boeings.
While UIA, Ukraine's legacy carrier, retrenches, two discount airlines expand their fleets.
SkyUp plans to receive four additional Boeing 737s this year. In recent weeks, it received two new a Boeing 737-900 ER jets, increasing its fleet to 10. Raising its destinations from Kyiv Boryspil to 30, SkyUp plans to add this spring: Bari, Pisa, Lisbon, and Tirana
Betting on domestic traffic, Windrose plans to lease eight new ATR-72-600 aircraft through 2022. These 70-seat Franco-Italian turboprops would work well for one- and two-hour hops around Ukraine. Using its six Airbus jets, Windrose plans to add three Italian destinations this summer from Kyiv Boryspil: Andona, Brindisi, and Lamezia Terme.
Low-cost carriers should increase their share of Ukraine's market to 45% this year, and to 63% by 2024, says Infrastructure Minister Vladyslvav Krykliy. "We will do our best to make air travel as commonplace for Ukrainians as traveling by bus or rail," Kricli said Dec. 24, at a ceremony welcoming Boryspil's 15 millionth passenger for 2019. By 2024, the number of Ukrainians traveling by air should triple, to 32 million, he said.
To boost domestic aviation in Ukraine, a nation larger than France, Krykliy wants the Rada to abolish the value-added tax on domestic flights. "It looks kind of weird that there is no VAT on international transport, but there is a domestic one," he said.
Reviewing domestic and international growth prospects, IATA forecasts that over the next 20 years, the number of passengers flying out of Ukraine's airports will double, to 20 million departures. The International Air Transport Association, an airline trade association, writes: "This increased demand would support approximately US $2.7 billion of GDP and almost 210,000 jobs."
Air traffic at Lviv, the air gateway to Western Ukraine, jumped by 39% last year, to 2.2 million passengers. Indicating that planes flew fuller, the number of flights was up only 23% y-o-y in 2019. New direct flights scheduled for this year include Ryanair to Budapest and Poznan (Poland) on April 1; Wizz Air to Budapest on June 3; and Air Serbia to Belgrade in June. Ryanair aims to carry 350,000 passengers from Lviv this year. Recently, Azerbaijan low coster Buta Airways started flights to Baku and SkyUp started flights to Tel Aviv.
Registering the largest increase of Ukraine's largest airports, Kharkiv saw a 40% jump in passengers last year, to 1.3 million. With regular direct flights to 15 EU cities, Kharkiv is to see these new flights: Ryanair to Budapest on Jan. 16 and to Warsaw-Modlin on March 29; Wizz Air to Budapest on June 1.
Odesa boosted its passenger flow by 17% to almost 1.7 million people. The airport currently has flights to 22 foreign cities. After a decade of construction, the airport terminal fully opened last year. Airline operators now hope the slow-motion runway construction will be completed in 2020.
From the Editor: Skeptics will connect the dots on yesterday's UIA crash timeline and wonder if Ukraine faces another Malaysia Airlines Flight 17. Once again, Ukraine can be chastised – rightly or wrongly – for allowing commercial flights through a war zone. Once again, the controlling power at the crash site – Russia in 2014, Iran today – has strong political interests in stonewalling a real investigation. For the victims and their families, we need a serious, impartial inquiry. With best regards Jim Brooke jbrooke@ubn.news