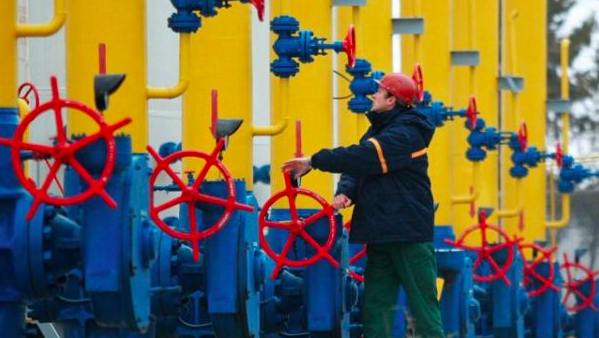 Thursday, January 2
Russian Gas Flows Across Ukraine Under New EU-Standard Contract...Deal Keeps Big Gas Pipe Going Through Ze Government...Biggest Russia-Ukraine Business Deal In Five Years Signals Thaw?...TurkStream Starts To Cut Ukraine Flows...PM Predicts Stronger Hryvnia in 2020...UZ's Kravtsov Quits
Russian gas is flowing across Ukraine to the EU today, thanks to a new 5-year contract, announced Tuesday, one day before the old, 10-year contract expired.
Here are highlights that emerged from five days of negotiations in Vienna:
Ukraine expects to earn a minimum of $7.2 billion in transit fees over the five-year deal, about half the rate of current earnings. "The guaranteed figure may grow, but not be less," says Naftogaz CEO Andriy Kobolyev. "From the point of view of the gas world – this is pretty decent." He declined to reveal the new transit tariff. Energy Minister Oleksiy Orzhel forecasts a bigger payback: "We will receive approximately $2-3 billion annually for transit over the next five years."
Russian gas transit volumes will hit 75 billion cubic meters this year, well over the 65 bcm contract minimum, calculates Kobolyev. This would be 17% below the 2019 figure of 90 bcm. He arrives at the figure by deducting 15 bcm expected to flow in 2020 through Russia's new TurkStream Ukraine bypass route. Kobolyev predicts Russia will not complete Nord Stream 2 this year. Ukraine received a $2.9 billion payment Friday from Gazprom for an arbitration settlement.
For 2021-2024, minimum guaranteed transit volumes are to be 40 bcm a year. After, the contract can be extended for another five years. Tens of thousands of Ukrainians work on the gas pipeline system. In 2020, it supplied 45% of the EU's imports of gas from Russia.
Ukraine could save money by buying Russian gas at regional market prices. The new deal "will become a significant factor in lowering the price of gas in [Ukraine's] market," predicts Prime Minister Honcharuk. Naftogaz noted "Gazprom's interest in the possibility of resuming gas supplies to Ukraine in the future, taking into account the principle of pricing gas based on the price of the European hub. The issue of [Russian] gas supply is not part of the package deal."
Russia's gas now flows across Ukraine under EU rules, under a contract with Ukraine's new, EU-certified Gas Transmission System Operator of Ukraine. Sergey Makogon, director-general of this state-owned company, wrote Wednesday morning on Facebook: "We have proven that we are able to work according to the new European rules."
Ukraine's new gas pipeline company signed an interconnection agreement with Slovakia's Eustream on Tuesday, completing a missing link for EU-standard agreements with all of Ukraine's neighbors, but Belarus. "All parts for gas transit along the Ukrainian route are now in place – Great news for Europe's energy security!" tweeted Maroš Šefčovič, a Slovak politician who was the EU's lead negotiator on the 3-way gas talks.
The EU-standard agreement with Slovakia, the largest recipient of Russian pipeline gas from Ukraine, allows for 'virtual reverse' of gas. Under such a swap arrangement, Russian gas does not physically travel back to Ukraine but is withdrawn along the route through Ukraine. On the western end, Ukraine compensates with supplies to Slovakia's gas hub.
President Zelenskiy hailed the deal, as ensuring Ukraine's "energy security and well-being." He wrote on Facebook: "Europe knows, we won't fail it in terms of energy security."
Reflecting on Russia's high-level commitment, the contract was signed Monday evening in St. Petersburg by Alexey Miller, Gazprom's CEO for the last two decades. Yuri Vitrenko, Naftogaz executive director, signed for Ukraine in Vienna. After signing, Miller described the agreements as a "big package deal that restored the balance of interests between the parties." Contract dispute are to be settled under Swedish law, Kobolyev said.
Russia's Prime Minister Dmitry Medvedev, an advocate of thawing Russia-Ukraine economic relations, wrote on his page on VKontakte: "The signing of these documents indicates that it is possible to discuss and reach an understanding even on the most difficult issues…Russian gas transit via Ukraine will continue on terms acceptable for all sides."
Revenue and international bonds will suffice to upgrade Ukraine's pipeline system, which was built by the Soviet Union in the 1970s and 1980s to send Western Siberian gas to Europe. "The financial income of the new GTS Operator, as well as its ability to attract credit, will be quite sufficient for its modernization," Kobolyev told reporters, dismissing any possibility of Russian investment. Of revenues, 90% will go the new pipeline company and 10% to Naftogaz.
Bulgaria has started receiving Russian gas through TurkStream, bypassing the traditionally Ukraine-Romania route, according to Vladimir Malinov, director-general of Bulgartransgaz, the state-owned gas transmission company. Bulgaria is to receive 2.9 bcm year on the pipeline for domestic needs and more for on passing to Northern Macedonia and Greece. Malinov estimates the company will save $45 million a year on lower transit fees and gas prices. Next Wednesday, Presidents Erdogan and Putin are to formally inaugurate the €11.4 billion, 930 km pipeline.
Prime Minister Honcharuk predicts the hryvnia will continue to strengthen in 2020. "We attribute this slight weakening of the hryvnia before the New Year to speculative demand," he said Monday on the Today show of Ukraine 24 TV. "Traditionally, before New Year, people change dollars, buy hryvnia, in order to buy gifts, or otherwise spend money." Last Thursday and Saturday, the National Bank of Ukraine bought $1.2 billion. This dollar purchase exercise succeeded in weakening the hryvnia by 2.6%, to 23.82 today
Real salary growth in 2020 will be 10%, the same level as 2019, predicts Tymofiy Milovanov, Minister of Economy, Trade and Agriculture Development. Referring to emigration, he writes on Facebook: "In sectors and regions where there is a strong demand for workers, people will return."
Ukrzaliznytsia's CEO Yevhen Kravtsov has resigned after five years at the state railroad, the last three in the top job. Widely respected for reforming UZ, Kravtsov, a former partner at Asters law firm, apparently fell victim to the Zelenskiy government's desire to put their own appointee in charge of a company that is Ukraine's largest employer. "Yevhen has played a key role in rescuing UZ from the troubles it was in two years ago and helped to establish Corporate Governance at UZ," Sevki Acuner, chairman of the Supervisory Board, writes in a note posted on the railroad's website.
Acuner cited "intense" criticism of UZ, saying that criticism should "not just aim to blame or destruct, and disregard areas of progress." Acuner wrote: "Thanks to Yevhen, his management team and the commitment of our employees, UZ is strong and well-positioned to shape and implement the transformation necessary in preparing for the new market and regulatory structures."
From the Editor: Ze zeal to throw out the old has cost UZ a performing reformer, Yevhen Kravtsov. Whoever follows him will confront the same problem: entrenched fiefdoms where regional rail barons take-home bags of money they would never see in the private sector. Living across the street from UZ's Southwestern HQ, I see on a daily basis the bowing and scraping that goes on as UZ fat cats come and go in their chauffeured cars. In the 1990s, my first cousin was second in command of Conrail, the largest freight carrier in NE United States. As I recall cousin Charlie went to work in Philadelphia by commuter train. With best regards for the New Year Jim Brooke jbrooke@ubn.news