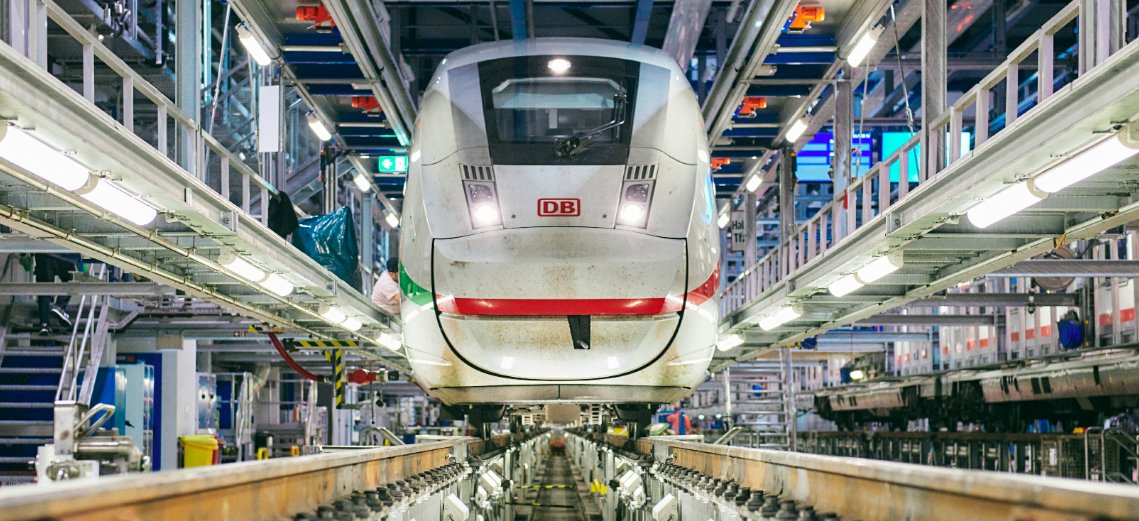 Germany's Deutsche Bahn is to work over the next decade with Ukrzaliznytsia, helping the state railroad to make "the transition to a European model of the railway transportation market," Prime Minister Honcharuk said Wednesday in Kyiv at the signing of a memorandum of cooperation between the two rail companies. By May 1, the two railroads are to write a road map for UZ's modernization. On Jan. 1, Deutsche Bahn and its subsidiary, DB Engineering & Consulting GmbH, are to move into a mixed consulting and management role.
"Deutsche Bahn will provide support in managing freight, passenger, infrastructure, provision of services and maintenance," Honcharuk wrote on Telegram. Ronald Pofalla, Deutsche Bahn's CEO for Infrastructure, said at the signing: "We are confident that our cooperation will be successful."
China's coronavirus epidemic will not impact Ukraine's grain sale to China, Ukrainian traders tell Reuters. "I see no reason to worry," says Mykola Gorbachev, president of the Ukrainian Grain Association traders' union. "There are difficulties inside China with logistics, with delivery to the regions, to consumers, but in general, the demand has not gone away." China imports 6% of Ukraine's grain exports and 7.5% of its sunoil exports, reports APK-Inform agriculture consultancy. In the last week of January, Ukraine exported 208,000 tons of corn to China.
Ukraine's foreign reserves hit $26.3 billion on Feb. 1, enough to cover four months of imports and the latest 7-year high, reports the National Bank of Ukraine. Last week, reserves were boosted by the foreign purchases of government hryvnia bonds and by the government's successful placement of a €1.25 billion Eurobond.
Weak demand stopped falling yields for hryvnia treasuries, with cut off rates stopping around 10%. With only $93 million in equivalent sold at Tuesday's weekly auction, cutoffs were: 6-month bonds: 10%; 16-month bonds: 10.10%; and 3-year bonds: 10.15%.
Concorde Capital's Evgeniya Akhtyrko wrote: "Auction receipts plunged from the impressive results of the other three auctions in January…We should wait for the results of two more auctions in order to conclude whether the interest of non-resident investors in Ukraine's local bond market is truly fading."
The pay of a Ukrainian cabinet minister is to be capped at five average salaries, or $30,000 a year, Prime Minister Goncharuk reports after a Cabinet of Ministers meeting. In addition, the government will ask Naftogaz' Supervisory Board to stop payouts on the multimillion dollar commissions promised for winning the big settlement against Gazprom.
Timothy Ash writes from London: "By so doing, he will ensure the government of Ukraine will fail to hire the best people, and government will remain wracked by corruption. If you don't pay government officials half decent salaries, the tendency will be to supplement their wages by creating lots of different side money making schemes. Zelensky either wants a 'professional' government — or he does not."
Some of the $2.9 billion windfall payment from Gazprom will pay for highway construction and energy efficiency, President Zelenskiy said in a review of the first five months of the government. He said: "We are planning to allocate additional funds for road construction – this is our infrastructure priority, for other infrastructure projects, for the medical sector and energy efficiency."
Sales of apartments and houses across Ukraine hit 301,029 in 2019, the highest level since 2007, reports Novoye Vremya, drawing on figures from Ukrainian Trade Guild, the real estate consulting company. According to UTG, buyers held off during the first half of 2019, awaiting the outcome of the elections.  By contrast, sales in Kyiv were down by one third, affected by the Ukrbud financial crisis and foreign currency holders waiting for the hryvnia to devalue, reports Novoye Vremya.
The average starting price for a new apartment in Kyiv increased by one third in 2019, to $1,245/square meter, compared to $931/square meter in 2018. City One Development reports that the average price of apartment sold was even higher — $1,468/square meter. Pulling up prices, about one quarter of all new apartment projects were launched in Kyiv's elite Pecherskyi district, where prices average $1,823/square meter.
The European Investment Bank may loan €300 million to Boryspil Airport to cover almost half of major renewal program: rebuilding one runway, modernizing baggage handling, and expanding Terminal D, the airport's busiest terminal. Handling 63% of all air passengers in Ukraine last year, Boryspil saw its passenger count grow by 21% to 15.3 million. Hobbled by public administration, Boryspil is chronically late on projects: 10 years to build a parking garage; two years to build a cargo terminal; and one year to build a duty free zone for Terminal F, the new discount carrier terminal. The Infrastructure Ministry is mulling putting the airport up for concession.
Ukrainians increasingly fly to EU countries, reports Ukraine's State Border Service. Last year, the number of passengers were up y-o-y as follows: Greece +46%; Czech Republic +38%; Germany +31%; Italy +26%; France +13%. For land crossings, almost as many Ukrainians visited tiny Hungary – 3.4 million – as visited big Russia – 3.9 million. With the hryvnia strong, tourism to sunny destinations was strong: Egypt +36%; Georgia +23%; Turkey +21%; to UAE +20%; and to Cyprus +15%.
Ukrainians now account for the largest nationality of foreigners caught staying illegally in the Czech Republic – about 20% of the 7,067 people deported last year. Last year, 1,456 Ukrainian were caught over staying the 90-visa free period – more than the total of next three countries – Moldova, Vietnam and Russia, reports Schengen Visa Info site. Ukrainians often work in construction and manufacturing, two Czech sectors suffering from severe labor shortages.
Starting next January, visa free visits to the EU will come with a €7 surcharge and one new permit, issued by ETIAS, or European Travel Information and Authorization System. Application is online and is to take 10 minutes. An ETIAS will be needed by all adults traveling to the Schengen Zone from 62 countries, including Ukraine, US, Israel, Japan and possibly Britain.
Japan's Rakuten owner of messaging app Viber, will open its second office in Ukraine – an R&D center in Kyiv. Viber currently has an office in Odesa, where 120 people work. Created a decade ago, Viber now is installed on 96% of Ukrainian smartphones, the company reports, citing a study by Kantar. In Ukraine, one third of users are aged 25-35. Overall, women account for 55% of users, men for 45%.
From the Editor: With Western Ukraine increasingly a first stop for foreign investors looking east, UkraineInvest now has a two person team stationed in Ivano Frankivsk: Olha Syvak and Andrii Pavliv. With Best Regards, Jim Brooke jbrooke@ubn.news