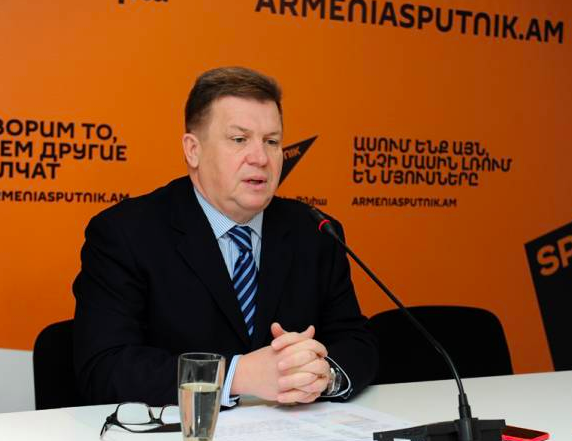 Thursday, February 27
Russia Appoints First Trade Rep. for Ukraine Since 2012….PrivatBank Chief Claims "Hybird War" Against Bank…Ericsson to Provide Consulting on 5G….Ukrainians Still much Poorer than Neighbors….PM Orders Tax Official Purge….UkrPoshta Resumes Service to China….IT Exports up, Industrial Production down.
Russia appoints a new trade representative to Ukraine, a position vacant since 2012, reports Interfax-UA. Andrei Babko, a career trade officer previously based in Armenia, will become Moscow's business pointman in Kyiv. Last year, China edged out Russia as Ukraine's largest trading partner, which has historically been one of the country's most valuable export markets.
PrivatBank Chief Petr Krumphanzl says there is a "hybrid war" being waged against the bank's key management, in comments to the FT. Krumphanzl says he faces six "spurious" criminal investigations as active investigations into PrivatBank by multiple law enforcement agencies continue. The IMF has agreed a $5.5 billion loan for Ukraine contingent on the government's safeguarding of the 2016 bank clean-up. He told the FT "If the rhetoric changes and the IMF's position becomes negative, then many of these investors will actually start to withdraw the money that they already put in the country."
Sweden's Ericsson will provide consulting on 5G infrastructure development for the government, announces the Ministry of Digital Transformation. Last year China's Huawei won a tender for the modernization of the national 2G network and for the construction of a 4G network in Kyiv's metro.
Ukrainians have significantly less purchasing power than Russians, Belarussians, and Poles, according to a 2019 IMF measure of per capita income adjusted for real purchasing power in national currencies, reports European Truth.
Ukraine already meets the IMF's preconditions for an expanded three-year funding program, central bank chief Dmitry Sologub told UNIAN. "During the meeting with the Fund's representatives at the NBU, we discussed common issues: economic growth, inflation dynamics, monetary policy, and the state of the banking system. The IMF has no questions at all about us: the National Bank is achieving its monetary policy goals," he said.
Prime Minister Honcharuk instructs new tax chief Sergei Solodchenko to purge regional officials to eliminate corruption in State Fiscal Service once and for all. "We agreed that in the coming weeks, absolutely all regional heads will be replaced in order to combat the shadow economy… In the coming weeks we will seriously complicate the lives of people who are engaged in [tax evasion] – this is a serious problem for the Ukrainian economy, " he said.
The Cabinet of Ministers lifts ban on private companies participating in the space industry. "The lifting of the ban on space activities by private enterprises will increase the number of jobs and will contribute to the development of high-tech industry," said Deputy Minister of Economy Svetlana Panaiotidi.
The spread of Coronavirus will have little impact on the Ukrainian economy, says Timofey Milovanov, Minister of Economic Development, Trade and Agriculture. "There may be negative scenarios where the coronavirus spreads rapidly in other countries … Then it will greatly affect travel and tourism, but tourism generates a small percentage [of GDP], so there will be no significant impact on the Ukrainian economy." Markets around the world have already been hammered by the impact of the virus on China's supply chains. "[Chinese products] can be replaced by goods from other countries of Asia or Europe. That is, we do not expect significant problems for our value chains, rather, imports will rise in price, which is good for the economy," he claimed.
UkrPoshta resumes package deliveries to China, General Director Igor Smilyansky writes on Facebook. "From now on, after only a week, UkrPost has resumed sending packages to China. It is grateful to our international department for hard work, and to partners and the Chinese Embassy in Ukraine for their assistance."
Over ten countries have placed a temporarily ban Ukrainian poultry products due to the spread of bird flu, MHP says. They include Moldova, China, Japan, Korea, Azerbaijan, Armenia, Iraq, the Philippines, Morocco, Tunisia, Singapore, Kuwait, and Saudi Arabia. "Ukraine has introduced an active surveillance program that should show the absence of infection and restore the status of a prosperous country in terms of product safety. The enterprises of the MHP group fully control the quality of products. We hope that European institutions and our partner countries will soon reconsider their decision in favor of Ukraine," the company said.
Capital investments in Ukraine's agriculture sector decreased by 16% in 2019, reports the Ukrainian Club of Agrarian Business. "The decrease in capital investment in 2019 was caused by two key factors: the revaluation of the hryvnia and the expectations of the opening of the land market," said the club's press service.
IT exports continue to grow. In 2019 exports grew by 30.2% to $4.17 billion, slightly faster than in 2018.
Overall industrial production was down 5.1% year-over-year last month, reports the State Statistics Service.
Ukraine's Regional Development Fund will spend $300 million to support local oblast-level projects in 2020, Prime Minister Honcharuk said on Telegram. Among approved projects are highways, rural roads, and bridges. Zelenskiy's team has vowed to build 4,000 km of roads under the Great Road Construction program starting March 1.
Ukraine will impose a 50% "anti-dumping duty" on some Russian steel products for 5 years, reports the Interagency Commission on International Trade.
Audits reveal irregularities in 51% of tax inspection cases in January, the State Tax Service reports. The most common violation was under-the-table employment. Numerous studies suggest the shadow economy makes up nearly half of Ukraine's GDP, one of the highest figures globally.
The Ministry of Internal Affairs of Ukraine will deepen cooperation with the American Chamber of Commerce, specifically in intellectual property protection and countering fraud. "We must clearly understand that there are no "saints" among law enforcement or investors. Therefore, there must be a constructive dialogue and clear cooperation between us," Interior Minister Avakov said.
From Editor: Dear Readers, Ukraine Business News are published in four languages English, Russian, German and Ukrainian. Best Regards James Brooke jbrooke@ubn.news