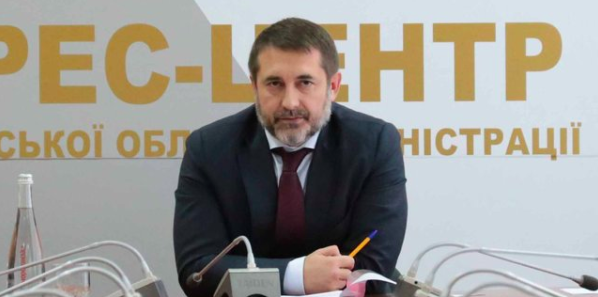 Thursday, February 20
Investments Flow into Kyiv-Controlled Donbas...Italy's Richest Man Buys Ukraine's Largest Eyeglasses Retailer...From Quarantine to Containers: German Company Invests to Transform a Historic Odesa Wharf into Ukraine's Largest Container Terminal
France will invest €100 million to upgrade infrastructure in government-controlled Luhansk Region, Governor Sergei Gaidai reports after a 'very constructive' meeting in Kyiv with French Ambassador Etienne de Poncins. France will pay for train tracks to connect Ukraine's national network with Lantrativka-Kindrashivska-Nova line. This 225 km line runs from a northern border with Russia to a southern border with Russia. At present, Luhansk's nine easternmost districts are cut off from Ukraine's rail system. French aid will also go to electrifying much of the Luhansk rail network and for cleaning drinking water.
As part of a wider program to restore normal services to the government-controlled half of the Donbas, Ukraliznytsia returned passenger trains last month to a stretch of track that runs near the Donetsk front line. For the first time since 2014, trains are running on the Fenolna (Novhorodske)-Skotuvata line. Workers repaired shelling damage to Skotuvata station. For passenger security, video cameras and a safety fence were installed.
China is preparing to invest $600 million in a five-year project to nearly double the capacity of Donbasenergo's coal-fired power plant in Slaviansk, Donetsk Region. The addition of 660 MW is needed because Donbasenergo's other power plant, Starobesheve, 170 km to the south, is in Russia-controlled Donetsk. Under an investment agreement signed with Dongfang Electric International Corporation the total project cost is to be $684 million. To go ahead with the project, China expects Ukraine to provide state guarantees for $600 million, Liu Jun, Chinese embassy trade adviser, tells Interfax-Ukraine.
Rinat Akhmetov, the Donetsk native who is now Ukraine's richest man, is gaining favor with President Zelenskiy, balancing the influence of Ihor Kolomoisky, reports The Financial Times. "Mr. Akhmetov is indispensable if Mr. Zelenskiy is to solve one of Ukraine's most intractable problems — the still smoldering war with Russian-backed separatists in the east," writes Roman Olearchyk. "Mr. Akhmetov's ability to offer thousands of people job security — or put them out of work — makes him a key to a peaceful settlement. Mr. Akhmetov 'would have to be part' of any Donbas peace agreement, a western diplomat said."
In the 2020s, drivers in eastern Ukraine increasingly will travel over roads paved with fly ash and metallurgical slag. Under a Cabinet of Ministers decree, "On the Use of Industrial Wastes in Road Construction, published Wednesday, contractors building roads in Donetsk, Dnepropetrovsk, Kirovohrad, Luhansk, Mykolaiv and Zaporizhia regions should use cement mixes containing at least 10% of fly ash or slag. In general, Ukraine uses half as much industrial waste in road construction as comparable countries, reports the Center for Transportation Strategies.
Franco-Italian holding EssilorLuxottica, the world's largest manufacturer and retailer of eyeglasses and lenses, has bought Ukraine's Luxoptica, Ukraine's largest retailer of glasses and lenses. The ultimate owner of Essilor is Leonardo Del Vecchio, Italy's richest man, assessed by Forbes to have a net worth of $25.8 billion. The sales price for the 176-store Ukrainian chain was not revealed. Since taking his company public in 1990, Del Vecchio has made a series of purchases, including LensCrafters, Ray-Ban, Sunglass Hut, and Oakley. One of his sons, Claudio, owns and manages the New York-based clothing retailer Brooks Brothers.
Germany's Hamburg Ports Consulting delivered four Liebherr rubber tire gantry cranes to its Container Terminal Odesa last week, a key part of a 5-year, €30 million investment project. Visible from Odesa's Potemkin Steps, the terminal, historically known as Quarantine Harbor, is Ukraine's busiest container terminal. Last year, it accounted for almost 40% of the 1 million containers handled by Ukraine's Black Sea ports. The company is building capacity to handle 1 million containers a year. Already, 400 refrigerated containers can be plugged in simultaneously.
Fresh from awarding a 35-year management concession of Olvia port to Qatar's QTerminals, Infrastructure Minister Vladyslav Krykliy traveled to Doha to say that new port concessions are coming this year for terminals in Berdyansk, Mariupol and Odesa ports and for the airports of Chernivtsi, Kherson, Lviv, and Zaporizhia. "Almost all strategically important projects are aimed at realizing Ukraine's transit potential," he told the Qatar Maritime & Logistics Summit 2020. "Our favorite right now is infrastructure concession…We guarantee the transparency of all competitions and the equality of participants, and we will be glad to see Qatari companies as winners."
Digitalization has the potential to cut corruption, to cut red tape and to make Ukraine more attractive to young people, Anatoly Motkin, president of StrategEast, writes in "Ukraine in a Smartphone: Zelenskiy's Dream."  "[This campaign] may well be the most effective way to speed Ukraine along in its ambitious transformation away from the corruption and dysfunction of the post-Soviet era," he writes in an essay posted by the Atlantic Council. He writes that blockchain could render land registries tamper proof, digitalized health records will improve health care delivery, on line voting will raise voter turnouts among young people, and digital IDs will cut phantom workers from state payrolls. He concludes: "Digitalization has the potential to become an unrivaled tool for change."
Now under private ownership, the fabled Kharkiv Tractor Plant is undergoing a $10 million modernization, installing American, German and Japanese equipment. Five years ago, Oleksandr Yaroslavsky, president of DCH, Kharkiv's largest business group, bought the tractor company which was on the verge of collapse. The factory opened in 1931, building Soviet versions of International Harvester tractors, partly to replace horses slaughtered by Ukrainian peasants resisting collectivization.
A 2,000 square meter mountain hotel has been auctioned off for $710,000 – 27% of the initial asking price. Built for National Bank of Ukraine employees to vacation in the Carpathian resort town of Yaremche, Ivano-Frankivsk Oblast, the Prykarpattia hotel is complete, but for a 200-meter sewage hookup. Relieved to see qualified buyers participate last month in the third auction attempt, Taras Yaleyko, deputy chairman of the State Property Fund, writes on Facebook: "Soon, we hope this property will become one of the attractions of Yaremche."
Boryspil airport opens a new business lounge next week. Located on two floors of Terminal D, the 800 square meter lounge has seating for 230, a meeting room, and a play area for children.
UIA plans to start flights between Kyiv Boryspil and Jeddah, Saudi Arabia in late May. The 7-hour flight to the Red Sea port city comes as UIA shifts planes away from destinations that require flights around countries banned for Ukrainian planes – Russia, Iraq and Iran.
From the Editor:  Ukraine, Western countries and now China are starting to funnel investments into Kyiv-controlled Donbas. Sooner rather than later, this side of the line will have an appeal denied only by the most obtuse. Think West Germany-East Germany. With Best Regards, Jim Brooke jbrooke@ubn.news