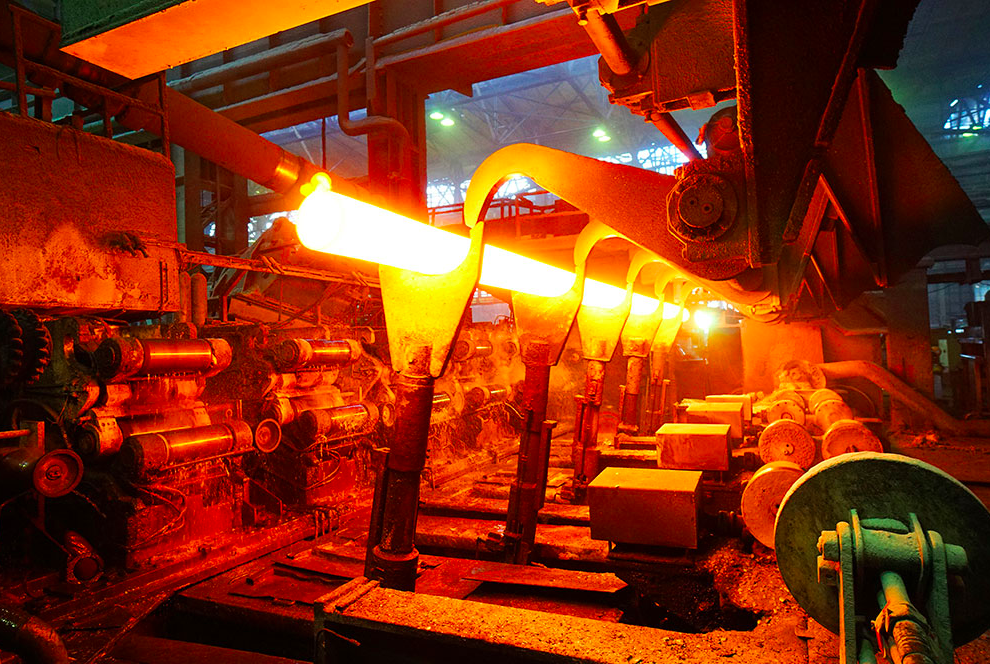 Thursday, February 18
Strong Iron and Steel Prices Boost Metinvest Capex…China's Stranglehold on Rare Earths Gives Ukraine Big Mining Opportunities…Japan, Canada FTA Action…State Railroad Plans WiFi For Intercity Trains…Black Sea to Baltic Rail Corridor Takes Shape
Metinvest, Ukraine's largest private company, plans to increase its capital expenditures this year by about 25% yoy, to $800-850 million, Oleksandr Lyubarev, corporate finance and treasury director, said Tuesday in an analyst call on the company's 2020 results. Thanks to strong steel prices, the integrated mining and steel conglomerate starts this year with a cash pile of $826 million. Metinvest's EBITDA in 2020 increased by 74% YoY to $1.8bln. While mining was little changed, at $1.1 billion, metals contributed an extra $900 million, compared to 2019.
Dragon Capital writes: "Metinvest's 2020 results were expectedly strong thanks to a surge in iron ore and steel prices in 2H20…During the call, management sounded optimistic about the prospects for 2021, with both iron ore and steel prices remaining strong."
With China accounting for 80% of rare-earth imports into the U.S., Ukraine could benefit from Washington's growing nervousness about supplies, mining experts say. Rare earths are essential for production of goods ranging from smart phones to fighter jets. "China is exploring whether it can hurt U.S. defense contractors by limiting supplies of rare-earth minerals that are critical to the industry," the Financial Times reported Tuesday. Chinese rare earth producers told the FT that Chinese government officials had asked them how badly US and EU companies would be affected if China restricts rare-earth exports during bilateral disputes. Earlier, Bloomberg outlined the threat in a lengthy report: "How China Overpowered the U.S. to Win the Battle for Rare Earths."
Mining World.com argues that Ukrainian miners focus on the easy pickings: vast deposits of high quality iron ore. "Ukraine is developing its raw material potential one-sidedly," reports the website. "A limited range of minerals used in the coal–iron ore –steel chain. The industry still has untapped reserves of rare-earth materials left intact."
"Ukraine harbors significant reserves of non-ferrous and rare-earth metals including unique deposits of beryllium, zirconium, tantalum, and a complex of phosphoric rare-earth and rare-metal ores," reports MiningWorld.com. "Ukraine's confirmed reserves of lithium are the largest in Europe. The country also has a real opportunity to enter the global market with pure and ultra-pure metals such as gallium, indium, thallium, lead, and tin…Ukraine just needs to harness its mineral resources to thrive. For this to happen, new technologies and large investments are needed."
"Deposits of less-common metals and rare-earth group are of special value," reads the World Data Center's National Atlas of Ukraine. "Geologists have [mapped the] Perha deposit of beryllium in Zhytomyr Oblast, large Azov deposit of rare-earth group in Donetsk Oblast, Polokhivka and Stankuvate deposits of lithium in Kirovohrad Oblast."
A Japan-Ukraine free trade pact and cooperation between the Japan Space Agency and Dnipro's Pivdenne Design Bureau are on the horizon for the 2020s, Serhiy Korsunsky, Ukraine's Ambassador to Japan said Tuesday at a Kyiv forum on bilateral relations. "There have already been several dozen such meetings – this is the beginning of negotiations on a free trade agreement," said Korsunsky, who arrived in Tokyo last fall. He said work is advanced on updating a Soviet-era convention on avoiding double taxation, Ukrinform reports.
Canada and Ukraine plan to start talks this year to expand the 2017 Canada-Ukraine Free Trade Agreement to cover services and investments, Ukraine's Foreign Ministry reports. On Tuesday, Marc Garneau, Canada's new Foreign Minister, had an extensive telephone call with Dmytro Kuleba, Ukraine's Foreign Minister, to review the bilateral relationship.
The Biden Administration "is reviewing US policy" toward Nord Stream 2, while letting a deadline for more sanctions to pass on Tuesday, The Wall Street Journal reported yesterday from Washington. With US policy on the $11 billion Russia-Germany natural gas line apparently in flux, several US representatives wrote a letter yesterday to Secretary of State Antony Blinken demanding a briefing. The bipartisan letter warns: "If completed, Nord Stream 2 would enable the Putin regime to further weaponize Russia's energy resources to exert political pressure throughout Europe."
Timothy Ash writes of compromise solutions aired in the last two days: "These are not solutions but rather "sell outs" when viewed from Ukrainian perspective, which would bring the pipeline on stream. Surely the Biden team, which was supposedly going to be tough on Russia, are not going to sell Ukraine down the river or the tube at the first opportunity?"
With train passenger rider volumes at half the levels of one year ago, Ukrzaliznytsia plans to lay off 30,000 workers, about 11% of the 260,000 total, Vadim Bubnyak, chairman of the Trade Union of Railway Workers and Transport Builders of Ukraine, told reporters Tuesday. Yesterday, employees of the state railroad staged a protest in front of the Cabinet of Ministers.
Aiming to introduce Wi-Fi Internet on all intercity trains, Ukrzaliznytsia plans to launch a pilot project shortly on one of the most popular routes – Kyiv-Kharkiv-Kyiv, announces Volodymyr Reznik, the railroad's IT Director. "Intercity + trains are often used as offices on wheels, so in these trains it is first of all important to ensure high-quality Internet access," he says. "If this project is successful, we will introduce Wi-Fi in all trains, ensuring uninterrupted communication throughout the journey of trains through Ukraine."
Offering Ukraine as a transport corridor for shipment of goods between Turkey and Sweden, Ukrzaliznytsia has proposed specific routes, Edwin Berzins, head of the railroad's Liski terminal in Kyiv, told web conference co-sponsored with the Polish port of Gdansk: "Creating a new corridor between the Baltic and Black Seas." He said last week: "We have proposed an exact calculated route — Turkey-Ukraine-Poland — together with partners in this project."
Poland's PKP Cargo wants to develop a border terminal at Medyk as a transit point for Europe's East-West trade with China. Located three kilometers west of Lviv oblast, the Polish terminal has two parallel sets of tracks: EU gauge and the wider gauger of the former Soviet Union. "The company can reload containers that should appear in the near future, thanks to new intermodal lines from China through Ukraine," Witold Strobel, a PKP board member, tells the Center for Transportation Strategies.
China surpassed the U.S. last year as the EU's top trading partner, Eurostat, the EU's statistical office, reported Monday. "In 2020, China was the EU's main partner," the agency reported. "This result was due to an increase in imports (+ 5.6%) and exports (+ 2.2%)." The EU's trade deficit with China rose to $219 billion last year, from $199 billion in 2019. With more and more cargo moving by rail, Belarus and Ukraine are competing to win this transit traffic.
Editor's Note: The mineral wealth of the Ukrainian Shield has been down there for about 3.4 billion years. Maybe it is time to dig up some of the rare earths, starting with lithium. The EU's car fleet is going electric before our eyes. Yesterday, Ford Motor Co. announced that all its cars made in Europe by 2030 will be electric. On Monday, Italvolt announced that it plans to invest €4 billion euros to build a lithium ion battery plant in Italy that will employ 4,000. In December, Italvolt's sister start-up, Britishvolt, announced that it has selected a site in northeast England to build a £2.6 billion lithium ion battery factory that will employ 3,000. In Poland, LG Chem Wroclaw Energy, is building a €1.5 billion lithium ion battery factory that is to employ 6,000 by the end of next year. Ukraine has Europe's largest proven lithium deposits in Europe. Why not mine the lithium and build the batteries here? With Best Regards Jim Brooke