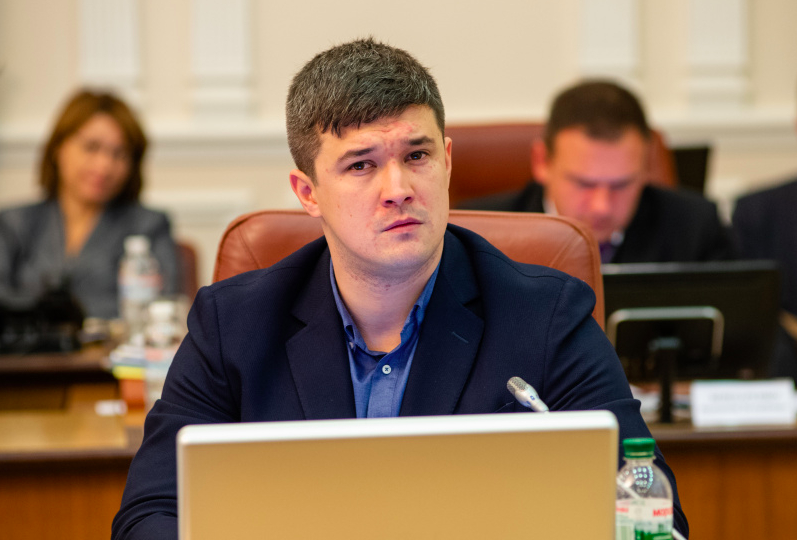 Thursday, December 5
E-Services for Foreigners…New Customs Service Starts Sunday…Ukrainian Honey Heads to China…UkrPoshta will Deliver Pensions…Ukrgasbank Financing for Zaporizhia's New Airport Terminal…Govt. Hires Deloitte & Touche to Audit Naftogaz…New Loans for SMEs…Tracking Timber
Some e-services will be available for foreign citizens, according to Alexander Bornyakov, Ukraine's Deputy Minister for Digital Transformation. Speaking at the 2019 Ukrainian Wealth Management Forum in Kyiv, Bornyakov said that his team is working on creating new services such as e-residency and banking from abroad, which could be used by repatriates and foreign entrepreneurs. President Zelenskiy has promised to deliver "the state in a smartphone" which is aimed at digitizing all critical state services. Earlier this year, the president noted that Ukraine lags behind much of the rest of the ex=USSR n the development of e-governance.
The new Customs Service starts Sunday, according to a Cabinet of Minister's post on Facebook . "Finally, we are officially launching the new Customs Service, which will allow us to more effectively transform the customs sector, implement planned infrastructure projects, significantly change our staff," said Maxim Nefyodov, the new head of the Service. "We continue to work on rebooting the service, breaking the negative customs stereotype that has been forming over the years, and smuggling flows into the country." The new Customs was created from scratch and based on four elements: modern European infrastructure, uniform and clear rules, fast and convenient service, and new personnel.
Swedish IT company Beetroot acquires ONLINICO, a Ukrainian IT company based in the Poltava region, according to a Beetroot press release. "I hope that ONLINICO's integration with Beetroot will positively affect the Kremenchuk IT community and the city in general," — says Andriy S'omak, founder of ONLINICO. Separately, Beetroot also acquired Swedish consultancy company Aducera Consulting AB. "Beetroot will become the leading IT supplier blending consultants in both Sweden and Ukraine, with a people-centered culture," said Beetroot CEO Andreas Flodström.
Ukraine and China sign bilateral agreements on the export and import of honey and canola meal, reports Ukraine's State Service for Food Safety and Consumer Protection. A major importer of Ukrainian agriculture products, China displaced Russia this year as Ukraine's largest single nation trading partner. In the first five months of 2019, agricultural trade between countries amounted to more than $860 million.
UkrPoshta will begin to deliver pensions and other payouts in 2020, according to a Facebook post by Minister of Infrastructure Vladislav Krykliy. "Over 4 million Ukrainians, in particular, over 800,000 people with disabilities receive pensions and cash payments through Ukrposhta. Thanks to today's government decision, Ukrposhta will deliver pensions and subsidies in 2020." UkrPoshta, a state-owned enterprise, says it offers a wide range of services covering 100% of the territory of Ukraine. It has over 11,000 branches and employs more than 30,000 postmen. Since 2017, the company's revenue has doubled, to $334 million
Ukrgasbank is financing the final construction of the new terminal at Zaporizhia airport, according to the bank's Deputy Chairman Yevhen Metzger. The bank has issued another $3 million bringing the total amount of funding to $13 million.  With more and more international flights, Zaporizhia launches today a flight to Tel Aviv, on SkyUp.
The government is hiring Deloitte & Touche USC to audit Naftogaz for 2019-2020, according to an official press release. Recently Zelenskiy signed a law on the unbundling of Naftogaz production and pipeline divisions.
A new program offering loans at 5-9% a year to small and medium-sized enterprises will start Feb. 1, Prime Minister Honcharuk writes on Facebook. "To participate, you will need a business plan, a positive financial background and credit reputation and payment discipline." He noted that "every Ukrainian has the right to support from the state."
Of Ukraine's 83 distilleries, 40 are actually operational, Timofey Milovanov, Minister of Economic Development, Trade, and Agriculture, writes on Facebook. According to him, a recent audit revealed that 22 out of 83 distilleries are in unsatisfactory condition and do not meet the minimal technical requirements.
An online wood auction system will be launched in April, introducing an electronic timber accounting framework, writes Prime Minister Oleksiy Honcharuk on Facebook. "Since April 2020, we have been launching a pilot project of e-auctions for the sale of wood. We are also introducing a unified state system of electronic wood turnover, which we will create on the basis of the current industry information and telecommunication system."
Hearings in Amsterdam on the enforcement of the Stockholm Arbitral Tribunal ended Wednesday. A ruling is expected Feb. 25, Naftogaz Executive Director Yuri Vitrenko writes on Facebook ."The hearings were successful for us, and therefore we look forward to a positive court decision that will allow us to proceed with [taking possession of] Gazprom assets that we successfully arrested earlier."