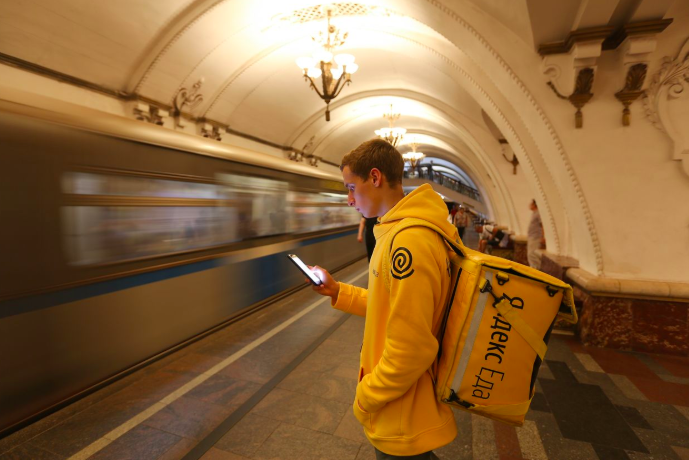 Ukraine's three mobile telephone companies are investing $20 million to start 4G service in parts of Kyiv's subway system this spring, Kyivstar President Alexander Komarov tells reporters. Slowing work, installation can only take place when trains do not run through the tunnels, generally between 12:30 and 5:30 in the morning. The Kyiv City Council has yet to set tariffs for metro usage by the companies – Kyivstar, Vodafone Ukraine and lifecell.
Epicenter K has won a low interest, $70 million, 7-year loan from the Black Sea Trade and Development Bank to modernize equipment at its 20 farms. The money will go to to buy new farm machinery, to build three new grain elevators and to modernize four existing elevators.
With the hryvnia flirting with 22 to the dollar, Bloomberg ranks Ukraine's currency as the world's strongest performer against the dollar this year, appreciating by 19%. Noting that the hryvnia has returned to its strongest level in almost four years, Economy Minister Timofey told reporters Wednesday: "The rate, in my opinion, is now very strong, and it harms exporters."
The strengthening of the hryvnia is cooling labor emigration, reports Bloomberg in an article titled: "World's Best-Performing Currency Cools Ukrainians' Lust to Leave."  The author writes: "While Polish wages were four times the equivalent in Ukraine in 2016, they're now just 2.5 times, according to [Ukraine's] central bank, which also said there have been fewer internet search requests for employment abroad."
Thousands of Ukrainian students are taking advantage of a new law that allows them to work in Germany for up to three months, reports Deutsche Welle. "In recent years, agencies that offer temporary employment opportunities in Germany for students have popped up all over Ukraine," reports the story, headlined DHL's Ukrainian temps experience the dark side of Christmas. "Websites advertise openings for package handlers, cooks and cleaners."
MoneyGram, the US-based international payment system, is partnering with Industrialbank to launch Account Deposit, a service that allows clients of 55 financial institutions in Ukraine to receive money remittances directly to their current account or card account in Ukraine. Transfer fees range from 0.5% to 2% of the transfer amount. Andriy Lvov, an Industrialbank executive, tells reporters: "Our plans are to take a market share of 5% of all transfers in Ukraine."
President Zelenskiy is to sign into law shortly a bill approved by the Rada to legalize amber mining. The bills calls for auctioning on ProZorro mining permits valid for five years and 10 hectares. Rules are set out for legal equipment, taxation, land reclamation, and fines for violations. Uncontrolled amber extraction by miners using high powered hoses has left parts of northeast Ukraine looking like moonscapes.
After a government drive to narrowly legalize gambling splintered into six bills last week, President Zelenskiy counterattacked by ordered the closing of all semi-legal gambling businesses. "We know who is behind it," wrote on Facebook about the failure of his bill to legalize casinos in selected 5-star hotels and slot machines in 3-star hotels. "Don't want to play for transparent rules? Don't want to work civilly and pay into the budget? Well, let's do it differently. From now on, we immediately close all gambling halls."
As of Saturday, police reported that they shut 5,300 'gambling establishments.' Police said they had seized 4,400 pieces of gambling equipment, including 27 slot machines, 29 electronic roulettes, 107 poker tables, and 4,032 pieces of computer equipment.
Gambling businesses may believe they have the upper hand, but a nationwide poll conducted in early December showed scant support for legalizing gambling. Of 2,043 people interviewed, 56% said they opposed legalization. In favor, 18% favored full legalization and another 19% said they only supported legalization in special zones. Asked about President Zelenskiy's proposal, 52% were opposed and 35% were in favor. The poll was conducted by the Kyiv International Institute of Sociology.
Threats to the central bank's independence, efforts to change green tariffs, and proposals to raise taxes on IT workers are three threats to Ukraine's economy in 2020,  Andy Hunder, president of the American Chamber of Commerce in Ukraine, warns in an Atlantic Council essay, "Ukraine's Government Must not Undermine Growing Business Optimism in 2020"  Noting that the Chamber gave its annual 'Thanksgiving Award' last month to the National Bank of Ukraine, he writes: "Ongoing rent-a-crowd demonstrations convening outside the bank and, more distressingly, outside the homes of NBU management, are proof that the central bank is disrupting vested interests."
"Walls Closing In Around Ukrainian Iron Billionaire Zhevago," Bloomberg headlines in a lengthy story about the travails of Kostyantin Zhevago and Ferrexpo, his London-listed iron pellet producer. Due to a money-laundering and embezzlement probe, Zhevago stepped down from leadership of Ferrexpo and went underground to avoid an arrest warrant. Since last summer, Ferrexpo, the world's third-largest iron ore pellet exporter, has lost half of its share value. Zhevago, once Ukraine's youngest billionaire, risks losing his billionaire status.
With China's purchase of Ukraine's aircraft engine maker Motor Sich in limbo, one of the two Chinese purchasers, Beijing Xinwei Technology, is bankrupt, reports UNIAN, citing Article 24 TV. Company losses mounted to $2.3 billion and shares of the company, traded as BXT, have fallen in six months from $2.02 to .22 today. The company, which planned in 2013 to build an inter-ocean canal across Nicaragua, is believed to have Chinese government backing.
This week, nuclear officials are expected to extend for 15 years the license of a Soviet-design nuclear power unit at South Ukraine Nuclear Power Plant in Mykolaiv, reports World Nuclear News.  In hearings in advance of Sunday's expiration of the 30-year license, Pavel Pavlyshin, Energoatom's acting president, said: "tremendous work" had been done to upgrade Unit 3, which produces 950 MW. "There is nothing to fear," he said noting that this "is in effect global practice since 70% of reactors in the world today are operating with an extended life." Nuclear power supplies half of Ukraine's electricity.
Executives of Adomani Inc., a California-based electric vehicle company, visited Ukraine earlier this month, meeting with officials "to discuss establishing a presence in the country to supply various government and private agencies with commercial electric vehicles," the company reports. Based in Corona, 50 miles east of Los Angeles, Adomani's president Jim Reynolds said he "has been asked to consider playing an integral role in establishing EV manufacturing facilities in Ukraine to help provide local jobs."
From the Editor: Much of Ukraine's population is going through a mass internship about life in the EU. To meet seasonal demand, European countries increasingly welcome Ukrainians for 2-3 month jobs. Low-cost carriers, like Ernest Airlines, allow workers to fly home once a month. From personal experience as an American college student washing windows and carrying bags at a Swiss hotel, I can say that working in Europe can be more educational than studying or touring. With best regards, Jim Brooke jbrooke@ubn.news