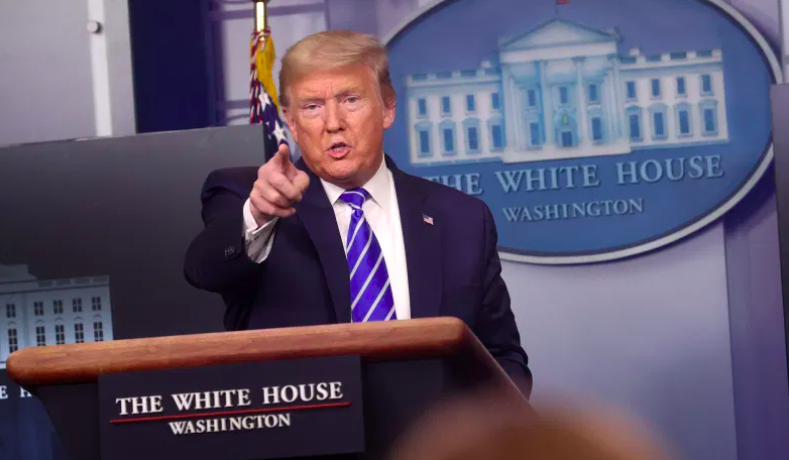 Thursday, December 24
US Aid to Ukraine Under Threat…Ukraine to take $350 million Bridge Loan from Deutsche Bank…Gov't Wants to Restart Big Privatization…Road Repairs to Increase by 50% Next Year...EIB Approves €270 million loan for Boryspil…Construction Starts Next Year on Ukraine's Biggest Ski Resort
Outgoing US President Donald Trump vetoed yesterday the US defense budget, a document that includes $275 million in military support for Ukraine and tighter sanctions on Western companies involved in Nord Stream 2, the Russia-Germany gas pipeline. Trump returned the budget to the House of Representatives, calling it "a gift for China and Russia." The House is expected to return Monday to vote on an override. Joe Biden is to be inaugurated President on Jan. 20.
US Aid to Ukraine is coming under threat from a different direction – dissatisfaction over the coronavirus stimulus bill, which would give payments of $600 per person. On Tuesday, President Trump called the checks "ridiculously low," calling for payments of $2,000. A growing debate focuses US foreign aid, including the $453 million military and civilian aid planned for Ukraine this year. "This is a sensitive area for voters and lawmakers," writes Newsweek. "Though foreign aid typically makes up around one percent of the entire federal budget, public perception is that the U.S. gives out far more. Polling suggests Americans believe the country spends up to a third of its entire budget on foreign aid."
Over the next week, Ukraine will attract a 6-month loan from Deutsche Bank of up to $350 million, the Cabinet of Ministers resolved yesterday. The move to take a bridge loan indicates that the government only expects to get a second tranche from last summer's IMF agreement by the end of May. The IMF tranche is to be for $700 million. The Cabinet's resolution authorizes a loan at LIBOR + 5.75%, or almost 6%. By contrast, at the Finance Ministry's weekly auction on Tuesday, investors bought $138.5 million worth of 1-year government dollar bonds at 3.8%.
The Cabinet of Ministers approved yesterday a bill to resume privatization of large state-owned companies, a process suspended last March due to the coronavirus outbreak. With investors now familiar with road shows on Zoom, the government wants the Rada to unfreeze 'large' privatizations. Slated to bring almost $500 million to the budget in 2021, the privatization plan calls for selling next year: five thermal power plants, three regional power plants, the former Bolshevik plant, the Odesa port plant, the United Mining and Chemical Company, and Kyiv's President Hotel.
By Jan. 4, acting Energy Minister Yuriy Vitrenko is to prepare a solution for paying the $921 million solar and wind power debt owed by the government's Guarantee Buyer. Prime Minister Shmygal set the deadline at yesterday's Cabinet of Ministers meeting.
Today, the first cars are to roll across the first completed section of Zaporizhzhia's new road bridge over the Dnipro. Long lampooned as the city's white elephant, the unfinished bridge saw construction resume last year by a Turkish construction company. The first leg of the completed bridge crosses the 'Old Dnipro'– the narrower channel that separates Khortytsia Island and the right bank community of Baburka.
The Infrastructure Ministry plans to restore 50% more roads in 2021 than this year, Minister Vladyslav Krikliy told Interfax-Ukraine in a wide-ranging interview. The 2021 goal is now 6,800 km.  "Another three years at this rate, and we have all roads of national importance will be built – international and national roads for sure," Krikliy said.
Planning to open select highway sections to privately built and operated toll roads, the Cabinet of Ministers yesterday set tolls, measured in Euros. For cars, motorcycles and minibuses up to 10 seats, the toll will be €2.3 for 100 km. For trucks up to 12 tons and buses up to 29 seats, the toll will be €4.5 for 100 km. For big trucks and buses, the toll will be €13.3 for 100 km. For example, to drive a car down one likely stretch – from the Lviv ring road to the Krakovets border crossing – the toll would be €1.38.
Road repair was the most popular phenomenon of 2020, winning the approval of 93% of 2,004 participants in a nationwide poll. The poll was conducted in the first half of December for the Kyiv International Institute of Sociology. The most unpopular phenomena were the war in the Donbas and the coronavirus epidemic, winning negativity ratings of 99.2% and 99.4% respectively.
The Infrastructure Ministry plans to start laying European gauge track in Ukraine next year, Krikliy told Interfax-Ukraine. The priorities are two sections of Ukrzaliznytsia's track to the Polish border. Construction of 80 km from Lviv west to the border crossing at Mostyska, would create a direct Lviv-EU link capable of generating traffic of 600,000 passengers a year, the railway calculates. Further north, construction of a similar 65 km Euro-gauge line west from Kovel to the Polish border would allow the city to become a major hub for Chinese container traffic bound for the EU. Five rail lines converge on Kovel, a Volyn Oblast city.
By opening Ukraine's 13 state-owned seaports to private companies through concessions, the government hopes to draw $1.8 billion in private investment through 2038. These concessions – largely renting wharves, land, cranes and warehouses – would generate almost 5,000 new jobs, according to a new Seaports Development Strategy approved yesterday by the Cabinet of Ministers.
The European Investment Bank Board has approved a €270 million loan to upgrade Boryspil Airport, the Bank's website reports. The money would cover about three quarters of a €351 million Boryspil renewal project. The upgrade will focus largely on the Western runway, a 3,500-meter concrete strip "which has been operating for more than 50 years and is in poor condition," the Bank says. The loan is covered by EU guarantees, which means the contractor must follow EU procurement rules. Last year, Boryspil handled 62% of Ukraine's 24 million air passengers.
Construction is to start next summer on a 4-year, $500 million project to build Ukraine's largest and most modern ski area in Lviv's Carpathian Mountains. Based in Volosianka, a 3-hour train ride south of Lviv city, the area is to have more than 60 trails. Its technology and design are to be one decade ahead of Bukovel, says the developer, OKKO Group Holding. The prime mover is Vitaliy Antonov, OKKO's founder and main shareholder. A native of nearby Stryi, Antonov worked for four years after university in mountaineering and mountain rescue. Other investors in OKKO are the EBRD, Goldman Sachs, Horizon Capital and Genesis Asset Managers, LLP.
Editor's Note: Oleksandr Tupytsky, chairman of the Constitutional Court of Ukraine, enjoys the perks of power – dressing up in silk robes, wearing an impressive medallion on his barrel chest, and presiding over the highest court in the land from a hand-carved wooden throne. But if tape transcripts published by Radio Svoboda's Schemes investigative unit are to believed, Tupytsky has the mouth of a 1950s American hoodlum. Warning a Donetsk business man who planned to testify in a corruption probe of a fellow judge, Tupytsky allegedly warned: "I just wanted to warn you that you shouldn't do that shit…It will not lead to anything." In another tape, he threatens to open a criminal case against business man for "financing terrorism" in Russia-controlled Donbas. Then, he seems to extort money to solve the legal problem: "If you and he deemed it necessary to give me a kopeck for my participation in these matters, I wouldn't refuse." Tupytsky also complains of his early career trauma when he served in 2010-2013 as a judge in commercial appeals courts and watched bribes go over his head. Recalling this humiliating experience, Ukraine's top judge says bitterly: "Nobody even gave me a fucking kopeck — and everything was channeled above." Mykhailo Zhernakov, board chair of Kyiv's DEJURE Foundation, says that we should stop being deluded by fancy robes and impressive titles. Writing in the Atlantic Council's Ukraine blog, he recommends: "It's time to start treating Ukraine's corrupt judiciary as a criminal syndicate." With Best Regards, Jim Brooke