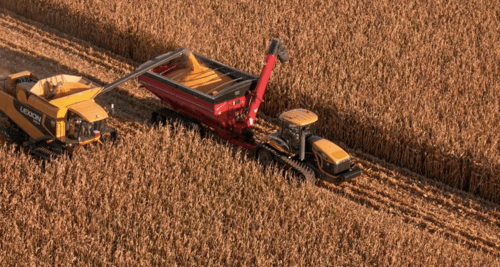 Ukrgasbank is seeking a $500 million Chinese loan to buy four Chinese turbines and the necessary engineering skills to complete a Soviet-era hydroelectric project on the Dniester River, near Moldova. Kirill Shevchenko, chairman of the state-controlled bank, tells Business Capital that annual interest on the loan will not exceed 4.5%. Stepan Kubiv, Economic Development, and Trade Minister, recently signed an agreement with China National Electric Engineering Co. to complete the second half of the Dnister Pumped Storage Power Station. At build-out, the hydro project, located 500 km east of Poland, will have an installed capacity of 2,268 MW.
Economic nationalists complain that Chinese lending will be tied to the purchase of Chinese turbines. Viktor Halasiuk, chairman of the Rada committee on industrial policy, argues that Kharkiv's Turboatom should get the contract. Turboatom's press service writes of the project: "Hydroelectric units of PSPS were created according to Turboatom's own project, and were designed and manufactured by Turboatom and Electrotyazhmash."
The EUR 500 million in EU aid came to Ukraine this week in the form of a loan at an annual rate of 1.25%, with maturity in April 2033, the Finance Ministry reports. Dragon Capital writes: "Despite the upcoming elections, Ukraine's heavy funding needs — estimated at $10.6 billion in 2019 — and scant funding options will force authorities to rely on official financing and meet necessary conditions, we think. We expect the next [EU] tranche to arrive in 2019, most likely in the first half of the year."
Ukraine's 91 fishing companies on the Sea of Azov will not be able to fish next year because Russia has not agreed with Ukraine on fishing quotas for 2019, Ukraine's State Fisheries Agency tells Ukrinform. The Ukrainian-Russian Fisheries Commission met for three days in late October but adjourned without agreement on quotas. About 800 Ukrainian ships fish in the Azov, a fertile area known as "Fish Sea" in the Turkish Ottoman era. More recently, the Azov was the most productive fishing area in the Soviet Union, typically yielding 80 kg of fish per hectare, 40 times the catches of the neighboring Black Sea.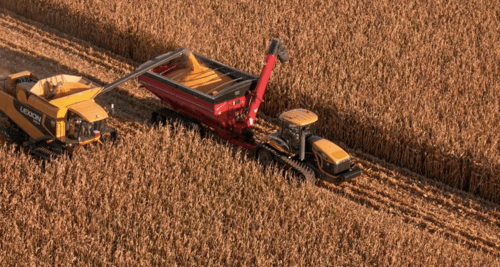 Ukraine harvested a record 70 million tons of grain in 2018, reports Prime Minister Groysman. Last year, the grain crop was 61.3 million tons. In 2016, it was 66 million tons, then a record. This year, a 43% jump in the corn crop, more than compensated for a 4% drop in the wheat crop.
 Since the start of the marketing year in July, Ukraine has exported 21 million tons of grains. Dragon Capital writes: "We estimate grain exports in 2018/19 marketing year may also hit a new annual record of 45-46 million tons, up 12-16% y-o-y. Although domestic storage and transport bottlenecks, which grew acute this year, may constrain shipments, strong grain exports in November indicate achieving a new record export volume is feasible."
Electronic auctions for leases of state farmland are doubling rents, reports Maxim Martynyuk, the new Agriculture Minister. Since October, the government has auctioned land lease rights through two electronic platforms – SETAM and ProZorro.Sales. As of Wednesday, 25 land plot leases had been auctioned in the pilot program, which uses Blockchain technology. Average annual rents rose from 8% of land valuations to 18%, the Minister said. All money goes to the local governments.
Almost three-quarters of the land of Ukraine is now recorded in the digital database of the State Land Cadaster, or Goskhokadastra, reports Minister Martynyuk. With this digital real estate record expanding steadily, he said: "The state of the cadaster is not exactly a problem for launching a market [for farm land]." Separately, as part of the decentralization campaign, the state is steadily transferring state land to the new local territorial communities. This year, this transfer program cuts state ownership of land by 15%, to 8.5 million hectares.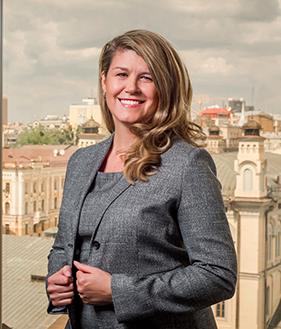 Lenna Koszarny, Chief Executive Officer of Horizon Capital, has been elected the new Chair of the American Chamber of Commerce in Ukraine. Koszarny, a founding partner of Horizon, succeeds in the one-year post Grzegorz Chmielarski, Managing Director of McDonald's Ukraine. The new AmCham Board also elected these officers: Vice-Chairs — Alexander McWhorter, Managing Director, Citibank, and Matteo Patrone, Managing Director, Eastern Europe, and the Caucasus, EBRD; Treasurer — Iryna Kozlova, General Manager, PepsiCo Ukraine; Secretary and Legal Advisor — Serhiy Chorny, Managing Partner, Baker McKenzie.
 KPMG, one of the Big Four auditors, is expanding its presence in Ukraine. From a staff of 400 in 2016, its Kyiv office has expanded to 600 today, taking over a second floor of the Senator Business Center. In 2019, it plans to hire 100 more staffers in Kyiv and to triple its Lviv office, to 75. With hiring in Audits, Management Consulting and Tax and Legal, the expansion "reflects the economy," says Peter Latos, a Ukraine partner and head of the advisory.
While traveling abroad Ukrainians increased their use of credit and bank cards by 55% this year over last year, according to research by Mastercard. Similarly, contactless payments from digital wallets in smartphones increase 88-fold last summer, compared to the summer of 2017. Using such global services as Google Pay, Apple Pay and Garmin Pay Ukrainians are make contactless payments anywhere in the world where there are contactless terminals.
First Ukraine-Saudi flights in 2019? Ukraine's Aviation Administration has approved UIA's applications to fly seven times a week from Kyiv Boryspil to Riyadh, Saudi Arabia's capital. In addition, it approved three flights a week from Boryspil to Saudi Arabia's main coastal cities – Jeddah on the Red Sea and Damman on the Arabian Gulf.
New Kyiv-Iraq flights in 2019. The Aviation agency also granted "Jonik Airlines" permission to fly from Kyiv to Iraq's capital, Baghdad, and to two cities in Iraqi Kurdistan, Erbil and Sulaymaniyah. Currently, Iraqi Airways flies from Boryspil to Baghdad and FlyErbil flies from Kyiv Sikorsky to Erbil.
Kyiv's Boryspil Airport has handled 1 million passengers a month this year, up 19% over last year's levels. Through November, Ukraine's largest airport handled 11.7 million passengers. In November, traffic was up by one third, year over year, to 994,200. So far this year, 23% of the passengers take charter flights, and 27% are in transit, never leaving the airport.
For comments and story tips, Brooke is reachable at: jbrooke@ubn.news