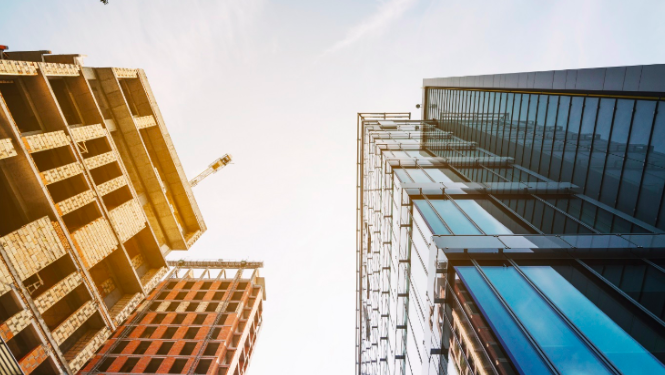 Thursday, December 12
New Building Completions up 44%...Grain Crop up 7%, Money Pours into Silos...Big Purge at Customs...Ze Abolishes State Alcohol Monopoly...US to Spend $1 Billion to Open E. Europe to US LNG?...Russia-Ukraine Détente: Diesel Flows, Gazprom TV Airs Zelenskiy
Through September, Ukrainians have commissioned 7.7 million square meters of new buildings– 44% more than during the first three quarters of last year. According to the State Statistics Service, the leading regions are: Kyiv -1.2 million square meters, up 24%; Lviv – 1 million square meters, up 62%; Odesa – 674,000 square meters, up 58%. Kyiv city saw 934,500 new square meters, up 52%.
With 99% of crops harvested, Ukrainian farmers have threshed a record 75.2 million tons of grain, 7% more than last year, reports the Ministry of Economic Development, Trade, and Agriculture. Since July 1, the nation has exported 26.3 million tons of grain, 31.5% more than during the same period last year.
Epicenter K is negotiating a €100 million loan from the European Investment Bank to build more silos and to buy more farm machinery and grain hopper rail wagons report the Kyiv-based company. Epicenter K is in the process of expanding its grain storage capacity to one million tons. One month ago, the Bank approved the loan. "The company has not yet made a final decision on obtaining it," Epicenter K said.
EVT grain terminal in Olbia is starting to build 20 new silos to double its one-time grain and oilseeds storage capacity to 350,000 tons by Oct. 1, reports the Center for Transportation Strategies. Formerly known as Evrovneshtorg, the company plans to increase annual shipping volumes by about 50% — to 2-3 million tons in the 2020/2021 marketing year.
For the next 10 days, computer users can view free of charge the total volumes of grain stored in all elevators linked to the State Register of Ukraine. The state company reports: "You can see the total amount of grain stored in Ukraine, the crops and classes of grain, and the volumes stored on each specific elevator that is connected to the registry." Designed to cut fraud, the service expected to be of use to grain traders and logistics operators. Starting Dec. 23, there will be a fee to use the service.
In creating 'New Customs,' Maxim Nefyodov, head of the service, purged 80% of customs officials in Kyiv and 40% of officials at border posts – about 500 people. By abolishing the old customs agency earlier this year, the government freed Nefyodov from civil service restrictions on hiring and firing. Prime Minister Honcharuk hailed Sunday's opening of 'New Customs', saying: "I personally warn every bribe-taker or smuggler, the time of the schemes you made a fortune has passed."
With a $20 million budget for capital improvements next year, Nefyodov plans to rebuild 12 border checkpoints and install 11 mobile scanners and 15 weighing complexes. Seized goods are to be auctioned off online using ProZorro. New Customs is based on four elements: modern EU-standard infrastructure, uniform and clear game rules for all, fast and convenient service, and personnel policy of higher pay and zero tolerance of corruption.
The hryvnia at 20 in 2020? "Fantasy" Economy Minister Timothy Milovanov tells Deutsche Welle about a possible dollar exchange. Then, he concedes: "If $10-20 billion [in foreign investment] comes to us, then perhaps there would be such an exchange rate."
Today, the official exchange is 23.60, up 16% since Jan. 11. No prominent economist predicted this year's strengthening. Undeterred, they are trying again. Alexander Martynenko, ICU's research head, predicts the hryvnia will peak at 22-23 by the middle of next year, then fall to 25-25.5 by the end of the year.
Traditionally, the hryvnia weakens in the fall. But this year, low gas prices, a bumper grain crop, migrant worker remittances of $1 billion a month, and a net $4 billion of foreign purchases of Ukraine government treasuries combined to demolish last summer's predictions of a weakening hryvnia.
President Zelenskiy signed into law Wednesday a $50 billion budget for next year. The budget allows for a maximum $4 billion deficit or 2% of GDP.
In the latest free-market move, President Zelenskiy signed a law abolishing the state monopoly on hard alcohol production. Effective Jan. 1, the law is designed to end illicit production of alcohol and to open the door for privatization of Ukrspyrt, the state alcohol production company. Although half the company's 80 distilleries are not functioning, the government believes it will raise $200 million through privatization.
Ukraine ranked second in the world for "unrecorded consumption (homebrew, moonshine, smuggled alcohol, surrogate alcohol), in a 2014 survey of 191 countries, based on World Health Organization data. Ukrainians consumed five liters a year of moonshine per capita, second only to Moldovans' consumption of 10.5 liters.
To promote "energy independence and diversification in Eastern Europe," the US Senate Foreign Relations Committee is considering a bill to authorize as much as $1 billion to facilitate US public and private investment in projects in the region, Bloomberg from Washington. Designed to wean the region off Russian gas, the money could be spent on such projects as doubling gas pipelines between Poland and Russia. The US House passed a similar bill in March.
Russia's Nord Stream 2 and Turkish Stream gas pipelines will be completed on time, Russia's Foreign Minister Sergei Lavrov said Tuesday after meeting President Trump in the White House. He brushed off sanctions provisions in a US defense budget passed hours before. Lavrov, who has been Russia's Foreign Minister since 2004, told reporters in Washington: "We are used to attacks of this kind. We know how to react to them. I assure you that neither Nord Stream 2 nor Turkish Stream will stop."
Estonia and Finland opened Wednesday the Balticconnector gas pipeline. Running 77 km along the bottom of the Gulf of Finland, the pipeline ultimately connects Finland with all three Baltic nations. Separately, Poland and Lithuania are building a gas connection pipeline. With the GIPL gas link being built between Lithuania and Poland, the Balticconnector will strengthen the integration of the Baltic countries into the single EU market.
Through November, Ukraine's pipelines carried West 3% more Russian gas than last year. Uktransgaz reports that Ukraine carried 81.5 billion cubic meters to the EU and Moldova. Negotiations are underway to replace the 10-year-old gas transit pact.
Wexler Group, Ukraine's largest importer of petroleum products, has resumed importing diesel from Russia, ending a 4-month suspension, the group reports. Imports stopped Aug. 1 after Russia imposed a 3% duty on diesel deliveries to Ukraine. The group takes the diesel from Belarus into Ukraine's 822 km Prykarpatzahidtrans oil pipeline for distribution in Zhytomyr, Rivne, Khmelnytsky, Lviv, Ternopil and Zakarpattia regions.
Ping-pong diplomacy? Evoking the icebreaking China-US table tennis matches in Beijing in 1971, Gazprom Media's TNT TV started airing yesterday, the Russian language version of Volodymyr Zelenskiy's 'Servant of the People' comedy series. Kremlinologists speculate Monday's Putin-Zelenskiy meeting in Paris gave Gazprom the green light to air the series. Protectively, the state-owned media company cautioned its 35 million weekly viewers: "The show is the utopia that has nothing to do with Zelenskiy's Ukraine." Kremlin spokesman Dmitry Peskov told reporters that Putin "does not have time" to watch TV.
From the Editor: If you want to get insight into Ukraine's human energy, spend a few minutes reading the profiles of Ukraine's "Top 30 Under 30" in the Kyiv Post. A truly inspiring generation – two already are ministers! Best Regards, Jim Brooke jbrooke@ubn.news.