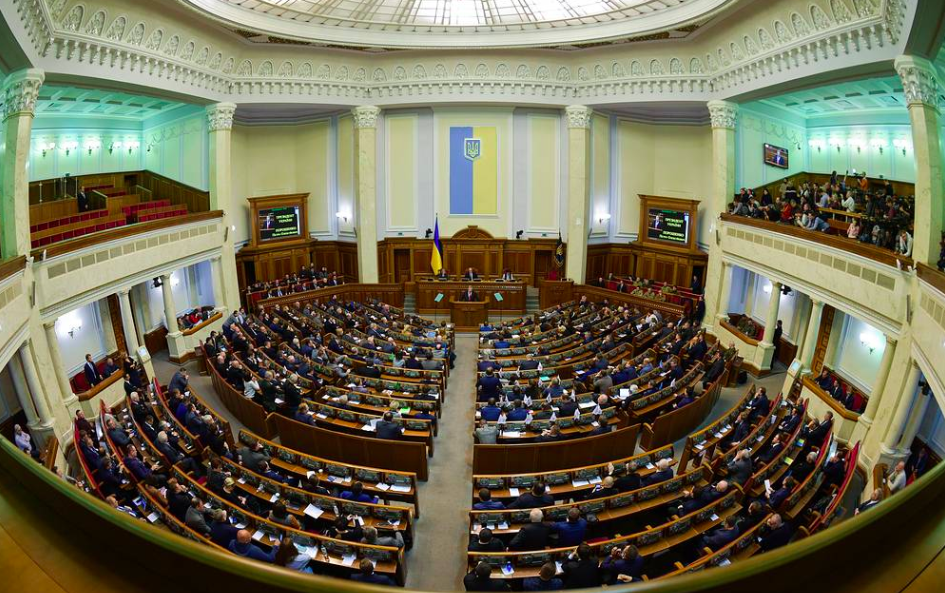 Thursday, August 29
New Rada May Vote Today on 60 to 100 Bills...Farm Land Market Bills Take Shape...Small Hydro Privatization Starts...Salaries Grow Twice as Fast as Prices...Internet Ad Revenue Doubles...Ukraine Has 2nd Largest Air Traffic in Eastern Europe
Historic day at the Rada today: The Prime Minister and the Cabinet resign. The Rada appoints a new Prime Minister, new Cabinet, new Prosecutor General, and new head of the State Security Service. President Zelenskiy is to nominate a deputy chief of staff, Oleksiy Honcharuk, for Prime Minister. Tymofiy Mylovanov, honorary president of Kyiv School of Economics, is to be Economy Minister. Oksana Markarova is to continue as finance minister. Zelenskiy gives a state of the nation speech, outlining goals of his five-year term.

Then the 424-member Rada is to vote on a constitutional amendment to strip members of their parliamentary immunity. Amendments need two-thirds approval. Zelenskiy's Servant of the People has 254 deputies, an outright majority of 60% of seats. For constitutional amendments, it will form coalitions, notable with Svyatoslav Vakarchuk's Golos party. By various accounts, the Rada will work through the night, voting on the first or second version of 60 to 100 bills.
With the political transition to be completed today, the central bank does not see a threat to its independence. "Today, I do not see a threat to independence, nor do I hear statements from new political forces about the need to change the course of the National Bank," Yakiv Smoliy, the central bank's governor says in an interview posted on Facebook. With inflation trending down, Smoliy promised to cut Ukraine's 17% prime rate almost in half – to 9% at the end of next year: "Low inflation is the foundation for future economic growth. If there are appropriate economic conditions, the NBU will reduce the discount rate to 9% in 2020 and 8% in 2021."
By mid-September, a package of seven bills to create a farmland market will be introduced in the Rada, Olga Trofimtseva, minister of Agrarian Policy and Food, predicted to reporters Wednesday. Covering all aspects of what could be Europe's largest farmland market, bills would protect tenants, combat raiding, ensure affordable financing for farmers, identify final beneficiaries of buyers, and provide a transitional period of floor prices to allow the market to set prices, protecting initial sellers. To be decided are: possible restrictions on the quick resale of land, sales to foreigners, and sales to companies. On sales to agribusinesses, Trofimtseva said: "The president's position regarding legal entities is quite liberal — and this is just one of the disagreements that exist between us."
Opening a farmland market will add 2 percentage points to Ukraine's annual GDP growth during the 2020s, predicts Satu Kakhkonen, the World Bank's regional director. This year, Ukraine's GDP growth is to be about 3.5%. If farmers can post land as bank collateral, billions of dollars will be injected into Ukrainian farms, boosting crop yields toward EU levels. Trofimtseva predicts the immediate annual inflow of capital would be $700 to $1.5 billion.
In an interview timed to coincide with the new cabinet, Igor Kolomoisky, media backer of Zelenskiy, calls for nationalizing mining industries, a measure he calls 'state capitalism.' As an alternative, Kolomoisky, owner of several ferro alloy plants, tells Censor.Net that export taxes could be hiked on raw material exports, forcing metal companies to make steel here. Since winning the election, Zelenskiy has hired several Kolomoisky loyalists but has avoided public contact with the oligarch.
In response, Vladimir Tkachenko, an executive of ArcelorMittal Kryvyi Rih, Ukraine's largest steelmaker, dismissed Kolomisky's comments as a "businessman's personal point of view, which actually contradicts the new government's statements about preparations for large-scale privatization. Noting that Arcelor is Ukraine's largest foreign investment, he added: "Returning our company to the state means crossing out the most successful privatization in the country. We paid $4.8 billion for the company — a little less than half of the total amount received from privatization in the entire recent history of Ukraine."
Norway's AICE Hydro A.S. is expected to bid on Ukraine's first of several small scale hydro plants to go up for privatization: the 2 MW plant at Pervomaisk, northern Mykolaiv. According to ProZorro, bids are accepted until Sept. 17. Put up for sale by the State Property Fund, the 90-year-old hydro plant has a floor price of $2.6 million. Ukraine has 64 operating small scale hydro plants and 100 more that can be restored, AICE says. Dedicated to modernizing existing plants, AICE aims at "combining Norwegian and Ukrainian competence within hydro energy." Norway is Europe's largest user of hydropower, getting 98% of its electricity from dams.
Ukrzaliznytsia has started to use ProZorro.sale to work through its scrap metal mountain. In three days of auctions last week, it sold 65,000 tons of scrap for $14 million. Interpipe, the pipe and rail wheel manufacturer, bought almost half of the scrap. Unblocking sales, the state railroad shifted from placing the onus for delivery on the seller, rather than the buyer. With 16,000 decommissioned freight cars ready for sale, metallurgical companies prepare for more auctions this fall.
The planned opening in December of Russia's TurkStream pipeline will deprive Ukraine of gas transit revenues but will deprive Moldova and southern European countries of gas, writes Sergey Makogon, director of Ukraine's Gas Transportation System Operator company. On Tuesday, President Putin announced that TurkStream, a 1,090 trans-Black Sea pipeline, will start on schedule. Ukraine, Moldova, and Romania are building pipeline links to ensure that Romanian Black Sea gas can get to Ukraine by the end of this year. "Unfortunately, the Turkish Stream is becoming an objective reality," Makogon writes on Facebook. "There is no economic sense in this project, but in recent years no one has been looking for meaning in Gazprom projects."
Over the last year, salaries went up by 20%, while inflation was 10%.  In July, the average monthly was 10,971 hryvnia, or $439, reports the State Statistics Service. In terms of regional disparities, wages in the highest region, Kyiv, are $650 – almost double the $371 monthly pay in the poorest region, government-controlled Luhansk. In July, the biggest y-o-y wages jumps were 25% — in agriculture and industry. Both sectors fight to keep workers, competing with the 'brawn drain' to Poland.
Internet advertising market nearly doubled during the first half of this year, hitting $79 million, reports the Ukrainian Internet Association. Almost 37% was on social media and instant messengers – Facebook, Instagram, Twitter, YouTube, Skype, and Viber. Of the total amount, the segment breakdown is: in-stream video – 41%; banners – 34%; in-page video – 11%; pop-up and other 'nonstandard' techniques – 9%; sponsorship – 5%.
For air traffic, Ukraine rose to 2nd place among the 10 nations of Eastern Europe and the Baltics, reports Novoe Vremya Business. In the first half of this year, air traffic in Ukraine jumped by 20% to 10.7 million passengers, displacing slow-growing Romania, which had 10.5 million passengers. Although Ukraine had the region's fastest growth rate, its volume wass still less than half the 22.3 million recorded in Polish airports. Ukraine has the region's largest population, about 40 million people.
From the Editor: Ukraine Business News is now in English, Ukrainian, Russian and German. Check out our website – www.ubn.news. Share with friends and colleagues who want to follow Ukraine, Europe's Biggest Emerging Market. Best regards Jim Brooke – jbrooke@ubn.news