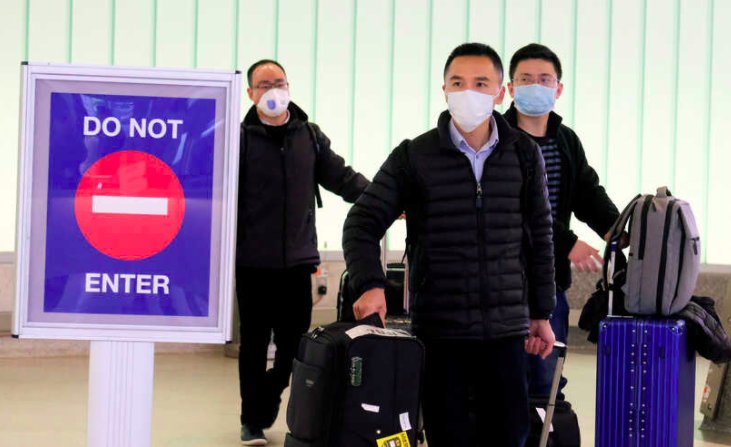 Thursday, August 27 – Ukraine shuts its borders to foreign travelers for one month
Borders Close Tomorrow Night to Incoming Foreigners…Ukrainian Railways gets new CEO….MinFin Keeps Rates Low….More Loan Money for Small Biz….Zelenskiy Pledges help for Yuzhmash….Retail Up...Work Starts News Month on Dnipro Airport...
Ukraine shuts its borders to foreign travelers for one month, starting tomorrow night at midnight. The major exceptions are: foreigners with Ukraine residence permits, diplomats, travelers in transit, students enrolling in universities, truck drivers and airline crews. The ban is designed to slow the spread of coronavirus, Prime Minister Shmyhal said yesterday after the weekly Cabinet of Ministers meeting. Starting Tuesday, the government bans discos, nightclubs and concerts in 'green' zones.
Ukraine's Health Ministry has expanded its list of 'red zone' coronavirus countries to 65, adding Albania and Montenegro. Red zone countries have a 14-day infection rate higher than Ukraine's level of 55/100,000 population. Travelers arriving from a red zone country must have full health insurance and undergo self-isolation until they test negative for the virus. The bilingual list can be found here.
With Ukraine's schools scheduled to open on Tuesday, President Zelenskiy warned families to take precautions, noting that his 7-year-old son, Kyrylo, was hospitalized last month for coronavirus complications, along with his mother, Olena Zelenska. "No one is afraid of it until it reaches your family," the president said. "I will speak plainly — this coronavirus is a real plague. There is no other word for it. My wife was affected, and so was my son."
Law enforcement authorities in Chernivtsi, one of the country's hardest hit red zones, decide to suspend the operation public transport, according to Ukrinform citing Deputy Mayor of Chernivtsi Dmytro. "Despite the decision taken by the city council, the police stopped and suspended public transport in Chernivtsi."
Adamant Capital writes: "Although Ukraine is currently displaying the highest amount of new cases on record, it seems unlikely that restrictions similar to those that have been introduced at the start of the pandemic are going to be reinstalled any time soon…the 2Q20 real GDP figure (-11.4% YoY) has demonstrated quite clearly the cost of an even relatively light lockdown and suggests that repeating the same scenario may be politically unaffordable unless the health crisis becomes dire."
Volodymyr Zhmak will be the new CEO of Ukrainian Railways, the nation's largest employer and a major economic player, the Cabinet of Ministers announced yesterday. Zhmak was previously a member of the Supervisory Board of the Boryspil Airport and has served as Deputy Chairman of the Odessa Regional State Administration. He also worked as an advisor to the president of Kyivstar, the Ukrainian mobile telephone company.
Passenger transport volume was down 41% yoy in July, reports ICU. In cities, transport was at 70-80% of last year's levels. But rail was 38% of 2019 levels and air was only 18% of July 2019.
Retail turnover was up 8.5% yoy in July. However, wholesale trade fell by 6% yoy after the surge by 12% yoy in June, according to ICU.
Alfa-Bank Ukraine writes: "Retail trade provides a strong positive surprise in July. The sector accelerated to a growth of 8.5% y-o-y, already close to its pre-COVID trajectory. For comparison, we expected acceleration only to 3-4%…most of the unexpected boost was concentrated in the City of Kyiv, while many other regions indeed experienced less striking recovery in July…many residents of the capital stayed at home instead of spending abroad…This speculation is also supported by the fact that Odesa and Mykolaiv regions…were also the ones which experienced significant retail trade acceleration in July."
The Finance Ministry placed UAH 816 million ($29.8 million) in 3-month local currency bonds at 7% and $31 million in 12-month hard currency bonds at 3.5%.
Concorde Capital's Evgeniya Akhtyrko writes of Tuesday's weekly auction: "The local bond market is in its traditional summer vacation lethargy. However, there is no guarantee that the next month will bring much of a revival to the market. The government is likely to have difficulty in its attempts to increase UAH auction receipts while keeping interest rates at the current level, as most market players apparently find them too low.
Prime Minister Denis Shmygal pledges $328 million more for Ukraine's "5-7-9% affordable loan program" to prop up small businesses, the head of government announced on Facebook. He writes: "Small business owners need affordable resources to support their own business during the crisis. At the same time, there are new opportunities, so UAH 1 billion was spent on investment needs. We expect that this year we will have 7, 9 and even more billion hryvnias issued in the form of affordable loans for Ukrainian entrepreneurs."
President Zelenskiy pledges support for Yuzhmash, the state-owned machine-building company that manufactures products for defense, aviation, agriculture, thermal power, and space industries. Visiting his native Dnipropetrovsk region, the President said: "We are ready to do everything possible to make Yuzhmash a Ukrainian brand and return the attention of various Western investors interested in its products."
Construction on Dnipro airport's new 3,000 meter runway will start next month, President Zelenskiy said yesterday on a visit to the city. Reviewing the tender schedule, he said: "I am sure that by the end of September we will see work on the airport." Alexander Bondarenko, head of Dnipropetrovsk regional administration, added that DCH, the Kharkiv-based group, also will start work next month at the airport, building a new terminal.
Ukraine pays one of the highest electricity prices in Europe, according to the EU — €46.9  per MWh, while the European average was €33.5 per MWh. Countries paying the most are: Greece at €50 per MWh, Malta at €45 per MWh, Bulgaria €42 per MWh, Romania at €41 per MWh, Hungary and Poland €41 per MWh. The lowest are: Norway at €15 per MWh and Sweden at €17 per MWh.
Industrial output is down 4.8% yoy in July, according to the State Statistics Service. This represents a slight improvement from the 5.6% yoy drop recorded in June.
Food production is up 4.6% yoy in July, according to the State Statistics Service.
NBU board chairman Bohdan Danylyshyn says he thinks the disbursement of two tranches from the IMF in 2020 is unrealistic, Ukrinform reports. "Obviously, the baseline scenario of receiving two tranches by the end of this year – in September and December – is unrealistic. We can most likely expect the receipt of one tranche in the fourth quarter of 2020," he says.
At the same time, Danylyshyn says "cooperation with the IMF will continue. Support from international partners remains one of the most important factors of macrofinancial stability in Ukraine. The planned revision of the program with the IMF, in my opinion, should be accompanied by a revision of the conceptual framework for cooperation and its focus on support for the national interests of Ukraine, not just international investors."
Ukrbud's unfinished construction problems are "basically resolved," said Interior Minister Arsen Avakov. "The issue of Ukrbud is practically resolved, and I thank the city authorities and our colleagues for that, we worked here, found investors… And the issue of Ukrbud is practically removed from the agenda, and I believe that the last houses will be adopted soon."
From Editor: I returned yesterday from my first trip to Turkey — a week on Aegean coast, between Bodrum and Ephesus. I come home to Kyiv frankly impressed with Turkey's level of development. Turkey's road builders are world famous, but it is a real pleasure to drive the four lane divided highways – and smooth side roads. I may have been on Turkey's Gold Coast, but the country looks solidly middle class. Over the last decade, Turkey's GNP per capita rose by 50%, to $15,000 today. By contrast, Ukraine's official GNP per capita flat lined over the last decade, hovering around $3,300. Even if 40% of Ukraine's economy is in cash, that would still make Turkey three times richer than Ukraine. Both countries had about the same population in 1990. Today, Turkey, with 84 million is at least twice as large. For linguistic, cultural, historic and religious reasons, Ukrainians naturally focus on Poland and the rest of Europe. But it would be well worthwhile for Ukrainians to study what their southern neighbor has achieved —  going from poverty to middle class in one generation. With Best Regards, Jim Brooke