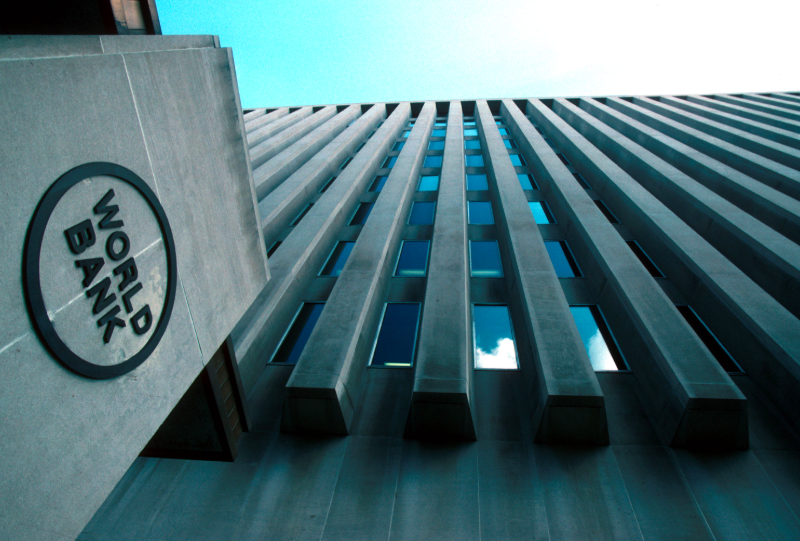 Thursday, August 22
World Bank Boss Arrives as Zelenskiy Readies Farm Land Market Bill...'Monster' State Cos. Brush off Attacks...Courts Switch: Now Favor Privatization...Consumer Confidence Up to Aug. 2013 Level...PM Proposes 50% Hike in Road Spending...Chickens Fly, Pigs Die
Creation of a farmland market in Ukraine will be a major topic for David Malpass, the new president of the World Bank Group, who arrives in Kyiv today. Malpass, an American, meets Friday with President Zelenskiy. For the last two years, the World Bank has advised Ukraine on creating a market for farmland sales. Zelenskiy promises to win Rada approval of a land market this fall and to start farmland sales next year.
"Murder and dismemberment are good for the box office, but not always the most profitable option for the state as the owner," Naftogaz said Wednesday in response to a public call by Zelenskiy economic advisor Oleg Ustenko to cut up Ukraine's 'monster' state companies. "We fully share the idea that state-owned enterprises should be privatized in whole or in part…Our philosophy is 'transform or die," Naftogaz press office wrote on Facebook. Limiting sudden moves by the next government, Naftogaz generates 16% of state budget revenues.
Rapid privatization of the state railroad would put tens of thousands of people out of work and "end the logistics of the whole country," Infrastructure Minister Volodymyr Omelyan warns in a Facebook posting. "Ukrzaliznytsia means 70% of the freight traffic of the entire state, hundreds of millions of passengers annually, 3-5% of GDP," writes Omelyan who has worked with the railroad, as a minister or deputy minister, for the last five years. Instead, he advocates a shift to private freight and passenger trains, domestic production of electric locomotives, and preparation for an IPO, aimed at drawing a strategic investor by 2022. He writes: "If we don't want a social explosion, the only way forward today is deep reform." Employing 400,000 people, Ukrzaliznytsia is the world's sixth-largest rail passenger carrier and seventh-largest rail freight carrier.
In the latest Kyiv court decision to allow privatizations, Kyiv's Commercial Court unblocked the privatization of the capital's President Hotel, allowing Concorde Consulting and the State Property Fund of Ukraine to prepare the state-owned hotel for sale. In two other decisions in the last month, Kyiv courts removed unblocked the privatizations of Centrenergo, Odesa Port Plant, Krasnolimanska Coal Company, Elektrovazhmash, Indar, and the United Mining and Chemical Company. President Zelenskiy advocates privatization — and an overhaul of Ukraine's judiciary.
China's offer to buy Motor Sich aircraft engine manufacturer includes guarantees to maintain jobs, salaries, and production in Ukraine, according to an unidentified Ukraine government representative quoted by Interfax-Ukraine. "In his opinion, the deal will give Motor Sich a chance to enter the Chinese market, while maintaining production in Ukraine," the news agency writes, citing two agreements signed this spring by the Zaporizhia-based company and by China's Skyrizon and Xinwei Group. The agreements ban sales of Motor Sich engines or technology to Russia and North Korea. "Therefore, speculation about possible deliveries to the aggressor country is out of place," Interfax quotes the Ukrainian official. Ukraine's Antimonopoly Committee is reviewing the deal.
Ukraine's Consumer Sentiment Index jumped 7% from June to July, to 88 points, the highest level since August 2013. The Index "has reached a new peak," reports Info Sapiens, which conducts the survey with GfK Ukraine and Dragon Capital. "Confidence in the new government contributes to the growth of positive expectations regarding the development of the economy as a whole."
Ukraine's new Prime Minister will be named in one week, at the first session of the new Rada, David Arakhamia, a newly elected parliamentarian of the majority Servant of the People Party, told reporters Wednesday. He said: "On August 29, everyone will learn a lot."
Ukraine's new leaders will inherit a government with its finances in good shape, Prime Minister Groysman said Wednesday at a final meeting of his Cabinet. Since becoming Prime Minister on April 2016, he said the nation's reserves have nearly doubled to $22 billion. The debt to GDP ratio has been cut by 20%. He transfers a Treasury with a hryvnia equivalent positive balance of $5.2 billion, almost 50% greater than three years ago. Inflation will end this year below 8%, and the average monthly salary should rise from $402 today to $540 next year. With gas prices dropping in Europe, he said: "We managed to force Naftogaz, starting in May, to lower the price of gas for the population by 25%."
The outgoing Government proposes a 50% percent increase in road spending next year — $3 billion for the main roads linking regional capitals and $400 million for district-level roads. By November, 9,000 km of main roads will have repaired or rebuilt over the last three years, the largest amount Ukraine has seen since the road-building frenzy leading up to the 1980 Summer Olympics, Groysman said. Similarly, he said most of the nation's 22,000 km of 'territorial' roads have not repaired since they were built – in the 1970s.
Purchases of hryvnia-denominated government bonds dropped by half Tuesday, falling to UAH 1 billion, or $40 million, compared to UAH 2 billion at last week's auction. In the face of weak demand, interest rates changed little from the 16-16.5% band. ICU's Taras Kotovych writes: "The MoF is halting the decline in interest rates. Demand from both domestic and foreign investors is falling off as interest rates have declined."
Despite the low level of purchases, the National Bank of Ukraine continues to buy dollars and euros, "suggesting that appreciation pressures on the currency were also fueled by other domestic/external factors," writes Dragon Capital. The exchange rate is UAH 25.16/USD, up 10% since the start of the year. During this period, foreign ownership of hryvnia T-bills has risen to $3.4 billion, or 11% of the outstanding bonds.
Farm production through July was up 12 % y-o-y, reports the State Statistics Service. Driving the growth, crop farming was up 20.4%.
Sunflower oil exports are up 9% y-o-y for the marketing season that ends next week. Ukraine, the world's largest exporter of sunflower oil, has exported 5.2 million tons, APK-Inform said Monday. Ukraine's top three markets are India, Turkey, and China.
Following a Japanese inspection mission here last month, Japan has agreed to allow the imports of poultry from Ukraine, reports Ukraine's State Service for Food Safety and Consumer Protection. Over the last two years, 14 new countries have allowed imports of poultry from Ukraine. Seven new countries have opened up to imports of eggs from Ukraine. During the first half of this years, Ukraine's poultry exports rose to 211,000 tons, largely to Saudi Arabia, the Netherlands and Slovakia. In July, Ukraine's industrial poultry production was up 16% y-o-y.
In Ukraine's worst case of African swine fever, around 100,000 pigs are marked for slaughter after a fever outbreak was detected Saturday at Lviv region's Halychyna Zahid, one of the nation's biggest pig farms reports the Food Safety Service. Affecting 1.6% of Ukraine's 6.4 million pigs, the case is Ukraine's worst ever, reports Reuters. Since 2017, 351 cases have been detected in Ukraine, resulting in the destruction of 72,226 pigs.
From the Editor: Ukraine Business News is now fully searchable. Just click the little magnifying glass on our website: www.ubn.news. Search back through 300,000 words! Best regards Jim Brooke – jbrooke@ubn.news