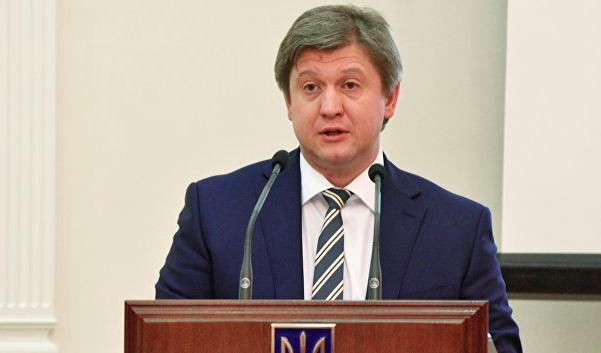 Thursday, April 4
Zelenskiy Advisor Calls for Free Market Revolution...Cell Phones: More Internet, Less Talk...No More Corporate Jets to Moscow...NATO Pressures for Shipping Freedom in Azov...Berry Exports Jump 5X...With Flights to 38 Cities, Lviv is Western Ukraine Air Hub
Zelenskiy advisor Oleksandr Danylyuk calls for abolishing the State Prosecutors Office and "completely" destroying and rebuilding key judicial institutions. "The prosecution service is a failure, courts are a failure, the SBU is a failure, and the State Fiscal Service is a complete flop!" Danylyuk, a former finance minister, said Tuesday at the Bendukidze Free Market Center, his think tank in Kyiv. "Therefore, there is the only approach, which we will have to apply, this is a long-standing approach of the revolution: destroy it completely and then rebuild it anew." Danylyuk is expected to be one of the 'top five' advisors that Zelenskiy promise name in coming days.
Zelenskiy or Poroshenko, the next President is not expected to tinker with the hard-won independence of the National Bank of Ukraine, Dmytro Sologub, a deputy governor, predicts in an interview with CNBC, the US-based financial news network. He said: "We in the central bank are confident that whoever is the president and whatever the outcome of the political cycles this year, the central bank will be able to fulfill its mandate of price and financial stability."
Boosting foreign direct investment from the current level of 2% of GDP should be a core task for Ukraine's next president, Andy Hunder, president of the American Chamber of Commerce in Ukraine, writes on the Atlantic Council Ukraine blog site. "Whoever wins, either Poroshenko or newcomer Volodymyr Zelenskiy, he will need to focus on attracting FDI," Hunder writes. "Since both candidates are successful businessmen, the next president should watch closely that investors are welcomed and treated well." At a meeting with business leaders two weeks ago, he says: "Zelenskiy focused on assuring us that his views and intentions are aligned with the business community's priorities, specifically on rule of law, macroeconomic growth, and fighting corruption."
In a reversal, Ukraine's mobile phone operators now earn more money from the Internet than from voice. Last year, the nation's cell phone companies earned 46% of their revenue from the Internet –$600 million. Voice accounted for 42% or $550 million. By contrast, in 2016, operators earned three times as much from voice as from the Internet, according to the National Commission for the State Regulation of Communications and Informatisation.
The government is banning business jet flights between Ukraine and Russia. Commercial flights were banned in Nov. 2015. On Wednesday, Cabinet of Ministers extended the ban to private planes in response to a March 22 flight to Moscow by two pro-Russian politicians – Yury Boiko and Viktor Medvedchuk. The expanded ban does not apply to flights by such international organizations as the Red Cross, the United Nations and the Organization for Security and Cooperation in Europe, or OSCE. Prime Minister Groysman vowed the bank would only be lifted when Russia "ceases to be an aggressor country and turns into a civilized state."
In response, Rosaviatsiya, Russia's federal air transport agency, told Interfax: "We propose to conduct negotiations and resume air traffic on a regular and charter basis between Russia and Ukraine in full…We are confident that such a decision is in the interests of our peoples and air passengers." Traffic on 'sanctions-busting' flights through Minsk is increasing. On Monday, Motor Sich resumed daily flights between Minsk and Zaporizhia, the busiest airport in Ukraine's heavily Russian speaking southeast. Belavia now has direct flights from Minsk to Ukraine's seven busiest airports: Dnipro, Kharkiv, Lviv, Odesa, Zaporizhia and Kyiv's two airports.
Today in Washington, NATO foreign ministers debate naval measures designed "to assure that there is safe passage for Ukrainian vessels through the Kerch Strait," US ambassador to NATO Kay Bailey Hutchison tells reporters. The US proposes increasing surveillance of Russia's military and rotating more NATO ships through the Black Sea. This month, US, Canadian, Dutch, French and Spanish warships are in the Black Sea. Under the 1936 Montreux Convention, non-Black Sea warships are allowed in the Black Sea for visits up to 21 days. Russia and Ukraine regard the Kerch Strait and the Sea of Azov as internal waters. Entry by a third country warship would require the consent of both nations.
Ending Russian harassment of freighters going to Mariupol would boost cargo volumes by 15%, or 800,000 tons, Oleksander Oleniky, the port director, tells the Center for Transportation Strategies. Last May, Russia opened a highway bridge without a drawbridge. The Kerch Strait bridge is too low for one-third of the freighters that historically serviced Mariupol port, the director says. One year later, the bridge pylons may be creating new currents and uncharted sandbars. Although regulations require passage of the Kerch Strait with a local pilot onboard, a 17,500-ton bulk carrier, the Maryland, ran aground in the Strait on March 14. Initially, it resisted the efforts of four tug boats to free it.
Since 2014, Ukraine's berry exports have increased five-fold, to 23,500 tons, Olga Trofimtseva, acting agriculture minister, said Wednesday at an industry conference in Kyiv organized by Berries of Ukraine. She said: "Ukrainian fresh berries are exported to Belarus, Poland, Moldova, the United Kingdom, and the Netherlands. The largest consumers of frozen berries have become EU countries." Ukraine's top harvests are strawberries – 62,300 tons; raspberries – 35, 600 tons; and currants – 29,600 tons.
Reflecting growing European interest in Ukraine's berries, Fruitnet is leading a "Ukrainian Berry Tour" to Kyiv and Zhytomyr May 20-24. "Ukraine is one of the most exciting new sources for fresh berries in the world today," reports Fruitnet, a London-based conference organizer. "Blueberries, raspberries, strawberries, and more are now under development. Ukraine is poised to become a leading supplier of berries and other key fresh produce items to Europe and Asia in the next 5 -10 years."
Almost $1 billion was invested last year in food processing in Ukraine, Prime Minister Groysman said at a recent agricultural fair, Agroport West Lviv. Noting that this accounted for about 28% of the $3.3 billion invested in farming last year, he said: "Our task is to change this structure…We must increase the in-depth processing of Ukrainian products."
Consolidating its role as Western Ukraine's air hub, Lviv airport saw its passenger flow jump by 53.5% during the first quarter of this year compared to last year. Growing faster than last year's rate of 48%, Lviv could handle 2.5 million passengers this year, more than triple's the city's population. Boosting to 38 the number of cities with direct, scheduled flights to Lviv, the city added in the last month: Wizz Air to Copenhagen; Motor Sich to Uzhgorod; and airBaltic to Riga.
To help Western Ukraine residents use the airport, Lviv started on Monday an hourly bus to the airport from Lviv's Main Railroad Station, the second busiest rail station in Ukraine, after Kyiv Central Station. To cash in on the tourist flow, the city also started on Monday a tourist tax, with rates up to 0.5% of hotel bills.