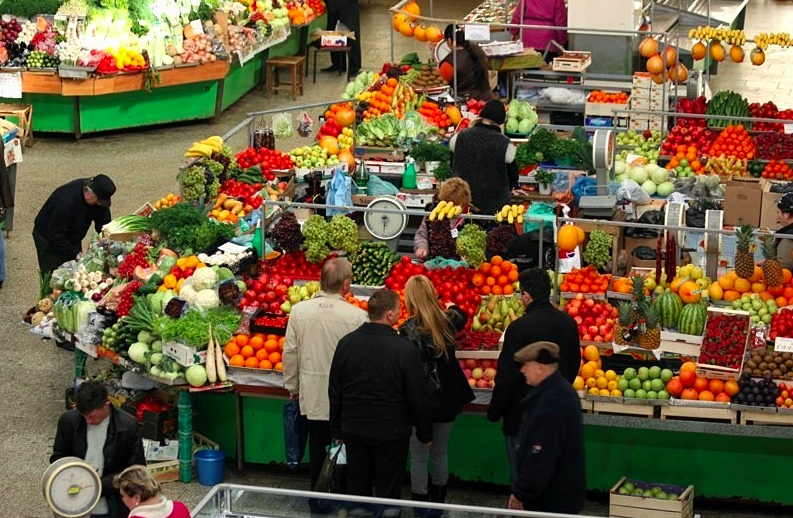 Starting tomorrow, almost 900 food markets are to reopen across Ukraine, Ihor Petrashko, minister of Economic Development, Trade and Agriculture told reporters Wednesday. Under a Cabinet resolution, each market is to have a minimum of two health inspectors, check on spacing of stalls and usage of masks by vendors and customers.
Lviv Mayor Andriy Sadovyi writes on Facebook: "May 1, we open food markets." With the summer tourism approaching he added: "We also appeal to the Cabinet of Ministers of Ukraine with a request to open access to parks and squares, and to allow the operation of summer terraces for cafes and restaurants from May 12.
The Cabinet decision to allow the reopening of food markets came as hundreds of small business owners protested outside, blocking traffic. "While we are not working, we have run out of money, we already have nothing to eat," Kyiv restaurateur Andriy Bondarenko told Reuters. "They (the government) have no action plan or understanding of the processes." Small business owners complain that they have been forced to close for two months while major chains like Epicenter, Silpo and Citrus remain open.
Inside the Cabinet building, Prime Minister Shmygal defended the 6-week-old shutdown. "The fact that we have fewer infected people compared to other countries is the result of the quarantine and your compliance with those measures," Shmygal said at the televised meeting. "We imposed the quarantine on time and we will lift it in due time. Irresponsible calls for early lifting of the quarantine threaten all Ukrainians."
Since March 13, Ukraine has recorded 250 deaths from coronavirus-related causes. Of the nearly 10,000 confirmed infections, 31% have been hospitalized. Kyiv City and Oblast have the most known infections, almost 2,000.
Due to coronavirus curbs, 200-300 million fulltime workers could lose their jobs worldwide this quarter, according to two reports, one by the UN and the other by its agency, the International Labor Organization. The ILO estimates that 1.6 billion informal workers, such as street vendors, are losing their incomes. The UN report says that during the 2014 outbreak of Ebola in West Africa, many more people died due to a lack of social services and economic downturn than to the disease itself. 
In a new threat to an IMF deal, the Rada may consider today a bill to make it easier to fire Artem Sytnyk, head of the National Anti-Corruption Bureau of Ukraine, a Western-supported agency seen as relatively independent. According to news site Evropeiska Pravda, IMF Ukraine mission head Ron van Rooden sent a letter to President Zelenskiy's office Monday night warning:"The institutional independence of NABU and its heads are critical components of its effectiveness, and therefore were important elements of previous IMF programs."
The letter was sent hours after Rada members allied with Ihor Kolomoisky engineered committee approval of a bill to widen dismissal grounds of a NABU head to 'administrative offences,' or misdemeanors. NABU and the Prosecutor General's office have pursued an embezzlement case into PrivatBank, which was formerly co-owned by Kolomoisky. Last month, the Prosecutor General, Ruslan Riaboshapka, was fired.
Oleksiy Lyubchenko has been appointed head of the State Tax Service, Vasyl Mokan, a government Rada representative, announces on Facebook. While his predecessor, Serhii Verlanov, is well known in tax reform circles, Lyubchenko is best known for serving as a deputy head of the State Tax Administration a decade ago.
The Cabinet of Ministers has limited the salaries of heads of executive bodies and members of supervisory boards of state-owned companies to $1,740 a month. The move follows similar lowered pay caps for ministers and their deputies. Critics say the effect will be to undermine the bureaucracy, turning off competent candidates from the private sector and rendering officials dependent on cash payments from the President's Office.
Sales of top end apartments in Kyiv fell by 70% y-o-y in March, and in April almost stopped, according to a survey by Kiev Standard, the elite real estate agency. In January-February, a total of 624 high end apartments sold. In March this fell to 116. The agency said Ukrainian buyers shifted toward finished or nearly finished apartment. Foreign buyers could not complete purchases due to travel barriers.
Two hours before a UIA charter flight was to fly workers from Boryspil to London, the State Aviation Service withdrew permission for the flight to take off. The passengers, more than 100, all had long term work contracts in Britain. UIA spokesman Evgeny Satska said he believes government officials were interpreting Foreign Minister Dmytro Kuleba's remarks Tuesday regarding the "illogical nature" of sending Ukrainian workers abroad in a pandemic. The airline official said: "Ukrainian airlines not only are deprived of their main activity due to total quarantine measures, but they also have to balance political statements and official documents."
While dozens of Ukrainian workers waited at Boryspil for their flight, Prime Minister Shmygal discussed the migrant worker issue with EU Ambassador Matti Maasikas and U.S. Chargé d'Affaires Kristina Kvien. On Telegram, Shmygal wrote later: "The government is ready for negotiations with European countries that express a desire to officially invite Ukrainian workers to seasonal work." He said the talks will be carried out by the Government Office for Coordination on European and Euro-Atlantic Integration.
Wizz Air plans to base an Airbus A320 in Lviv and to add seven new Ukraine routes during the first week in July. Increasing its routes out of Lviv by almost 50%, Wizz Air will add: Billund (Denmark), Hamburg, Lisbon, Szczecin (Poland), and Tallinn. From Kharkiv, Wizz Air will add two new destinations: Berlin and Tallinn. With this expansion, Wizz Air will fly 62 routes from Ukraine, almost 10% of its total network. "This investment underlines our long-term commitment to the country," said George Michalopoulos, the airline's chief commercial officer. Initially, passengers and crew will wear masks, the airplanes will be sanitized several times a day, and seats between passengers will be empty.
Passenger traffic at Ukraine's airports was down 9% y-o-y during the first quarter, reports Ukraine's State Aviation Administration. January and February's 15% growth compensated for a disastrous March. After Ukraine suspended all scheduled flights in mid-March, Kyiv Boryspil ended the month with traffic down 49.5%. Kyiv Sikorsky ended March down 65%.
The government has decided to allocate $23 million to complete construction of the runway at Odesa Airport, a project started almost a decade ago. Minister Oleg Nemchinov wrote on Telegram: "The construction was started within the framework of the program and preparation for the European Football Championship, Euro-2012."
From the Editor: For five years, we have heard about 'smart sanctions.' How about 'smart quarantines?' Instead of hitting economies and societies with sledge hammers, why not target quarantine measures for maximum public health impact and minimum economic impact? Sweden shapes its lockdown to protect the most vulnerable populations – residents of elderly homes. Otherwise, as the UN and the ILO present in reports this week, the cure may prove deadlier than the disease. With Best Regards Jim Brooke jbrooke@ubn.news