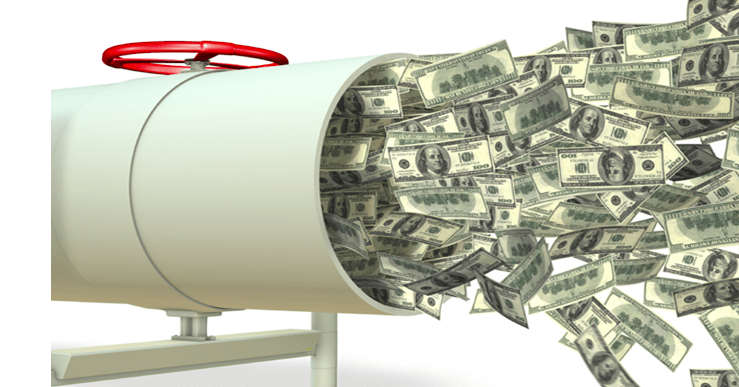 The EU will allocate €1.2 billion to help cover the budget deficit caused by the fight against the coronavirus, the European Commission announced yesterday. President Zelenskiy welcomed this one year 'soft' loan, saying: "When tough times come, you know who your true friends really are." The first tranche is to flow in mid-May, in parallel with Zelenskiy's timetable for reaching a deal with the IMF. The second tranche is to be disbursed on the condition of Ukraine keeping on track with the IMF program.
Separately, Ukraine is to receive a €500 million loan from a package approved by the EU in September 2018, conditioned on an IMF deal. Finally, the European Commission agreed two weeks ago to allocate €190 million in coronavirus medical, social and economic aid to Ukraine. Reviewing these three pots of money – totaling nearly €1.9 billion in EU aid, President Zelenskiy said. "This is a testimony that Ukraine made no mistake by choosing its European path."
To give new impetus to Ukraine's free market changes, President Zelenskiy is proposing to create new post for former Georgian President Mikheil Saakashvili: Vice Prime Minister for Reforms. Saakashvili, a Ukrainian citizen, has discussed the job offer with Prime Minister Shmygal. "We need to be bold in our decisions and reforms now," Saakashvili writes on Facebook. Tomorrow afternoon, the Rada is to vote on the nomination.
During a decade as President of Georgia, from 2004 to 2013, Saakashvili turned a corrupt and chaotic country into a high growth, free market success story and a magnet for international tourism. Later, in Ukraine, he served for 18 months as governor of Odesa Oblast. He resigned in frustration after clashing with President Poroshenko and Odesa Mayor Gennadiy Turkhanov. While seen as erratic by some in Ukraine, Saakashvili has many admirers in Washington.
Prime Minister Denys Shmygal has extended the coronavirus quarantine through Monday, May 11. This will make a full two months that much of Ukraine's economy – non-food retail, restaurants, travel and schools – will be locked down. During these months, mass transit is shut down, public gatherings over two people are banned, and masks must be worn in public.
Shmygal minimize the lockdown's impact on Ukraine's economy. "Our main export-oriented industries continue to operate at full capacity," he said yesterday at a Cabinet meeting, referring to farming, metals and IT. "Currently, only six industries operate with restrictions. These are transport, final consumption, bars, restaurants, mass cultural events."
Concorde Capital's Zenon Zawada writes: "Shmygal's comments so far indicate it's not worth expecting any notable economic recovery in May. Not only will many economic sectors remain closed, but many Ukrainians won't be able to work without public transit functioning. The situation with the border in May is especially critical."
Looking ahead, Shmygal predicts Ukrainians will have to wear masks for at least two years. "We all must adhere to the 'mask regime,' obey certain disinfection rules, we all must follow social distancing, certain rules of conduct in transport, in public places, in shops, etc." he said in a lengthy interview with RBK Ukraina. "The way we brush our teeth every day, we must learn to live with it. According to the World Health Organization, [this will be] for at least the next two years."
With Ukraine's travel industry dead in the water, Ukrainians should forget about May holiday travel and make vacation plans for the second half of the summer, Infrastructure Minister Vladyslav Krikliy tells BBC Ukraine. Trains will not run and planes will not fly for the May holidays. In June, mass transit – buses, trams and metro – will probably resume, with passengers obliged to wear masks, he predicted.
Tomorrow, the government may announce some easing of the quarantine – the re-opening of libraries, museums and parks to people wearing masks, says Health Minister Maksym Stepanov. Visitors are to walk singly or in pairs. Since Ukraine's first death due to coronavirus complications on March 13, 174 people have died – about four a day.
The UN warns the world may face multiple famines of "biblical proportions" as COVID-19 quarantines spread, disrupting logistics and depriving people of incomes and access to cheap food. "In a worst-case scenario, we could be looking at famine in about three dozen countries," David Beasley, executive director of the World Food Program, told reporters yesterday. He predicted that 265 million people could be pushed to the brink of starvation by the end of this year.
With coronavirus nervousness provoking 'food nationalism,' at least 10 nations, including Ukraine, have moved in the last month to restrict exports of grain or rice, reports Bloomberg in a story headlined: "What Happens When Bread Is Scarce and Grain Exporters Speak Up." Ukraine's APK-Inform consultancy reports that Ukraine's wheat exports jumped nearly 50 percent in the week ending April 17. This jump came after Ukraine's bakers and millers to limit wheat exports.
Ukraine's grain exports are up 20% y-o-y through Wednesday. Since the marketing year began last July 1, Ukraine has exported 49 million tons of grains and legumes, reports Interfax-Ukraine.
Ukraine's food sales netted 6% more during the first quarter of this year compared to the same January-March period last year. Sales hit $5.7 billion, reports the Ukrainian Agribusiness Club.  The Covid-19 restrictions had little impact on movement of grain to the ports, reports the farmer association.
Due to a drier than normal winter and spring, this year's grain crop is expected to be 3-6% lower than last year's bumper crop of 75 million tons, estimates UkrAgroConsult. As of two weeks ago, soil moisture at the one meter level was generally 25 to 45% below normal across Ukraine. Despite this problem, 90% of winter wheat crops are rated 'good' and 'satisfactory' the consultancy reports.
President Zelenskiy would like to create "a state-owned modern airline – at the level of Turkish Airlines or Singapore Airlines." This airline would fly Ukrainian-made Antonovs, he says in a film aired on Ukraine 24 to mark one year since his first electoral victory one year ago. At present, Antonov passenger planes – the An-148 and An-158 regional jets — are not certified to fly in the EU. They are limited to flying domestically and to Belarus and Moldova. The proposal for a state airline comes as Ukraine's two main international airlines – SkyUp and UIA – are asking the government for compensation for what could be three months without scheduled passenger service.
From the Editor: Saakashvili has gotten a reputation for being a loose cannon. But he did wonders for Georgia. When I first visited Georgia, in 1991, gangsters cruised the empty streets of Tbilisi with Ak-47s poking out their Lada windows. Fast forward to last year. Georgia welcomed 9.3 million tourists from around the world – more than two tourists for each Georgian. Sandwiched in between was the decade Saakashvili spent as President. If he can channel his manic energy into cutting corruption and freeing up the economy, Ukraine will be the better for it. With Best Regards Jim Brooke jbrooke@ubn.news