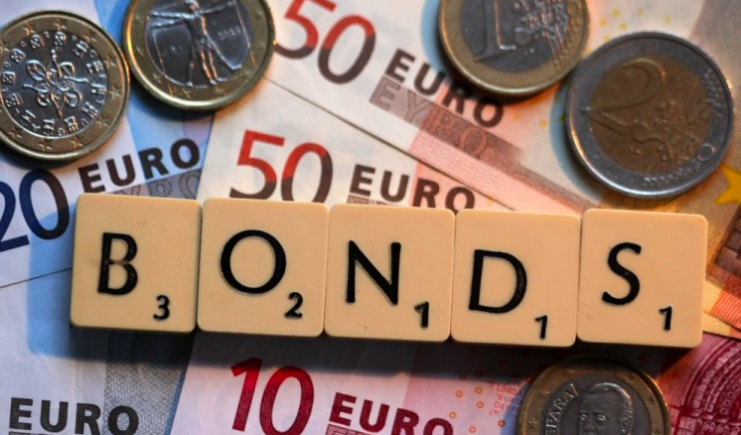 Ukraine's Eurobonds and GDP warrants rallied sharply on news of Rada approvals of bills seen as clearing the way to an IMF deal. GDP warrants jumped 11.6% Tuesday, to 74.8% of face value. Yields on Eurobonds of varying maturities fell an average of 120 basis points, to a new range of 8.5% to 9.9%, reports Interfax-Ukraine.
By giving final approval to the 'anti-Kolomoisky' bill, the Rada will unlock a first $4 billion tranche of IMF money this month, Danylo Hetmantsev, head of the Rada finance committee, tells Radio NV. Hetmantsev predicts final Rada approval by April 10. Linked to the $8 IMF Extended Fund Facility would be $1 billion in World Bank Funding, a €500 million tranche from the EU, and bilateral aid from Canada and Japan. Separately, Reuters reports Ukraine is in talks with the World Bank for a $150 million loan for social payments related to the coronavirus curbs.
"If we get this funding, we can calmly go through the crisis that has swept the whole world today," Yakiv Smoliy, Governor of the National Bank of Ukraine, predicted Wednesday in an online conference with the European Business Association.
Concorde Capital's Alexander Paraschiy writes: "If the IMF indeed provides $4 billion in the first EFF tranche…Ukraine's budget will accumulate enough funds to smoothly repay all its external debt — $3.9 billion in principal due by the end of 2020…[Coupled with EU and World Bank money] This would fully resolve Ukraine's liquidity issue for this year."
German Chancellor Angela Merkel and President Zelenskiy have agreed on a €150 million loan from Germany to help Ukraine fight Covid-19. These funds would be in addition to two other new sources of money to fight the epidemic: €40 million from the European Investment Bank, and €80 million from the European Commission.
With the IMF moving toward approving aid in April, The New York Times posts: "Desperate for Aid, Ukraine First Has to Fight Corruption." The article contains comments by former Prime Minister Honcharuk on his March 4 firing. "Our dismissal I connect, most of all, with our systematic fight against corruption," he said. Apparently alluding to Ihor Kolomoisky, candidate Zelenskiy's main media backer one year ago, he said: "We interfered with a lot of people's ongoing corruption schemes…not everybody was happy with that." Referring to his effort to change managers and board members of Ukraine's large state companies, Honcharuk warned: "Every one of these objects is a little breeding ground, a little hot spot, of corruption."
Facing rising unemployment, the government is developing a public works program. Prime Minister Shmygal said Wednesday: "We plan to create many jobs in a few weeks. In particular, we need people to repair roads, pave sidewalks, clean up territories. Many different jobs."
Determined to go ahead with this year's massive road building and repair program, the Cabinet of Ministers authorized Ukravtodor, the state highways agency, Wednesday to issue almost $700 million in state-backed hryvnia bonds. With maturities ranging from 1 to 5 years, the bonds are to have yields of 12.5% per annum.
Managing a gradual 13% devaluation of the hryvnia in March, the central bank sold $2.5 billion and bought $264 million. In the first quarter, the National Bank of Ukraine sold twice as much foreign exchange as it bought — $2.7 billion versus $1.3 billion. Today's rate is UAH 27.7/USD.
Ukraine has 794 officially confirmed Covid-19 cases – a 10-fold jump in 10 days. This increase may be partly explained by expanded testing. About half of infected people are believed to be recovering at home under doctors supervision. So far, there has been 20 deaths. Deputy Interior Minister Anton Gerashchenko predicts on Facebook that coronavirus will peak in Ukraine between April 15 and 25. He writes: "That is why quarantine in Ukraine can be continued until May 15."
Kyiv now has 132 cases. Mayor Klitschko said Wednesday: "The virus is spreading — and is spreading all over the city."
As spring weather arrives, the national government plans to tighten Ukraine's coronavirus lockdown, reports the government press service. Wearing masks in public will be mandatory. Banned will be: visits to parks, playgrounds and beaches, and walking in groups of more than two. President Zelenskiy said in a video address last night: "We ask you to stay home. No one will steal the beaches and no one will take out the sand. The parks will not disappear anywhere. Strolls can wait."
The closing of Kyiv's metro has radically slashed mass transit use in Ukraine's business capital. Previously, Kyiv's metro, city buses, tramways and trolleybuses carried about 1 million individuals every weekday. On Wednesday, Mayor Klitschko said 40,000 essential workers with special passes are using the remaining surface transport lines. Even if this 4% is augmented by car pooling, it is safe to say that 90% of the inhabitants of this city of 3.7 million are staying at home. With road traffic thin, the city added yesterday raised speed limits on seven road sections to 80 kph (50 mph).
Ukrainians approve of the coronavirus quarantine, but worry about running out of money, according to a new nationwide telephone survey of 2,000 people, conducted by Ratings Group. Almost 60% of respondents have enough savings for one month, according to the poll completed Sunday. Only 16% have enough money for two months. The government plans to continue the lockdown for another six weeks.
In the poll, 71% back limiting urban transportation and 65% would agree to curbing cars. About one third say that Ukrainians should not be allowed back in the country until the quarantine is lifted. In general, 80% support extending the quarantine to April 24 to stop the coronavirus spread.
With world steel prices low, Metinvest, Ukraine's largest producer of iron ore and steel, is considering suspending slab production at its Azovstal plant, reports Interfax-Ukraine. The possible shutdown comes as Metinvest suspends work this week at its two rolling plants in Italy, Ferriera Valsider and Metinvest Trametal.
Andriy Favorov has resigned as director of gas sales and production at Naftogaz. The resignation comes as two newly hired Dutch executives seek to unravel what looks like a $1 billion loss for the state energy company. In December, Naftogaz bet the wrong way on European natural gas prices, which plummeted by almost two thirds in the first quarter of 2020, to the lowest level in a decade.
Forbes Ukraine relaunches in May, six years after it was taken over by allies of then-President Yanukovych. The new editor will be the old editor: Volodymyr Fedoryn. "I am excited to be back to business with Forbes," said Fedoryn, who led a staff walkout after the Yanukovych-era takeover. The new owner of the monthly will be UYAVY! LLC, owned by Artur Grants. Grants also owns BF Group which won attention for winning a duty free concession at Boryspil airport and taking over the Sofiyskiy Fitness Group in 2017. The group reportedly is close to former Prime Minister Yatsenyuk. On Monday, alluding to coronavirus curbs which closed news kiosks, Grants said: "The start of this project coincided with the toughest challenge in our lifetime, but I am sure that Ukraine and the world will overcome this with business doing its best to support the country and the people."
From the Editor: The central bank estimated yesterday that remittances from Ukrainians working abroad will drop this year by up to 25%, or $3 billion. This comes after President Zelenskiy urged Ukrainians to come home. Now, facing an extra half a million unemployed, the government is creating a jobs program. Once again, it leaves the impression that when anti-Covid-19 battle plans are drawn up, there is no business voice in the room. With Best Regards, Jim Brooke  jbrooke@ubn.news