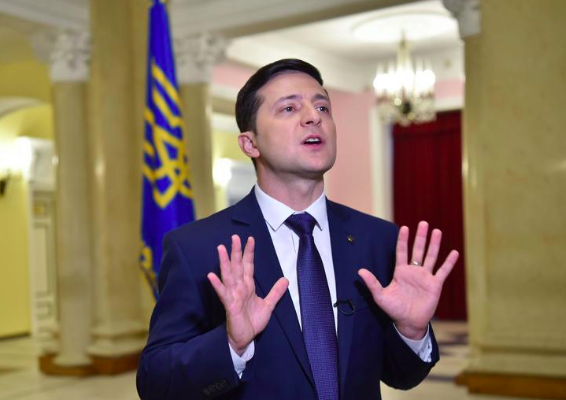 "Zelenskiy could be a good news story," writes Tim Ash, who has been following Ukrainian politics since Independence. Noting that the frontrunner in all polls prior to Sunday's election "is pro-Western, pro-business and pro-market," Ash writes: "Reformers, and the West, need to work with Zelenskiy to ensure the post-Euromaidan wins are preserved and further reforms pushed forward."
Tempering his optimism, Ash cautions that Zelenskiy's financial backer, Ihor Kolomoisky is "the biggest concern for investors and I think Western diplomats in regard to Zelenskiy." Ash, a senior sovereign analyst for Blue Bay Asset Management in London, writes: "It is difficult to imagine the current IMF standby agreement sustaining if a Zelenskiy administration backtracks on existing commitments to reform of the National Bank of Ukraine and the broader banking sector. This will be a deal breaker for the IMF et al, and I think for foreign private sector creditors."
Oleh Dubyna, a senior energy official under successive governments in the 2000s, has emerged as a key economic advisor to Zelenskiy, reports RFE/RL. Last week, Signal Group, a Washington lobbying firm, started setting up meetings for Dubyna in Washington with Trump Administration officials, congressional aides, reporters and think tank leaders.  Dubyna, now 60, was, successively, Energy Minister in the Yuschenko government, advisor to President Kuchma, then chairman of Naftogaz under Prime Minister Tymoshenko.
With Sunday's vote looming, Zelenskiy assiduously ducks the press, delegating to advisors the task of explaining future policies, 21 Ukrainian news outlets complain in an open letter. "Our readers, viewers, and listeners are asking questions we cannot answer since we have not once talked with you directly," the letter says. "Our professional duty as journalists is to bring important information to the public in a timely and comprehensive manner. Since you ignore our interview requests, we cannot fulfill this function." The media groups demand a press conference. A campaign spokesman says that, with the debate on Friday, there is no time.
Zelenskiy's team is sending crossed signals on the future of the National Bank of Ukraine. Dmytro Razumkov, a campaign spokesman, called last week for an audit of the central bank, a move that could start a process for pushing out central bank governor Yakiv Smolii. But on Monday, Oleksandr Danylyuk, Ukraine's former finance minister, said there is no need for an audit of the bank. He said on ICTV's Svoboda Slova show: "We understand the (NBU) is an independent institution, and that it's a big achievement that the National Bank became independent."
Serhiy Fursa, an investment banker at Dragon Capital, warns against tinkering with the bank, writing in Novoye Vremya news site: "The NBU is the loudest example of the success of reforms in Ukraine, and the independence of the regulator is a clear signal of the opportunity to invest."
Tomorrow night's presidential debate should draw 60,000 people to Kyiv's Olimpiyskiy Stadium, about 85% of capacity, predicts the Interior Ministry. The Zelenskiy campaign reports that within 30 minutes of posting a ticket booking link, 12,000 free tickets were reserved. Dmytro Razumkov, says the two campaigns are to split the cost of the stadium rental, about $250,000.
More than half —  51.3% — of respondents to a nationwide poll say Friday's debate is not important for them to select a candidate, reports the Kyiv International Institute of Sociology. Asked about top priorities for the next president, 39% said lower household gas price; 35% said removing political immunity from MPs, judges and the president; 32% said investigating big corruption schemes, and 23% said negotiating a real ceasefire for the Donbas.
The index of business expectations by Ukrainian enterprises' top executives grew to 119.7% in the first quarter, from 117.3% in the fourth quarter, reports UNIAN. About half of business executives polled predicted that the hryvnia would not fall below 29 to the dollar, a 7% devaluation from today's rate. Separately, the average value of the consumer sentiment index in Q1 exceeded the average value for all of 2018, according to a study by Info Sapiens. In general, the index of economic expectations in March rose by 1.4 points – to 68.1 – according to the results of a poll of 1,000 people.
Grain exports are up 21% compared to this time last year, reports the State Service for Food Safety and Consumer Protection.  Since the start of the marketing year, in July, Ukraine has exported 40 million tons. Of last fall's 70 million ton harvest, Ukraine may export as much as 50 million tons.
The outcome of trade disputes between China and the US and Canada will determine Ukrainian export flows in coming years, Argus Media reports from Kyiv's Black Sea Grain conference. US-China trade talks are expected to end this month. No deal would big opportunities for Ukraine's exports of corn, barley, and canola.  "There is a big opportunity for Ukraine to export to China," Renault Quach, director of Chinese trading firm Donlink Grain and Oil.
The name of Ukraine's busiest port has been officially switched from 'Yuzhny' (Russian) to 'Pivdennyi' (Ukrainian).  Both words mean 'Southern.' Founded 40 years ago on a shore of the Ajalyk estuary, 40 km north of Odesa, Pivdennyi handled 43 million tons of cargo last year. It is also Ukraine's deepest port, with average depths of 15 meters.
Since 2016, 6,800 km of roads – or 15% of the national road network — have been repaired or rebuilt, Prime Minister told the Cabinet of Ministers on Wednesday. Starting this month, $1.25 billion is being spent this year on rebuilding state roads. Support this historically high level, the new Road Fund supplies 60% of the state road-building budget. Starting last year, regional governments are responsible for maintaining the nation's 120,000 km village-to-village and village-to-district center roads.
Two Canadian companies — International Road Dynamics Inc. and Quarterhill Inc. – have won a $6.4 million contract to supply 12 electronic complexes capable of weighing trucks as they travel down highways. In an effort to get overloaded trucks off the roads, the World Bank is largely paying for the Weight in Motion systems. The systems weigh and ticket drivers, minimizing the human interface. Reflecting the amount of money traditionally made by extorting drivers, a group of police officers attacked a rival police group early Wednesday morning at an Odesa highway weigh station. Five cars were damaged and three men went to the hospital.
UIA has switched to three new fare categories: Economy Light, Economy Standard, and Economy Premium. Fares differ according to baggage amounts and the ability to switch travel dates. Designed to maximize revenue per seat, the rules follow similar rate structures adopted since 2015 by other legacy flag carriers — Lufthansa, Air France, KLM, Alitalia, British Airway, and LOT. Last year, UIA lost $100 million.