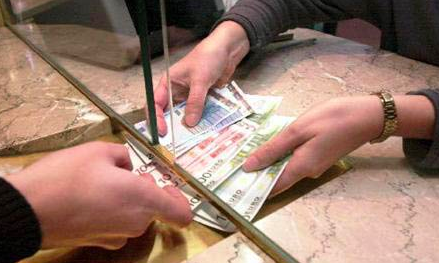 The World Bank reports that Ukrainians sent home last year $14.4 billion in wages, almost one third more than the $10.9 billion figure reported by the National Bank of Ukraine. Ukraine is now the largest recipient of wage remittances in Europe and Central Asia, says the World Bank. For comparison, $14.4 billion is 11% of the nation's GDP and 10 times the $1.4 billion disbursed by the IMF to Ukraine last year.
Labor is now Ukraine's second largest export, after food. Wage remittances now are more than the total exports of metals and IT services combined. With more than a $1 billion a month coming into Ukraine, economists say wage remittances boost retail sales and residential construction and help explain why the hyrvnia / dollar exchange is basically unchanged for three years.
Almost two years after the start of the 90-day visa-free regime with the EU, part-time work in the EU is increasingly common. Of the 7-9 million Ukrainians who work abroad, only one third do so full time, estimates Andriy Reva, Minister of Social Policy. Poland's Foreign Minister Jacek Czaputowicz estimates about 2 million Ukrainians work or study in Poland — about 5% of the people living there. In turn, about 2 million Poles work further West in Europe, largely in Germany and Britain.
Poland's average wage is $1,050, about three times higher than in Ukraine. In a recent Channel 24 report, economist Alexander Savchenko said a fast way to increase monthly salaries by one third would be to slash payroll taxes.
On average, Ukrainian companies raised wages last year by 15-20%, Yuriy Perch, Ukraine director for the ANKOR job agency, tells 112.ua for a detailed story about labor migration. To hold on to employees, Metinvest and OKKO raised salaries by 30% last year. since 2015, the average farm salary has tripled, says Leonid Kozachenko, president of the Agrarian Confederation. With farms in neighboring countries recruiting Ukrainian tractor drivers and combine operators, "labor shortage" suddenly displaced 'corruption and raiding' for second place on the Confederation members' worry list, after a shortage of credit.
Ukrainian builders, welders, plumbers, and truck drivers are most sought after abroad, according to Vasyl Voskoboynik, who runs a Ukrainian employment agency association. An experienced tiler who earns $7-10 per square meter in Ukraine, can earn $30 per square meter in Belgium. On his return home after 90 days, he has little incentive to do the same work here for one quarter the wage, Perch of ANKOR, tells 112.ua.
In Ukraine, 42 domestic and international payment systems were in use at the end of last year, reports the National Bank of Ukraine. These included credit card companies and international transfer systems. On Wednesday, PrivatBank announced that it has set up an international transfer system with Israel, through STB Union. PrivatBank, Ukraine's largest bank, said: "Now you can send a transfer from Israel for a few clicks through the mobile STB Union application at the best exchange rate."
The Finance Ministry sold the equivalent of $304 million bonds Tuesday, fulfilling 99% of all bids without changing yields from the 18-19% range. ICU writes: "Demand for local-currency bills remains high, allowing the MoF to borrow more funds than needed for debt repayments. Foreign investors purchased more than UAH 8 billion during recent weeks."
Horizon Capital has acquired a minority stake in Dobrobut, the Kyiv-based private healthcare provider. Financial terms weren't announced for the investment which is from Horizon new $200 million Emerging Europe Growth Fund III. Dobrobut CEO Oleg Kalashnikov said the company plans to shortly open a 10,000 square meter facility in Kyiv that will offer surgery and heart and cancer care.
Dentons law firm moved last week from Volodymyrska, Kyiv's law firm avenue, to the new Astarta Organic Business Center on Podol's Naberezhno-Khreshchatytska Street. Billed as Kyiv's first "green" business center in Ukraine, the Astarta building has its own park with fountains and lines of trees. Oleg Batyuk, the managing partner of Dentons Ukraine, which has 30 fee earner lawyers, said: "For over 25 years, we have been devoted to the Ukrainian market and we will continue to invest in growing our capabilities."
Businessman Vadim Grigoryev has made his second big Kyiv office center purchase in a year, buying a 28,200 square meter building in western Kyiv currently occupied by Innovecs, the Israeli software outsourcing company. Hryhoryev bought the center for $13 million at a ProZorro.sale auction of assets owned by the now defunct Ukraine subsidiary of Russia's VTB bank. Last year, he bought the 17,100 square meters Renaissance Business Centre for $25 million, Kyiv's largest office purchase of the year. With IT companies grabbing space, office vacancies in Kyiv have fallen to 3%.
Starting July 1, 5% of all new parking spaces – in public garages and apartment blocks – will have to be equipped with chargers for electric cars. By 2030, 100% of parking spaces in garages are to have chargers. "In the span of the next 5-10 years, the global community will entirely switch to electric cars," predicts Lev Partskhaladze, deputy minister of Regional Development, Construction, and Housing. "This will not happen at once. We need to begin preparing now."
Election Update:
Tomorrow afternoon in Paris, Volodymyr Zelenskiy and President Poroshenko will meet with French President Emmanuel Macron – separately. A French Presidential source tells Reuters: "These contracts will allow us to calmly prepare the next steps in the development of Franco-Ukrainian ties and joint work for security on the European continent." Earlier in the day, Poroshenko will meet with German Chancellor Angela Merkel in Berlin. Then, Poroshenko flies back to Kyiv, where he promises to stand in Olimpiyskiy Stadium Sunday at 14:14 to debate his opponent. Zelenskiy has only said he will debate at the stadium on Friday evening April 19.
Ihor Kolomoisky wants PrivatBank back. On Tuesday, the day after Ekonomichna Pravda quoted Kolomoisky saying he wants $2 billion in compensation for the nationalization of PrivatBank, the Ukrainian oligarch amended his lawsuit in Kyiv's Economic Court to say he wants the full return of his 41.5% share of the bank. In response, President Poroshenko told NV Radio: "The reboot of the first level courts was delayed. And today they are de facto not reformed. Unfortunately, anything can happen there." Poroshenko estimated state losses in PrivatBank to be as high as $6.7 billion. Kolomoisky backs Zelenskiy in the April 21 runoff presidential vote.