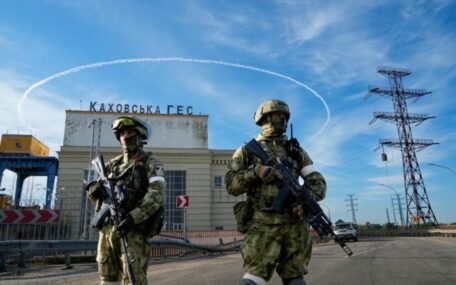 Tuesday, October 25, 2022
The potential consequences of the Kakhovskaya HPP's destruction.
If Russian troops blow up the Kakhovka Dam, the Ukrainian counteroffensive would only be delayed for a short time. However, the North Crimea Canal and the Zaporizhzhya NPP would not be able to function, explained the Head of Intelligence of the Ministry of Defense of Ukraine, Kyrylo Budanov. According to Budanov, in the event of an intentional explosive destruction by the Russians, the left bank of Kherson would be completely flooded, and even the theoretical possibility of supplying water to the North Crimean Canal would be lost. The most important aspect is that the occupiers would destroy the possibility of the Zaporizhzhia NPP's operability, because of the plant's absolute reliance upon  the Kakhov facility's function. In addition, as Budanov added, these actions would complicate the Armed Force's advance for a certain time. But, according to Budanov's estimates, this would amount to two weeks at the most. After that, the enemy would be forced to retreat directly to Crimea. "Are they ready for this? I think not," Budanov added.