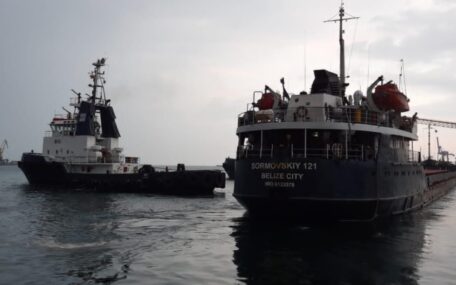 Monday, August 15, 2022
The fifth grain caravan left Ukrainian ports.
On August 12, the fifth caravan with agricultural products left the Ukrainian ports of Chornomorsk and Pivdenny, the Ministry of Infrastructure reported. The ship SORMOVSKIY 12 departed the port of Chornomorsk, and the bulk carrier STAR LAURA was the first ship to depart from the Pivdenny Seaport since the war began. The ships are carrying more than 63,000 tons of farm products combined. The ship SORMOVSKIY 12, under the flag of Belize, is carrying 3,500 tons of wheat to Turkey, and the ship STAR LAURA carrying 60,000 tons of corn to Iran. On the same day, these two ports were scheduled to accept two more ships for loading – BRAVE COMMANDER and PETREL S. They are expected to deliver more than 40,000 tons of Ukrainian grain.