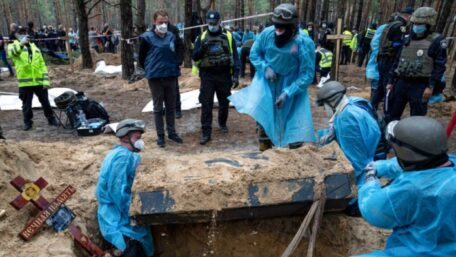 Monday, September 19, 2022
The exhumation of bodies from a mass burial site in Izium will continue for another two weeks.
 Ukraine's Defense Ministry said at least 440 unmarked graves have been found in the city in the last couple of days. According to Volodymyr Zelenskyy, some of the bodies found in Izium showed signs of torture, blaming Russia for their cruelty and terrorism. The exhumation of the bodies will continue for another two weeks. "No new burial sites have yet been found in Izium, but there is information that they exist; the search is ongoing," Mayor Valerii Marchenko said. The city, near the border between the Kharkiv and Donetsk regions, was under Russian occupation for over five months and became an essential hub for the invading military.