The EU must address technical issues in order to transport large cargo volumes from Ukraine.
Wednesday, May 18, 2022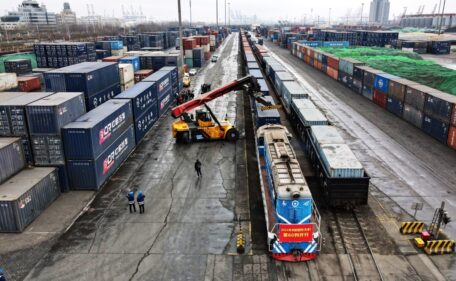 Ukraine Railways (UZ) emphasizes several problems on the part of the transport system of European countries and its integration with Ukraine, which hinder the increase in the volume of cargo transportation by rail from Ukraine to Europe. One of the issues is the shortage of rolling stock, cars, and locomotives.  According to Deputy Director of Ukrainian Railways Valery Tkachev, today, UZ uses only 2,000 rail cars and transports about 130,000 tons of cargo per day at the western border crossings. At the same time, UZ's capacity allows for the transport of 3,422 carts or 220,000 tons per day. According to the Ukrainian railway operator, the main problem is that the railway infrastructure of Ukraine and Europe differs significantly in track width. For the two infrastructures to be able to exchange freight, they need to carry out reloading at the border or change carts. At the same time, UZ notes that there are also not enough reloading terminals.
Support UBN team