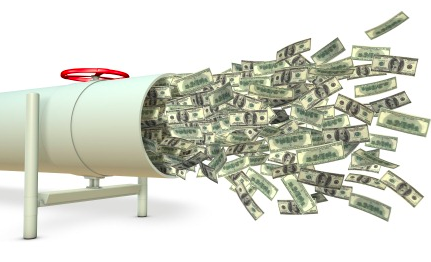 Thursday, September 24
UkraineInvest Works on 46 Incoming Investments...Zelenskiy Says Economic Recovery Has Started...Demand for Hryvnia Bonds Dries Up...Ukraine Reaches Out to Slovakia, Hungary, and Bulgaria...Bonus on UIA Flights to NY: A Winter Refueling Stop in Iceland
UkraineInvest, the state promotion agency, says that it working on 46 investment projects that should bring $2.2 billion in new foreign investment to Ukraine by the end of 2022. To reach out to foreign investors, UkraineInvest plans to open "10 to 15 international offices," Serhiy Tsivkach, the agency's new executive director, told reporters Tuesday.
To highlight investment opportunities, UkraineInvest has launched an online, bilingual English-Ukrainian investment guide. The guide profiles 60 of 600 most promising opportunities in the country today. "It is an analytical tool in which you can find information about investment projects, the country's resource potential, changes in regulatory policy," Prime Minister Shmygal writes, adding that it will be updated quarterly. "You can find information about every sector of the Ukrainian economy: from agriculture and energy to infrastructure and IT."
President Zelenskiy says Ukraine's economic recovery will be "tangible and sustainable" by the end of this year. Exports increased in July and August and that central bank foreign reserves are growing, he told Slovakia's "Economic Newspaper," Hospodarske noviny. Similarly, Dragon Capital said Tuesday that Ukraine's economy is recovering faster than expected and should be back at pre-crisis levels by the end of next year.
Industrial production continues to lag in Ukraine, recording a 5.3% yoy drop in August. In June, the fall was 5.6% and in July it was 4.2%, according to the State Statistics Service. Through August, industrial production was down 7.4%, compared to the first eight months of 2019. Dragging down the index in August, processing was down 7.7% and production of investment goods was down 27%.
Faced with weak demand, the Ministry of Finance sold at its weekly auction only 5% of the volume of government hryvnia bonds as one week before. The sale of the hryvnia equivalent of $11.8 million in bonds came as the government rejected most bidding, only conceding on 12-month bills. Here the weighted average rate rose by 18 basis points to 9.46%. The 2.5-year bills sold with yields of 10.5%.
Concorde Capital's Evgeniya Akhtyrko writes: "It looks like even state-owned banks are refusing to allocate their resources to assets with non-competitive interest rates. Apparently, Ukraine's market players are assigning a high risk to the market, and we don't see much chances for this to improve in the nearest time. Meanwhile, if the government resorts to hiking interest rates, that would undermine the proposal under consideration by the Zelenskiy administration to flood the economy with low-cost loans in order to stimulate economic growth."
Foreigners decreased holdings last week by UAH1.6 billion, or $57 million, the largest withdrawal since July. Overall, foreign holdings fell below $3 billion, with their share of total bonds outstanding falling to 9.7%. ICU writes: "This week, the decline in foreigners' portfolios will continue…The main reason will be weakening of the hryvnia."
President Zelenskiy visits Slovakia today, part of a campaign to promote trade and investment ties with Ukraine's often overlooked southwest neighbors: Slovakia, Hungary, Romania and Bulgaria.
In Slovakia, Zelenksiy plans to sign an agreement allowing the resumption of scheduled flights to Uzhgorod, a Ukrainian airport that uses Slovakian for takeoffs and landings. Ukraine's president tells the Slovak newspaper Hospodárske Noviny that he also wants to ease the bureaucratic path for Chinese freight trains crossing Ukraine and entering the EU through Slovakia. Zelenskiy's visit also will highlight Tuesday's normalization of gas transit from Ukraine, following six weeks of repair on the pipeline border connector near Budince, Slovakia.
Hungary's low-cost airline Wizz Air announced yesterday that it will resume flights from Kyiv and Lviv to Bratislava on Oct. 2. If Slovakia falls off Ukraine's list of coronavirus 'green' countries, flights will be postponed. With the launching of a Budapest-Kyiv Boryspil flight, Ryanair will match Wizz Air's Ukraine destinations: Kharkiv, Kyiv, Lviv and Odesa. Wizz Air also flies Budapest-Zaporizhia.
Yesterday in Uzhgorod, Hungary's Foreign Minister Péter Szijjártó met with his Ukrainian counterpart, Dmytro Kuleba. The meeting was largely designed to soothe tensions over the status of the Hungarian language in Zakarpattia and to prepare for a meeting of the leaders of Ukraine and Hungary, Zelenskiy and Prime Minister Viktor Orban. The foreign ministers agreed to hold a business forum of Hungarian and Ukrainian companies, "as soon as possible." Kuleba said: "We want more trade, interpersonal, infrastructural and political contacts between Ukraine and Hungary."
Easing of language tensions is seen as key to freeing up Budapest's long standing offer of a €50 million credit line to improve Zakarpattia's infrastructure – largely roads and border crossing points. In addition, Hungary is spending €33 million to modernize 64 Hungarian language schools in Zakarpattia and €7 million a year in salary supplements to teachers, doctors, journalists and entertainers providing services in Hungarian. Hungary suffers from a labor shortage and employers often draw on Zakarpattia's 150,000 Hungarian-speakers to fill the gaps.
Hungary is the largest importer of electricity from Ukraine, reports Ukraine's State Customs Service. Through August, Hungary bought $92 million worth of electricity through Ukraine – the equivalent of the combined total of the next two countries, Poland and Romania.
After Ukraine's Foreign Minister and Defense Minister made separate visits to Romania earlier this month, Ukraine's Prime Minister Denys Shmyhal met Friday with in Kyiv with Bulgaria's Foreign Minister Ekaterina Zaharieva. They agreed to hold a Ukrainian-Bulgarian business forum in Sofia in 2021, and, at the same time, the first meeting in a decade of the Ukrainian-Bulgarian Commission on Economic Cooperation. Both sides agreed to simplify the transfer of rail containers on the ferry link between Chornomorsk and Varna.
UIA plans to resume regular flights between New York and Kyiv Borsypil on Dec. 9. However, the airline plans to use narrow body Boeing 737-900ER jets on the route, necessitating refueling stops midway, in Keflavik, Iceland. This stop is expected to add two hours to what previously was a 9 to 10-hour flight. Flights will be twice a week with a 737, a plane that seats 177. Previously, UIA used on the New York route long haul 767s and 777s, jets with twice the seating capacity.
For a warmer option in the Western Hemisphere, Azur Air Ukraine starts flights Oct. 16 to La Romana, Dominican Republic. Marketed with Anex Tour, the nonstop flights will be four times a week on a long haul Boeing 767-300ER jet.
 From the Editor – Heavyweight Klitschko got his ears boxed the other day by bantamweight Zelenskiy. Citing traffic jams, air pollution and 'chaotic building,' the president promoted his candidate for mayor, Iryna Vereshchuk. "Kyiv is the face of Ukraine," Zelenskiy said Sunday at the main campus of Taras Shevchenko University. "We all want our favorite city to finally get the look it has long deserved." The polls leading up the Oct. 25 mayor vote, shows a Snow White and Seven Dwarves scenario. But, in the crowded field, Vereshchuk is not the Snow White. It is Klitschko who may win reelection on the first round. With best regards, Jim Brooke