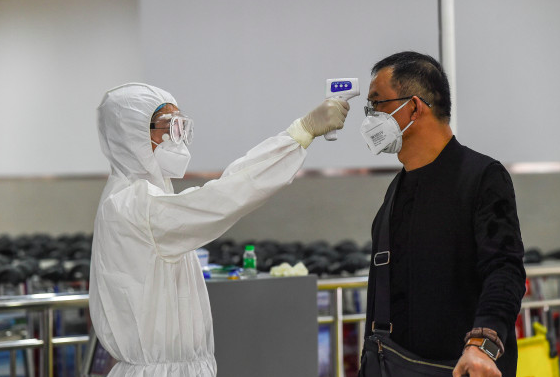 Official numbers indicate that Ukraine's coronavirus epidemic has receded according to official numbers. Hospitalizations are down 20% from the early December level of 28,500, Prime Minister Shmyhal said yesterday. Daily new confirmed cases are running between 4,100 and 8,000 – between one quarter and one half of the peak of 16,300 at the end of November. Yesterday morning's reported level of 4,158 new cases was the lowest in three months, since Oct. 5.
Today, only one third of the nation's 77,000 Covid beds are occupied, Health Minister Maksym Stepanov reported yesterday. This is a sharp contrast to November when Covid hospitals in Kyiv were full and turned away patients.
Confirmed cases may have dropped because people with mild cases do not want to go through the bother and expense of being tested. In addition, over the last three months, 6% of Ukraine's population fell ill with traditional influenza and acute respiratory viral infection. Some of these could have been Covid cases. For example, in October, 1,998 people died of influenza and pneumonia in Ukraine, nearly four times the 579 who died one year earlier, reports OpenDataBot, citing State Statistics Service data on cause of death.
"There is a probability that we actually have fewer people now being infected with this coronavirus, and it is possible that the first wave is coming to an end," Serhiy Komistarenko, a member of Ukraine's National Academy of Sciences, told RBK Ukraine last week.  "And it would be good if the second wave did not start at all — or began much later."  To date, 5.6 million PCR tests have been administered, 1.1 million Ukrainians have fallen ill, and almost 19,000 are known to have died.
In face of falling infection numbers, business groups are pressuring the government to soften the lockdown that starts this Friday, the day after Orthodox Christmas, and runs through Sunday January 24.  Last week, the American Chamber of Commerce in Ukraine appealed to lift restriction on supermarkets which will be forced to curtain off non-food items. "From January 8, even in supermarkets it will be forbidden to sell a significant part of everyday goods: household chemicals and tools, clothing, presses, light bulbs, batteries, children's products for education," the Chamber said in a statement.
Starting at 12:01 am on Friday, mandatory closures cover: all restaurants, bars, schools, gyms, swimming and non-food stores. Allowed will be: food stores, pharmacies, medical clinics, sales of hygiene products, telephones and animal food; car repairs; gas stations, banks, ATMS, post offices, beauty salons and barbers by appointment and hotels and hostels.
To prepare for economic pain from the coming lockdown, the government has distributed $130 million in grants to almost half a million small business owners and their employees, Prime Minister Shmygal reported yesterday by video link to President Zelenskiy.
The government is heeding Health Minister Stepanov's call to stick with the Friday shutdown. "Many people ask whether we plan to postpone or cancel the quarantine, as the number of cases has been falling," he told reporters last week. "With regard to the strict quarantine from January 8 to January 24, we are not going to introduce any changes." Yesterday, during a video meeting with President Zelenskiy, Stepanov predicted that cases will increase after the holidays.
Ukraine will only start to return to normal this spring, Viktor Lyashko, chief sanitary doctor, predicts in an interview with Ukraina 24 TV. "We will start out a step-by-step return to our usual rhythm of life in April," predicts Lyashko who is also Deputy Health Minister. "[Until then] We will not completely get rid of anti-epidemic restrictions and such harsh quarantines."
In coming weeks, Ukraine hopes to receive almost 20 million doses of coronavirus vaccines, enough to vaccinate 10 million people, about one third of the adult population this year. The Health Ministry's goal is to inoculate at least 50% of Ukraine's 36.5 million people by the end of 2022. All vaccines require two shots. Here are the numbers:
China's Sinovac Biotech: Last week Ukraine's Health Ministry of Health signed a $34 million ProZorro contract for delivery of 1.9 million doses. Health Minister Maksym Stepanov predicts the first vaccines will arrive next month.
COVAX – President Zelenskiy wrote Thursday on Telegram: "We are working to increase supply through COVAX [from 8 million] to 16 million doses." COVAX is a multinational collaboration organize to ensure equitable distribution around the globe of several coronavirus vaccines.
Poland has offered to transfer 1.5 million vaccine doses to Ukraine, Yevhen Enin, Ukraine's deputy foreign minister, told Interfax-Ukraine.
Russia's Sputnik V: Despite an announcement in Moscow that this vaccine will undergo 'clinical trials' in Ukraine, officials here say it will not be allowed. Arsen Zhumadilov, Head of Medical Procurement of Ukraine, a state enterprise, wrote on Facebook Sunday: "To rely on a state Russian company during a Russian armed aggression against Ukraine on the question of providing epidemic safety for the country is being ignorant to say the least."
The Covid economy accelerated Ukrainians' flight from cash in 2020, indicate figures from PrivatBank, Ukraine's largest bank. Last year, Ukrainians' transactions with PrivatBank terminals increased by 31% yoy, to the hryvnia equivalent of $11.5 billion. Spending in pharmacies was up 40%, to almost $1 billion. Spending food stores was up 48%, to almost $6 billion. Spending on clothes and shoes was down 1.6%, to almost $900 million.
Surfing the net during lockdowns, Ukrainians boosted visits to Ukrainian Wikipedia last year by 21% yoy. In 2020, 855.1 million pages were visited, raising Ukrainian Wikipedia to the rank of 17th most popular worldwide, according to the Ukrainian Wikipedia editor's blog.
The New Year's holiday temperatures were some of the warmest on record, with the weather comparable to that of a normal mid-October, reported Central Geophysical Observatory. On Thursday and Friday, record highs were set at 8.4C, or 47F, on each day. This follows Kyiv's warmest autumn since record keeping started in 1881. Because of the warm weather, the Dnipro River season has been extended through January, an unprecedented time expected to be free of major ice.
Editor's Note: It may be comforting for some Ukrainians to learn that the US has its own fair share of stupid people. Yesterday, I received a UPS package marked 'Extremely Urgent' and addressed to "Ukraine S.S.R." No, it was not 30 years late. It was a replacement for a UPS package that the US-company proved incapable of delivering last month to an office address in Kyiv with a 24-hour reception. Resolutely ignoring all emails from me with mobile numbers and delivery instructions, the US-designed 'tracking' system sent me an ominous crescendo of emails: first declaring that the package was 'abandoned,' and then, that it was being 'destroyed.' There should be an NGO: Morons Without Borders. With Best Regards, Jim Brooke