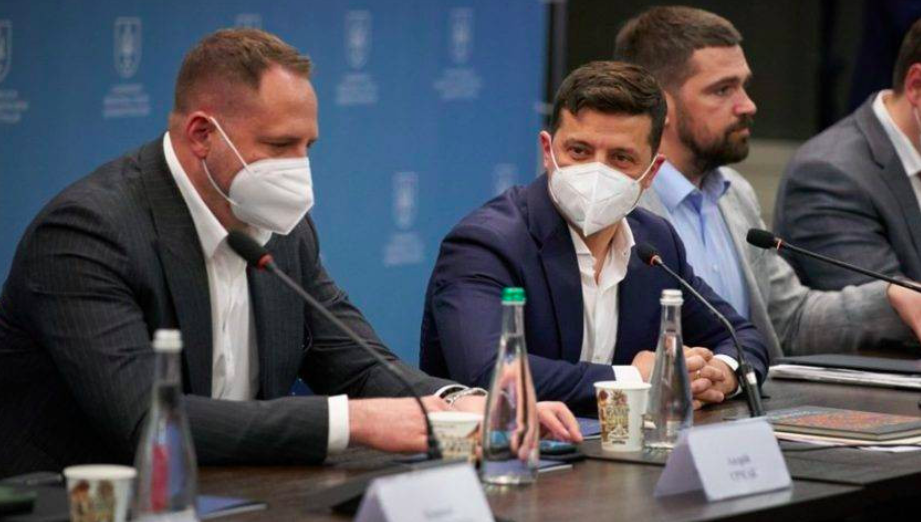 President Zelenskiy, his chief of staff, and his Finance Minister all tested positive yesterday for the coronavirus. Zelenskiy reported on his Telegram channel that his temperature is 37.5C (99.5F). In June, his wife Olena contracted coronavirus and was hospitalized for several weeks. Zelenskiy, Andriy Yermak, his chief of staff, and Serhiy Marchenko, the finance minister, are all self-isolating and working remotely. Yermak wrote on Facebook: "Friends, I urge everyone: Don't be careless with the quarantine rules. Wear masks, wash your hands. Keep your distance, while staying calm."
To curb the virus, President Zelenskiy proposes weekend lockdowns where only food stores, pharmacies and gas stations would be open from Friday midnight to Sunday midnight. He said: "A temporary lockdown at weekends, for about a few weeks, can help us to avoid a harder lockdown." Health Minister Maksym Stepanov told reporters yesterday he recommends suspending inside dining at restaurants, allowing only takeout on weekends.
Scheduled surgeries and hospitalizations are now prohibited in Ukraine, deputy Health Minister Viktor Liashko told reporters yesterday. Last week 9,234 people were hospitalized for Covid, 2,000 more than the previous week. With the daily infection toll around 10,000, Liashko described the situation in Ukraine as "extremely tense."
The national occupancy rate of hospitals dedicated to treating coronavirus-infected patients is 63.2%. The worst regions are: Poltava – 94%; Zhytomyr – 81.3%; Rivne region – 79%. Kyiv city is at 63%, the national average. In Kyiv, three schools and 13 kindergartens have been closed due to Covid cases among teachers, Mayor Klitschko told reporters Friday. He said: "A total of 654 pupils and 602 teachers in Kyiv have are sick with coronavirus."
As 80% of Ukrainian Covid cases undergo treatment – or self-medicate – at home, the use of antibiotics has grown 3.5 times yoy, Health Minister Stepanov told the Rada Friday. At the same Rada session, Prime Minister Shmyhal said that in Ukraine the mortality rate for hospitalized Covid cases is 1.8%. Since March, almost half a million Ukrainians have tested positive for the virus.
President Zelenskiy is to sign into law this week a measure that would allow police to issue on the spot fines of $6-9 to adults found in enclosed public spaces without masks. Mask wearing is not mandatory on streets. They are mandatory in: stores, restaurants, schools, playgrounds, gyms, government offices, elevators and hallways of apartment buildings, underground passageways, bus stops and all kinds of public transport.
In a bill seemingly aimed at recruiting Ukrainian doctors and nurses, Poland is drafting legislation to fast track the hiring of health workers from outside the EU, reports Radio Poland. Poland's corona case rate of 15,000 per one million inhabitants is about 50% higher than Ukraine's, according to Worldometer. Asked if the bill is aimed at neighboring Ukraine, source of most of Poland's migrant workers, Michał Dworczyk, head of the Polish Prime Minister's office, replied: "This bill is not intended for any specific country."
"Why a Biden presidency is very good news for Ukraine," headlines an analysis by Anders Åslund, the Washington-based economist who has watched Ukraine closely over the last 30 years. "Few countries are likely to benefit more from a Joe Biden presidency than Ukraine," Åslund writes for the Atlantic Council. "As vice president, Biden fought hard for the rule of law in Ukraine. He is bound to do so all the more forcefully as president. This is bad news for the many different forces in today's Ukraine who are seeking to reverse anti-corruption initiatives or block judicial reform. For example, the 11 Ukrainian Constitutional Court judges implicated in attempts to derail anti-corruption efforts had better reconsider."
Ukraine's pro-Western, anti-corruption reformers will have a strong advocate in Biden, Ukrainians tell Mark Raczkiewycz in a RFE/RL piece titled: "More Than Just An Onlooker, Ukraine Largely Relieved At U.S. Election Result."  Serhiy Fursa, deputy CEO of Dragon Capital, predicts: "I see Biden pushing to accelerate reforms…If Biden is on top of the reform agenda, the investment climate should improve." Oleksiy Haran, political science professor at Kyiv-Mohyla, notes Biden's many visits here and says that the US president-elect "really knows Ukraine on a substantive level" and "what reforms are needed, how they work, and what impact they could make."
"Lack of trust in the judiciary" is the top turn off for foreign investors – displacing "widespread corruption," according to a poll released yesterday of equity and strategic investors. Because of these two factors, 48% of the 117 respondents said that Ukraine has become less attractive for investment.
"Ukrainian business shares the opinion of foreign investors," said Anna Derevyanko, executive director of the European Business Association, one sponsor of the annual poll. "According to an EBA survey conducted in September, most CEOs think that Ukraine needs to implement judicial reform and establish the rule of law first and foremost." The new poll, also sponsored by Dragon and the Center for Economic Strategy, was conducted during the last week of October — a time when the Constitutional Court made clear it intended to dismantle the anti-corruption agencies established after the 2014 Revolution of Dignity.
The best solution for the Constitutional Court crisis would be the resignation of justices who voted for abolition of anti-corruption legislation, Fedir Venyslavsky, President Zelenskiy's representative to the Court told Ukraine 24 TV yesterday. Venyslavsky, a Rada member for the ruling Servant of the People party, urged the tainted justices to "muster up civil courage and resign in order to preserve the institutional nature of the Constitutional Court." Evidently feeling popular pressure, the Court yesterday postponed for the second time in one week a review of the farm land market law passed last spring.
The new Oschadbank branch on the Ukrainian-controlled side of the new Shchastia checkpoint is capable of handling 2,000 customers a day, Sergei Naumov, the new chairman of the savings bank, reports. Ukrainian passport holders will able to receive pensions and money transfers, open deposits and use bank cards. Similar Oschadbank branches are at the two other Luhansk checkpoints, the new one at Zolote and the recently upgraded one at Stanytsia Luhanska. All seven checkpoints in the Donbas are to reopen today for cars and pedestrians. The crossings were closed for several weeks as a coronavirus control measure.
In time for the Christmas, UIA plans to fly three times a week to London Heathrow, starting Dec. 17. At the same time, Ukrainian International Airlines will continue to fly three times a week to London Gatwick. For passengers bound for North America, UIA will offer at Heathrow connections through Air Canada to Montreal, Toronto, and Vancouver, and through British Airways to Orlando, Florida.
Editor's Note: Perhaps emboldened by Halloween, the 11 men in Kyiv who love to dress up every morning in pink silks unexpectedly came out of the closet. On Oct. 27, they outed themselves as…pinkos. Not Kremlin red, but close. Trained as lawyers, these Constitutional Court judges do not seem to understand that Russia's economic kleptocracy 'works' only because Russia sits on a sea of oil and gas. There is a lot to steal. That model is hard to duplicate in Ukraine, a workaday country where money is made farming, mining and solving IT problems. The Soviet economy was roughly similar. But in the 2000s, Russia became a petrostate. When I moved to Moscow in 2006, the first words I heard from President Putin's mouth were 'ekonomicheskaya diversifikatsiya.' It never happened. Today, Venezuela is the modern world's first failed petrostate. More relevant are desperate borrowings this fall by Kuwait, Bahrein, Oman and Saudi Arabia, as reported by Bloomberg.  Last month, NextEra Energy, the world's largest solar and wind power generator, surpassed ExxonMobil in market value. Further depressing world prices, Joe Biden may bring Iranian oil back to the market. Oil and gas are yesterday's story. If a handful of Ukrainians want to play Мала Росія to Russia's failing economic model, maybe they should move to Big Russia — and enjoy the thrill of the downhill ride. Meanwhile, they should stop trying to force Ukrainians to get on the sled. With Best Regards, Jim Brooke