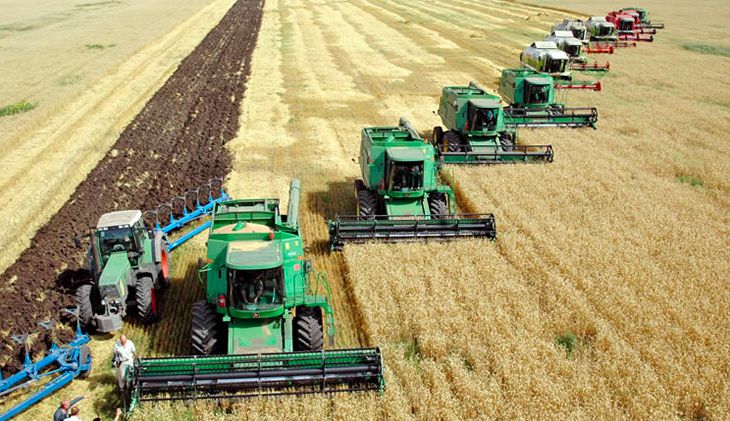 Wednesday, January 3
Farming Profits Jumped 48% Last Year…Grain Exports Slumped…Central Bank Chief Predicts $5.6 billion in IMF Loans, Bond Sales This Year…Foreign Investment Plunges in Solar and Wind…Great Big Sucking Sound: Hungary's Dream of Pulling China's Container Trains Through Ukraine
Farming profits jumped 48% yoy, to $2.1 billion last year, according to the Agrarian Economics Institute. Boosting the sector, profits from crop production grew by 55%. Livestock production was down. Winners were: sunflower producers – profits were $753 million; wheat – $678 million; corn – $425 million; canola – $235 million; and milk – $135 million. From 2016-2018, farming profits averaged $2.6 billion. Losers were: egg producers down $175 million; cattle – $50 million; pigs — $25 million; and chickens down $12.5 million.
Grain exports are down 21% yoy, for the first seven months of the marketing year, reports the Ministry of Agriculture. Due to a poor corn harvest, wheat displaced corn as Ukraine's top export. For the latest July 1 – February 1 period, the top three export grains are: wheat – down 18%, to 13 million tons; corn – down 30%, to 11.4 million tons; and barley – unchanged at 3.9 million tons.
Due to higher commodity prices, grain exports were down 53% yoy in January, but export earnings were down only 41%, reports the Ukrainian Agricultural Business Club. Halfway through the marketing year, Ukraine has used up three quarters of its self-imposed 17.5-million-ton wheat export quota. Due to the poor harvest, this year's export quota is 15% below the 2019/2020 quota.
This year, Ukraine expects to issue $2.4 billion worth of Eurobonds, to receive $2.2 billion in IMF loans and to receive $1 billion in net new foreign investment in the government bond market, Kyrylo Shevchenko, governor of the National Bank of Ukraine, told Reuters Monday. He said talks with the IMF continue and that the Rada may need to pass draft laws as conditions for more loans. On foreign purchases of Ukrainian bonds, he said: "There is a new optimism in international markets…We hope that this optimism will not bypass Ukraine."
Timothy Ash writes from London: "I love the optimism – but expecting three tranches this year? Good luck with that…They are good at talking their book, and I guess keeping the Eurobond market warm. As long as they keep the IMF engaged and don't screw up too much in the policy/political front with global markets remaining very liquid then the Eurobond market should remain open and relatively cheap for issuers like Ukraine."
The Finance Ministry lowered its average bond yield by 33 basis points, to 11.4%, in its weekly auction yesterday, the Ministry posts on Facebook. Selling the hryvnia equivalent of $189 million, the Finance Ministry sold: 3-month bonds at 9.29%; 2-year bonds at 11.88%; and 3-year bonds at 12.15 %.
Aiming to cut nonperforming loans in half by 2023, Ukraine is speaking with the IMF about creating a special financial court to settle bank loan disputes, Central Bank Governor Shevchenko told Reuters on Monday. The portion of bank loans judged non-performing is 42%. "That is why we are now discussing the option of creating a specialized court or chamber of the court in Ukraine, which will consider issues between creditors and borrowers, as well as between investors and recipients of investments," he said.
Zaporizhia's Semiconductor Plant, once Ukraine's largest producer of silicon components for electronic and solar energy, goes up for auction this month on ProZorro. Six years after bankruptcy proceedings started, Ukreximbank is selling the plant and equipment. Bids can be submitted until February 17 the bank said. The sale is expected to net around $17 million.
Foreign investment in solar and wind power dropped last year to €1.2 billion, one third the €3.7 billion of 2019, reported the State Energy Efficiency Agency. In 2019, investors from a dozen countries commissioned 4.5 gigawatts of renewables, racing to commission projects in time to win high green tariffs. But one year ago, the government started to fall behind on payments, running up an overdue bill now near $1 billion. Carryover projects accounted for most of the 2020 investment. Today, there are only a handful of new projects as investors wait for the government to honor its promise last summer to pay the bills.
With the payment delays and lowered rates, executives of the biggest US wind investment, EuroCape Energy, are talking to lawyers specialized in political risk insurance, two other foreign investors in wind energy tell the UBN. In 2019, the US Overseas Private Investment Corporation, now called the International Development Finance Corporation, provided a $150 million loan for the first phase of what was to be a 500 mw Zaporizhia Wind Farm. With 100 mw commissioned, the lowered rates undermine the project's profitability. Invoking the political risk insurance clause would probably freeze new DFC lending to Ukraine.
DTEK Kyiv Grids, formerly known as Kyivoblenergo, plans to invest $23 million in 2021 to upgrade the capital's electricity infrastructure, the company reports. The investment – a 35% increase over the level of recent years – will go for reconstructing substations, replacing overhead lines, as well as developing a system of 'smart grids' and introducing modern customer service featuring an online portal and chatbots.
Designed to draw Chinese container train traffic through Ukraine, a road-rail intermodal container terminal now under construction near the Hungary-Ukraine border will have the capacity to handle 1 million containers a year. This would be more than double the number of containers that moved on UZ tracks in all of Ukraine last year. "The implementation of this project will lead to a very significant increase in traffic and revenue for Ukraine," Janos Taloshi, CEO of East-West Gate, tells the Center for Transportation Strategies. After the project opens, the company plans to invest in infrastructure in Ukraine.
One year from now, East-West is to open with an initial capacity of 300,000 containers. The terminal is located 25 km south of Chop, Zakarpattia, in Fényeslitke, Hungary, a city where Soviet broad gauge tracks end at a terminus parallel to European narrow-gauge tracks. In coming years, Hungary plans to build a rail bypass around Budapest, a construction project that will allow East-West to work at full capacity. The chairman of East-West is Ruslan Rakhimkulov, a member of one of Russia's wealthiest families. This is expected to overcome Russian Railways' traditional reluctance to send Chinese container trains across Ukraine.
After Ukraine imposed sanctions on Chinese companies seeking to assert control of Motor Sich, the aircraft engine maker, Wang Wenbin, spokesman for China's Foreign Ministry, said Monday at a regular press briefing: "We noted relevant reports. China as always opposes unilateral sanctions on Chinese enterprises by foreign governments…We hope the Ukrainian side will uphold the legal rights and interests of Chinese enterprises and investors."
Editor's Note: Poland, Slovakia and Hungary are moving with lightning speed to jump on the bandwagon of rail traffic from China. While Ukraine's neighbors build, Ukraine plods along, doing feasibility studies and looking for development bank funding. By 2025, Ukraine will have emerged as an east-west rail corridor. But the real money will be made in the junctions between the two continental rail systems. Going back to the American West, the real money was made in the railroad station towns — not out on the range, watching the Iron Horse go by. With Best Regards Jim Brooke