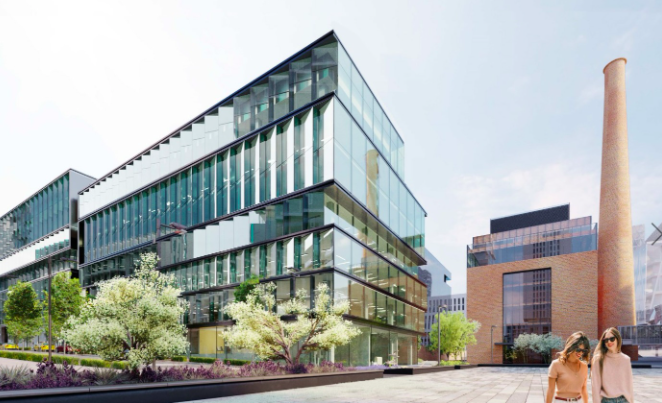 Friday, September 25
Kyiv's UNIT.City Gets Big Capital Injection...State Property For Sale: Alcohol Distilleries, Empty Prisons...Ukraine-Slovakia Angle For Cut of China-EU Trade...Hungary Dangles Goodies for Zakarpattia...Zelenskiy Hints the Borders May Not Open Monday
Ukraine's largest manufacturer building materials, Kovalska Industrial and Construction Group, plans to invest $70 million of its own money to build five business centers in Kyiv's Unit.City innovation park, Serhiy Pylypenko, Kovalska's CEO, told reporters yesterday. By 2025, Kovalska plans to build "five business campuses with a total area of 70,000 square meters, he said. To develop the projects, Kovalska has hired APA Wojcoechowski, a Polish architectural firm, and TEBIN, the international engineering company.
The large scale factory complex of one of the Soviet Union's largest tractor plants will be reborn as a "Ukrainian Silicon Valley" under a proposal by Oleksander Yaroslavsky, Kharkiv's leading industrialist. The Kharkiv Tractor Plant, producer of 3 million tractors, would be reborn as 'Ecopolis KhTZ," a high-tech business park under a plan presented yesterday to the Kharkiv City Council. "The best international architects and commercial consultants are already working with us," said Vitaliy Barannikov, Ecopolis director from Yaroslavsky's DCH Group. Noting that Belarus companies will be invited to move there, he said: "We plan to create a full cycle for the implementation of high-tech projects – education, development, their introduction into production."
Three distilleries – one in Kharkiv, and two in Vinnytsia – go up for auction next month in the first concrete step to dismantle Ukrspyrt, the state alcohol giant. With starting prices range from $700,000 to $1 million, the sales will be on ProZorro.Sale. The goal is to sell all 41 viable properties of Ukrspyrt, ending the state alcohol monopoly and earning the treasury $75 million.
Chipping away at state ownership of property 30 years after the collapse of communism, the State Property Fund auctioned 142 'small' lots last summer, netting $46 million. The headline grabbing sale was of Kyiv's Dnipro Hotel, which netted $40 million. By the end of this year, Dmytro Sennychenko, head of the Fund, hopes the sales total will hit $100 million.
With investors learning how to act in a prolonged coronavirus pandemic, the government is debating the doubling of next year's target revenue from privatizations to $430 million. In March, as corona fears swept the country, the Rada passed a law banning large-scale privatizations.
For Sale: Central city location, thick walls, excellent security. Joining the state drive to dispose of 'excess property,' the Justice Ministry is selling three abandoned prisons – in Lviv, Odesa, and Kyiv's leafy suburb of Kotsiubynske, near Irpin. Behind the sale, Ukraine has cut its prison population by almost two thirds – from 137,000 in 2013 to 53,000 today, reports The Kyiv Post. Justice Ministry plans to use the money to improve food and conditions at existing prisons.
As three of Ukraine's biggest cities have grown up around these Czarist and Soviet-era prisons, residential developers are studying the offerings. Kyiv's Irpin Correctional Center has several buildings totaling 24,000 square meters on eight hectares. Odesa's Southern Correctional Colony has several buildings totaling 14,000 meters. Lviv's Correctional Colony №48 located on 10 hectares near the center of Lviv. It has 40 buildings 42,000 square meters.
Seeking to draw China-EU container trains through Ukraine and Slovakia, the transport ministers of Slovakia and Ukraine signed an agreement yesterday to facilitate the creation of train-truck logistics hubs. Both countries envy the surging China-EU rail traffic through Belarus-Poland, a route is carrying double last year's volumes. "Both Ukraine and Slovakia are extremely interested in developing their transit potential and improving the process of organizing the delivery of goods in containers from EU countries to China and back," Ukraine's Infrastructure Miniser Vladyslav Krikliy said at the signing ceremony in Bratislava with Slovakia's Transport Minister Andriy Dolezhal.
With China the top trading partner of Ukraine, the expansion of Ukraine's food exports was the topic of a meeting   yesterday between Fan Xiangong, China's ambassador to Ukraine, and Ihor Petrashko, Ukraine's Minister of Economy, Trade and Agriculture. In the first six months of this year China-Ukraine trade hit $6.4 billion, up 21% over the first half of 2019.
Next year, the drive from Berehove, Zakarpattia to Budapest could take 2.5 hours on a 300 km, 4-lane, divided highway under a plan offered by Hungary to Ukraine on Wednesday. Hungary plans to build the final 40 km of its M3 motorway, extending it from Budapest to Ukraine's border, Hungary's Minister of Foreign Affairs and Trade Péter Szijjártó told his Ukrainian counterpart Dmytro Kuleba at a meeting in Uzhgorod. Szijjártó also offered: to build a bypass road around Berehove and to extend it to the border; to rebuild Berehove's hospital; and to rebuild and widen the main Hungary-Ukraine crossing point – the bridge over the Tisa River at Chop. The price for Ukraine is respect for the language rights of Hungarian-speakers living in Zakarpattia.
Danish furniture store Jysk Ukraine increased sales by 24% in its financial year ending Aug. 31. "Dramatic, unpredictable, but the best in Jysk history: despite the coronavirus, Jysk achieved a record turnover" of $83 million, Yevhen Ivanytsia, executive director of Jysk in Ukraine, writes on LinkedIn. In the last year, Jysk opened 13 new stores, making for a total of 67 now. The company plans to reach 100 stores by the end of 2023.
With Ukraine now averaging 3,500 new coronavirus infections a day, the epidemic is expected to rise to 5,000 new cases a day by December, Oleh Ruban, head of State Consumer Protection Service, tells RBK-Ukraina. With infections expected to remain high, Ruban predicts that Kyiv will remain at the current orange level of restrictions through the winter.
President Zelenskiy hinted yesterday that Ukraine's travel restrictions may be extended past their current expiration date, next Monday. "Today we have 3,000 cases a day — unfortunately, this is the second wave of coronavirus in Ukraine," Zelenskiy told reporters in Slovakia. "When the situation in Ukraine stabilizes, the borders will be open without fail."
On Oct. 7, Belavia restores its transit flights between Kyiv Boryspil and Moscow Domodedovo, via Minsk. The flights will be weekly, on Wednesdays, will cost $185 one way, and will take 3h45. Direct flights stopped in 2015 and direct trains stopped in March. Due to coronavirus controls, only Ukrainians who are permanent residents in Russia or who are family members of Russians are allowed into the country.
From the Editor – Ukrainians may have reason to be paranoid about Hungary's offer to build a 4-lane divided highway from Budapest to Berehove, heartland of Ukraine's Hungarian-speaking community. But given that Zakarpattia's roads are on a level of Mozambique – I have driven in both places – I suggest that Kyiv take up the offer. National security worries can be dealt with on a parallel track. With best regards, Jim Brooke