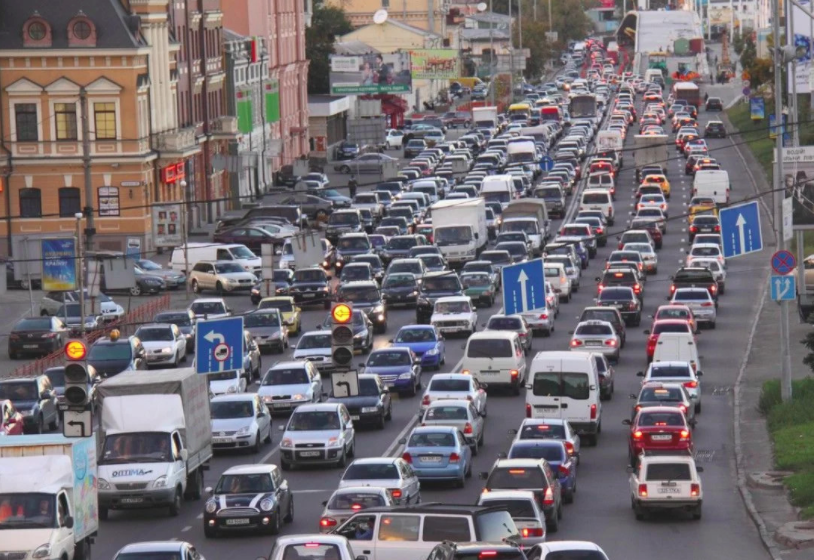 Large traffic jams are expected in Kyiv and Ukraine's big cities tomorrow as schools reopen for Ukraine's 3.8 million primary and secondary school children. In the first six months of the coronavirus pandemic, 7,743 Ukrainian children were infected. Mass transit ridership is down and more parents than normal are expected to drive their children to school. Kabanchik, an online platform for ordering services, reports that its requests for driving teachers almost doubled this in June and July, to 786. Olga Soroka, head of marketing told Interfax-Ukraine, earlier this month: "They are learning to drive in advance."
On Saturday, Ukraine registered a record 2,481 new Corona infections, a number that dipped to 2,096 on Sunday. Since March 17, more than 2,500 Ukrainians have died corona complications. Kyiv, the nation's capital, continues to report the largest number of infections. On Saturday, Mayor Klitschko reported that infections in Kyiv over the previous 24 hours, totaled 265, including 19 children.
Although infection rates are double the level of April, when the country was under tight lockdown, life in most of Ukraine is largely normal. Last night, Kyiv's first opera concert in six months, drew about 2,500 people to Sofia Square. About 1,500 sat on chairs spaced for distancing. The rest listened standing, some wearing masks, some not.
The Government will not consider imposing a second hard lockdown to combat coronavirus, Prime Minister Denys Shmygal told the European Business Association in a video conference on Friday. Instead, health officials will seek to localize outbreaks and stamp them out with local quarantines.
Adamant Capital writes: "Although Ukraine is currently displaying the highest amount of new cases on record, it seems unlikely that restrictions similar to those that have been introduced at the start of the pandemic are going to be reinstalled any time soon. Reasons for these are a few as lethality has significantly declined globally. Spain in so far reporting deaths per million at just 0.7, a far cry from 18.5 back at the beginning of April.  The 2Q20 real GDP figure (-11.4% YoY) has demonstrated quite clearly the cost of an even relatively light lockdown and suggests that repeating the same scenario may be politically unaffordable unless the health crisis becomes dire."
Foreign business travelers flying to Ukraine should carry a letter clearly attesting to the business purposes of their visits, listing local contacts. Until the one-month ban is lifted September 28, entry is up to the discretion of border control officers at Ukraine's airports and land entry points. Without warning, Ukraine's government advanced the ban by one day to Friday morning, causing chaos at Kyiv Boryspil.
Separately, hundreds of Hasidic Jewish pilgrims ignored requests by Israel and Ukraine and flew to Ukraine for their annual Jewish New Year celebration, in mid-September. Israel has the world's 7th highest rate for corona virus infection – 231/100,000 people. This is four times higher than Ukraine's rate of 55/100,000 people.
Coronavirus money is being spent on building roads to avoid borrowing money for this year's $3 billion road building program, David Arakhamia, head of the ruling Servant of the People faction in the Rada, tells Ukraina 24 TV. Noting that the government plans to repair or rebuild 4,200 km of roads this year, he implied roadbuilding is more popular than virus fighting. Elections for mayors and city councils will be held Oct. 25.
With economic ministries targeted, two to three Cabinet ministers may lose their jobs this fall, Arakhamia tells Ukraina 24. "By the fall there may definitely be some rotations in individual ministries — two or three ministries," he predicts. "Our people are most of all dissatisfied with the economic bloc. We need people who, besides having a vision and programs, could quickly implement them." Six months ago, President Zelenskiy fired two thirds of his cabinet.
China and Ukraine have agreed to increase bilateral trade and to identify joint projects in farming, infrastructure, energy, and energy conservation, reports the press service of Ukraine's Ministry of Economic Development, Trade and Agriculture. Noting that China is now Ukraine's top trading partner, China's Deputy International Trade Representative Yu Jianhua and Ukraine's Trade Representative Taras Kachka talked Thursday by video conference.
In coming weeks, the Kharkiv Metro is to sign a contract with China's CRRC Tangshan for 40 new rail cars, a 13% percent increase in the fleet of Ukraine's second largest subway system. With the new cars, the Metro will have eight one-piece 'tube trains,' without partitions between the five cars, reports the Center for Transportation Strategies.
US Secretary of State Michael Pompeo warned President Zelenskiy about "malign" Chinese investment in Ukraine, including Beijing's efforts to acquire the Motor Sich aircraft engine maker. The warning came in a telephone call Wednesday with President Zelenskiy, State spokeswoman Morgan Ortagus said in a statement. For a year, the US has sought to block a Chinese takeover of the jet engine maker. After US investors failed to materialize, Kharkiv business man Alexander Yaroslavky filed an application in early August to buy the engine building company in partnership with Beijing Skyrizon.
Ukraine has frozen diplomatic contacts with Belarus and joined the EU in condemning the recent presidential election as not free or fair, Foreign Minister Dmytro Kuleba told reporters Friday, Reuters reports. "We put all contacts on pause until the situation in Belarus stabilizes," Kuleba said. He noted that Ukraine had earlier recalled its ambassador to Belarus for negotiations. Belarus is Ukraine's fourth largest trading partner.
ON THE MOVE:
The EBA has moved from its longtime office in Kyiv's Podil neighborhood to the new Creative State of Arsenal coworking center on Moskovska 8, building 7, a five-minute walk from the Arsenalna Metro station on the Red Line. After 15 years in a building that grew to have workplaces for 70 employees, the EBA says it has moved to a smaller workspace that features hot desking and "modern infrastructure for meetings and negotiations." Executive Director Anna Derevyanka notes: "Mobility and flexibility have become a new trend of today…We are changing to become even more flexible, fast, and modern in order to create maximum opportunities for all EBA member companies."
After opening the 4,100 square meter Creative State of Arsenal in May, Ilya Kenigstein, founder of the coworking space network, says work is starting this fall on a second 3,100 square meter phase. The two recycled brick buildings will be connected by a bridge and will share parking, an event hall, and open area with art installations. Added to existing spaces in Gulliver and Senator business centers, Creative States will have 15,000 square meters in Kyiv.
Today, the Kyiv Post moves into a spacious new, 455-square meter space provided by publisher Adnan Kivan, owner of KADORR Group, the Odesa-based real estate development company. The Post trades its cramped space of the last eight years, on Pushkinska, for a glass-walled, open space in a largely residential building, at 68 Zhylianska, between Pankivska and Tarasivka. Post editor Brian Bonner writes: "While much of the Kyiv Post workforce is still working remotely, the era of the office is far from dead." The new newsroom will have 48 work spaces and a video studio. The only downside will be the 20-minute walk to the nearest metro station.
From the Editor: Last week, the UBN signed a sponsorship contract with a multinational law firm. In light of future expansion this fall, we may take on a research assistant. If you are interested in Ukraine and business, please email me your resume: editor@ubn.news  With Best Regards, Jim Brooke