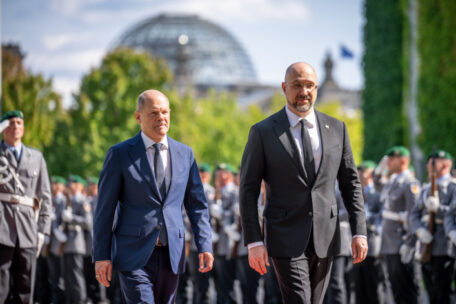 Tuesday, September 6, 2022
Shmyhal and Scholz have discussed the new EU macro-finance program and the supply of weapons.
Ukraine is counting on support from partner countries in 2023, particularly a new macro-finance program with the EU for 2023 and a new program with the IMF, the Government's press service reported. During their meeting, Prime Minister of Ukraine Denys Shmyhal and German Chancellor Olaf Scholz agreed on the need for an additional supply of weapons to Ukraine. According to Shmyhal, Ukraine expects an increase in the supply of heavy weapons that have been or will be delivered in the future. Namely: the MARS-2 MLRS, Panzerhaubitze 2000 self-propelled guns, IRIS-T air defense systems, and Cheetah anti-aircraft guns. Officials also discussed the possibility of supplying new types of equipment, including German tanks.