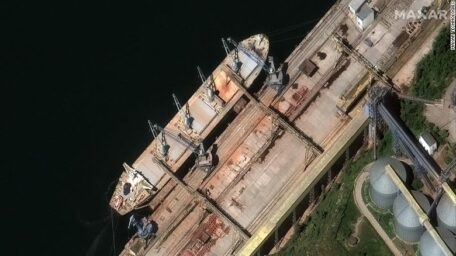 Wednesday, May 25, 2022
Russian grain theft can be seen from space.
 Satellite images from Maxar Technologies recorded the loading of Ukrainian grain on Russian ships in the port of temporarily occupied Sevastopol. It is noted that the new photos show the vessel Matros Pozynych and Matros Koshka moored near the buildings, similar to grain storage structures, and grain spilled from a conveyor belt into the open hold. According to the vessel-tracking site MarineTraffic.com, both vessels left the port: the Aegean Matros Pozynych said it was heading to Lebanon, and the Matros Koshka was still in the Black Sea. According to CNN, earlier this month, Sailor Pozynych carried out a similar mission: loading grain and leaving the Black Sea for the Mediterranean. Initially, the ship was bound for Egypt, but it was turned away from Alexandria after warning by Ukrainian officials. The vessel was also barred from entering Beirut, and it eventually moored in Syria.