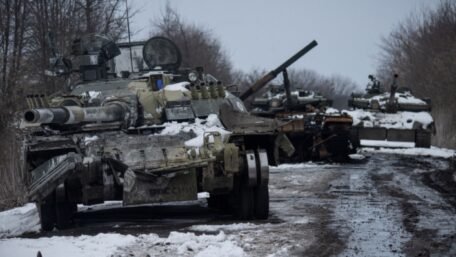 Friday, December 16, 2022
Russia is losing in Ukraine and will continue to fail in all its war aims.
The head of the UK's armed forces has stated that Russia is losing in Ukraine, offering a blunt assessment of the state of the war as Moscow's unprovoked invasion creeps toward its 10-month mark. "Russia is losing," and the "free world is winning," said Admiral Sir Tony Radakin, the United Kingdom's chief of defense staff. Russia is estimated to have suffered roughly 100,000 casualties in the war, an astonishing number in less than a year of fighting. On top of manpower issues, which the Russian President sought to address via a partial military mobilization that did not go well, Russian forces are also running low on proper equipment and ammunition. Russia lost much of the territory it managed to occupy in the early days of the invasion. A Ukrainian counteroffensive that began in recent months has liberated territories that Putin illegally annexed in September including the city of Kherson, the first major Ukrainian city that Russia captured. "Russia has failed and will continue to fail in all its war aims. Russia is diminished on the world stage," Radakin said.