EU's Green Deal & Ukrainian business
By Ukraine Business News in collaboration with DTEK 
1.Ukraine's largest trade partner
Being Ukraine's largest trading partner, the European Union share in the country's total trade turnover reached 40.7% in 2020.
It has been growing steadily since 2013, when the share was 32%.
As bilateral trade turnover reached $42.4 billion last year, the EU's imports ($23.7 billion) still exceeds Ukraine's exports — by $5.1 billion last year, Deputy Minister of Economic Development and trade representative of Ukraine Taras Kachka told AgroPolit.
Dynamics of geographical structure of Ukraine's trade with the EU and other largest trading partners, 1996-2020 (source UCAP)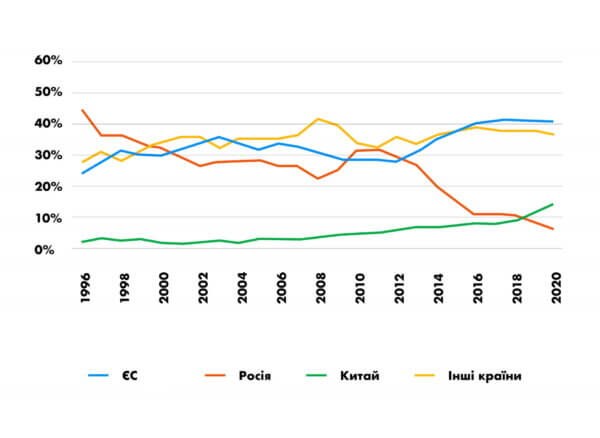 With agriculture dominating in Ukrainian export (34%) the country mainly sold grains, seeds and sunflower oil to the EU.
 In 2020, from 40 tariff quotas under free trade agreement between Ukraine and the EU, one fourth were fully used by Ukrainian exporters within just a few days in the beginning of the year — on honey, processed tomatoes, grape and apple juices, corn, sugar, poultry meat, eggs and others.
"The main trend is the reorientation of trade from the markets of the former Soviet Union countries to the EU market," said Maryna Rabinovych, an Assistant Professor at the Department of Public Policy and Governance at the Kyiv School of Economics.
In 2020, EU's imports declined due to a decrease in fuel supplies to Ukraine (by $1.4 billion), as well as vehicles and their parts (by $0.8 billion), according to the National Institute of Strategic Studies.
The decrease of Ukrainian exports to the EU was driven by lower volumes of sold industrial goods (by $0.6 billion) and spare parts for vehicles, mainly spark plug wires, also known as ignition cables (by $1.4 billion).
Dynamics of export and import from the EU to Ukraine, 2010-2020 (source: Eurostat)

Overall, around 13,300 Ukrainian companies exported their products to the EU countries — mainly to Poland, Germany, Netherlands, Spain — while in 2014 it was only 10,002 of such companies.
With a 20% drop compared to 2019, the share of black metals in Ukraine's export to the EU still was one of the biggest in its structure and reached 13.5% last year.
Over the past seven years, the top 4 products exported from Ukraine have been the same — ferrous metals, cereals, electric machines, ores, and slag. All together they accounted for 42% last year.
According to Veronika Movcha, director at the Institute for Economic Research and Policy Consulting, in 2020 Ukraine exported more than 3,400 goods to EU countries — almost five times more than the number of exported goods to China, and 1,400 goods more if compared to what ended in Russia.
2. Green Deal for Ukraine: new opportunities, but great challenges
It has been more than two years since President of European Commission Ursula von der Leyen officially presented in Brussel the European Green Deal to make Europe the first climate-neutral continent by 2050.
Implementation of the EU's ambitious roadmap in Ukraine may create an additional 500,000 workplaces, according to Yuriy Vitrenko, ex-energy minister, Interfax reported.
"Transition to a green economy is the transformation of the country," he said during the fourth German-Ukrainian business forum, which took place on March 19.
Ukraine's biggest opportunity he sees is the production of hydrogen, a clean fuel that, when consumed in a fuel cell, produces only electricity, heat, and water.
"It will help Ukraine to become Europe's partner for decades in the export of 'green hydrogen'," said Vitrenko, who added that Ukrainian gas transportation system can soon be used to transfer it and bring the country "billions of dollars."
As the main goal European Green Deal is to become a climate neutral region by 2050, the agrarian sector is on the list of transformation too. In the next decade, the EU plans to halve the use of pesticides and antibiotics and to use a quarter of its arable land for growing organic products.
"European green course is a completely different economic, political and industrial policy of the EU," wrote Smovzh Tatyana, head of business sustainability at Ukraine's branch of Syngenta, leading company in the global agrochemical market. "It directly affects Ukraine as one of the leading (agricultural) exporters of the world market."
However, while in the EU countries farmers receive state support as a compensation (on average, 950 euros per hectare) to switch to green farming technologies and stop using agrochemicals, for Ukraine it's a pipe dream as it will require around $12 billion, All-Ukrainian Agrarian Council calculated.
"It is an unbearable financial burden for Ukraine in today's reality," said Smovzh.
Many experts believe that transition towards the EU Green deal more likely will be driven mainly by Ukrainian businesses, not by the state.
According to Natalia Andrusevych, chairman of the Board at analytical center Society and Environment, the project for Ukraine's transition to green energy, presented in early 2020, is stuck at the project stage. Just like another State Program — on economic development until 2030.
"The Government does not consider the economic model of Ukraine through the prism of climate neutrality and integration of environmental and climate issues into all sectors of the economy," wrote Andrusevych for Evropeiska Pravda.
At the same time, political will and state guarantees for big green projects is a must for Ukraine.
"Private investments have a huge impact on this, and the role of the state is to protect them," said Maxim Timchenko, CEO of Ukraine's largest energy holding DTEK.
On March 19, during an online forum with the participation of Ukraine's Prime Minister Denys Shmygal and the Federal Chancellor of Germany Angela Merkel, two giant companies — Siemens Energy and DTEK — have agreed on a pilot project for the production of hydrogen fuel in the city of Mariupol in Donetsk Oblast.
According to German Handelsblatt the installed capacity of the project will be around 8.5 Megawatts. The project involves the construction of a hydrogen production equipment on the basis of one of the metallurgical plants. Produced hydrogen will be used to produce low-emission steel.
3.  'Green' investing in Ukraine
Since the Ukrainian government declared European Green Deal as a top priority for the country, which will add much stricter ecological  requirements for its export to the EU, some businesses have already started its transformation.
Mostly, those are big corporations with long-term strategies that are focusing on implementing environmental, social and corporate responsibility, or ESG criteria .
Recently, Dutch analytical agency Sustainalytics  has included a number of Ukrainian corporations in its rating. Among several criteria, it also monitors the progress of reducing carbon footprint of companies.
When the think tank announced its ESG risk ratings for more than 4,000 companies around the world, several Ukrainian ones entered it.
Among them — Ukraine's steel and mining  giant Metinvest. The company has improved its position, Metinvest reported on April 5. The Group's ESG Risk Rating decreased to 31.7, down from the 32.0 assigned in June 2020. The score measures unmanaged ESG risk on an absolute scale of 0-100, with a lower figure indicating less risk.
Metinvest improved its air emissions, waste disposal, as well as health and safety management system.
"COVID-19 has shown that companies taking ESG issues seriously, usually achieve better results," said Yuriy Ryzhenkov, CEO of Metinvest. 
 DTEK also improved its score by 3.3 points and was ranked 36 among 214 energy companies globally, the company reported on April 30.
"Without implementing ESG principles today a company cannot safeguard its long-term success," said DTEK's Executive Director Dmytro Sakharuk.
 According to him, the company's strategy up to 2030 is based on such principles to "meet the relevant public needs."
Another Ukrainian giant Astarta — Ukraine's agro holding with a land bank of about 250,000 hectares, eight sugar factories and dairy farms — was ranked 3 among 89 agro companies by Sustainalytics.  It was also ranked 179 out of 532 in the Food Products Industry section.
Yuliya Bereshchenko, Business Development and IR Director, at Astarta said that such ЕSG reports made by  a global service provider "helps revealing our strengths and weaknesses in the global industry context, as well as shaping our policies aimed at Sustainable Development."