EU Green Deal: Ukraine's steps towards zero emission future
By Ukraine Business News in collaboration with DTEK Holding
1.CARBON NEUTRAL REGION BY 2050
As scientists name the high levels of consumption of natural gas and oil, constant growth of greenhouse gas emissions as the main reasons for the rise in global temperatures and dramatic climate change, governments across the world are trying to tackle the urgent problem.
While more and more countries suffer from deadly wildfires and droughts, the European Union officially presented its ambitious Green Deal program on December 11 in 2019 – a grand plan on reaching zero emissions in the next thirty years.
By 2030, the EU aims to cut greenhouse gas emissions by half, and by 2050 – to become a carbon neutral region producing electricity entirely from renewables.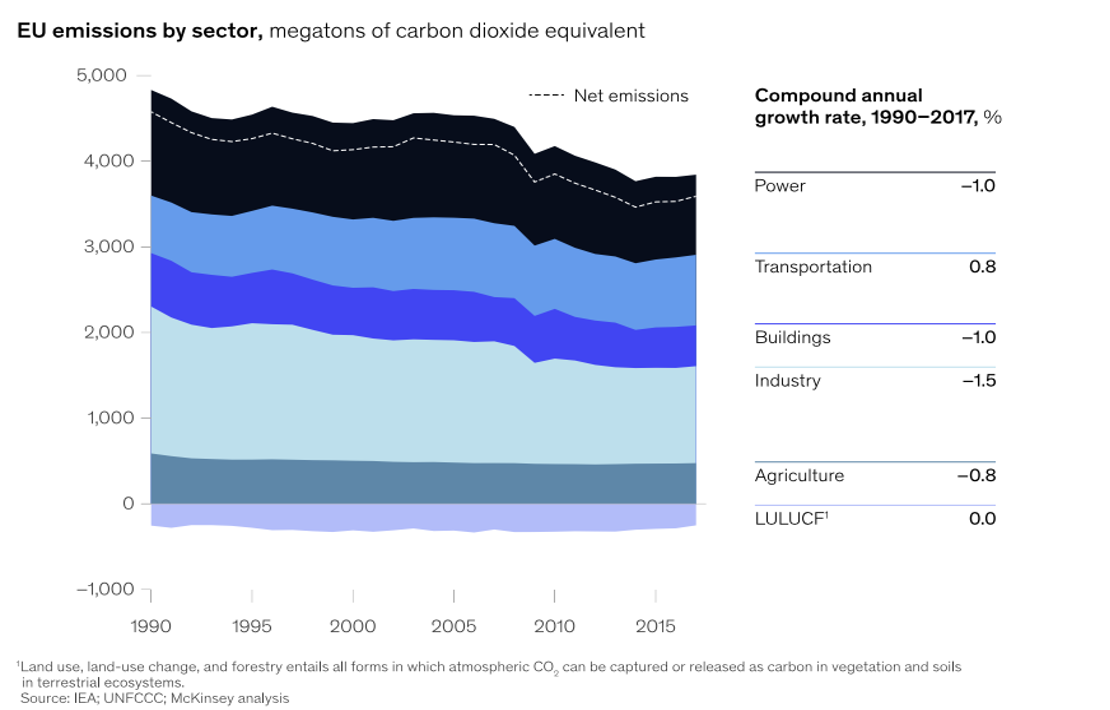 It also includes more environmentally-friendly agricultural policy to preserve natural resources, so called "farm to fork" strategy designed to cut fertilizers injected into land by 20 percent, pesticides by 30 percent as well as antibiotics in farming. The share of land for organic production will reach 25 percent in the next decade, plan says.
The EU's industry, which is currently responsible for 20 percent of the region's greenhouse gas emissions, will undergo significant changes too by using new technologies.
The EU steps include achieving climate neutrality in the transport sector by 2045 through 100 percent electric vehicle sales. However, the changes will not affect aircraft and ships, as they cannot operate on batteries, but another solution, for example, switching to biofuels, can help here.
In addition, the share of buildings that use renewable sources for heating should jump from the current 35 percent to 100 percent by 2040's, while gas usage is expected to be cut by half.
Overall, the EU plans to allocate around 1 trillion euros in investment to reach the set goals.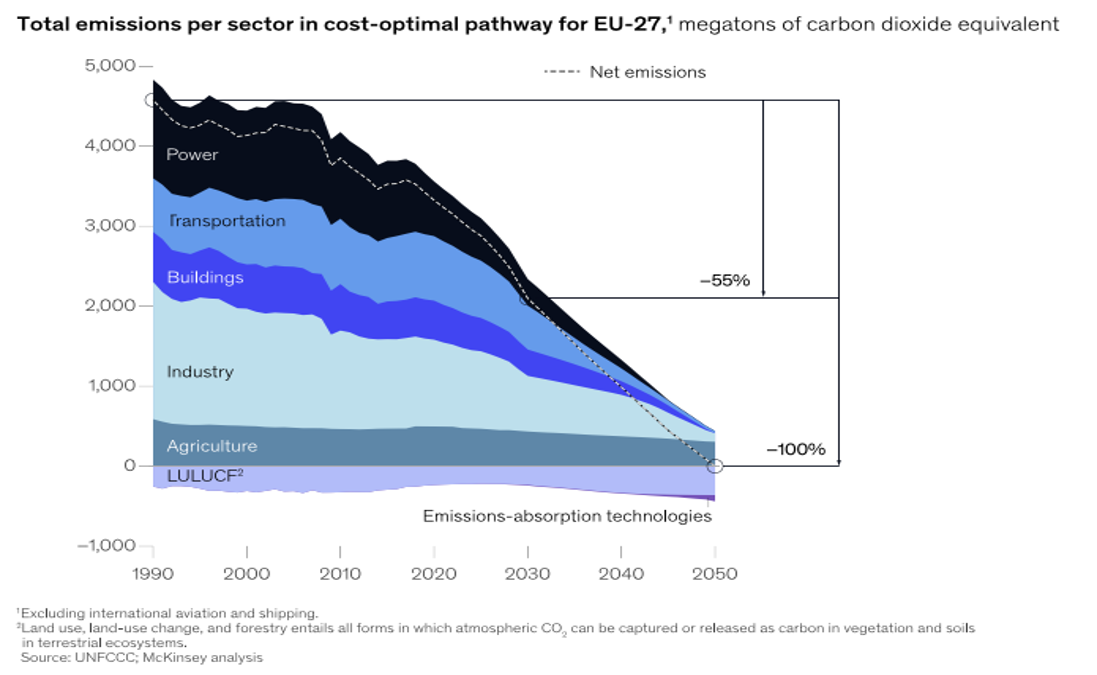 "This is Europe's new growth strategy with focusing on cutting emissions while creating jobs and clean innovations," said European Commission President Ursula von der Leyen in her interview with the U.S. think tank The Council on Foreign Relations on Nov.20, 2020.
"It is vital for protecting our planet. And it is crucial for us to keep first-mover advantage and to set global standards and rules for a global economy that does not take more from the planet than it gives back," she added.
2.UKRAINE TO JOIN AMBITIOUS EU GREEN DEAL
While Ukraine has shown rapid growth in electricity production from renewables over the past few years due to lucrative feed-in tariffs, it is still far from the desired figures.
Currently, the green power production in Ukraine reached only 8 percent. To compare, in Germany it was six times higher in the first three quarters of 2020; in Denmark, 44% of electricity is supplied by solar and wind power plants.
According to the State Agency for Energy Efficiency and Energy Saving of Ukraine (SAEE), a total of $8.1 billion has been invested in the country's renewable energy as of the beginning of 2021. Meanwhile, the International Finance Corporation estimates that the country's green finance market will reach $73 billion by 2030.
Although last summer, the Ukrainian authorities decided to significantly reduce green tariffs for wind and solar power plants, state officials say that the country's path towards European Green Deal is a top priority.
According to Konstantyn Gura, acting head of the State Agency on Energy Efficiency and Energy Saving of Ukraine, the "green" transition for Ukraine is viewed as a "way of revival that combines altogether economic, social, and environmental aspects."
"Ukraine continues to pursue a course towards sustainable development and decarbonization," said Gura on Jan. 21 during the discussion organized by the International Renewable Energy Agency.
On Dec.12 last year, Gura also stated that Ukraine is on its way to prepare a political agreement on a Green Deal between Ukraine and the EU to sign, Ukrinform reported.
Dynamics of total installed capacity of renewable energy sources operating at green tariff in Ukraine, 2014-2020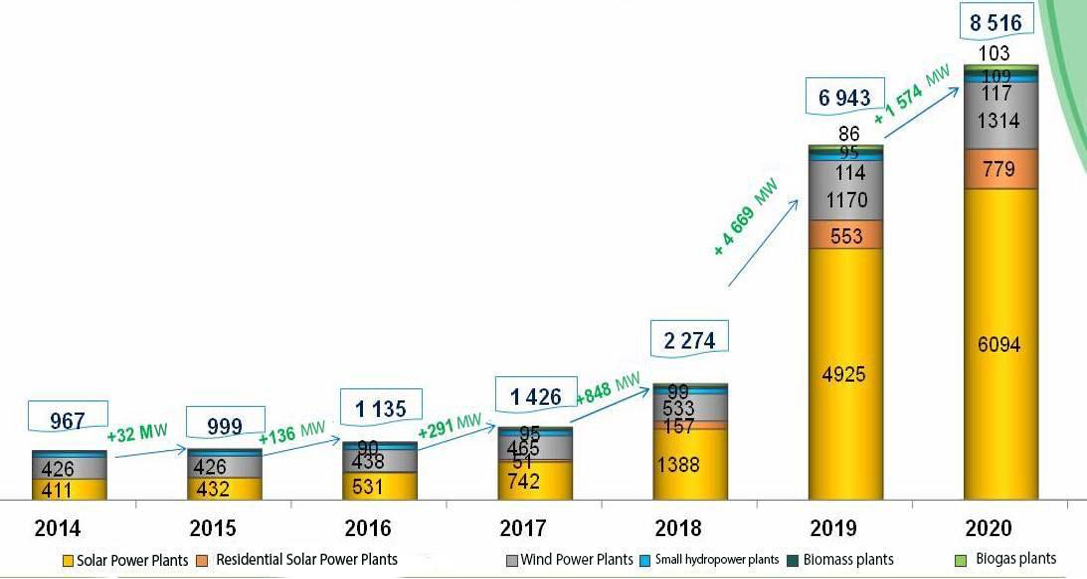 Source: State Agency for Energy Efficiency and Energy Saving of Ukraine
However, last year, when the COVID-19 pandemic severely hit both business activities and government plans for the country's development, it put the European green vector for Ukraine under a question mark.
For example, the state program on overcoming negative consequences from the coronavirus disease allowed enterprises to postpone environmental projects up to 2022. Plus, presented in January 2020 Ukraine's green energy transition plan, called by experts as Ukrainian Green Agreement, still remains only as a project, not clear actions from the government's side.
At the same time, Ukrainian government made some climate friendly steps within the framework of the EU-Ukraine Association Agreement. In September, the Cabinet of Ministers adopted a seven-year plan on improving the system on environmental monitoring.
It includes a national market for greenhouse gas quotas trading, which will be launched this year. The government officials also created a special commission on climate change and preservation of the ozone layer to track and fight climate change. In addition, the Cabinet adopted several resolutions to protect Carpathians mountains, severely damaged due to illegal logging.
Prime Minister Denys Shmyhal said during the meeting that it will strengthen Ukraine's reputation as a "reliable participant in global processes to combat climate change."
"If Ukraine does not introduce a system of accounting for gas emissions in time, the business that will pay additional taxes for the export of its products may suffer," said Shmyhal, government portal reported.
President Volodymyr Zelensky announced on Dec.12, 2020 during the online discussion at the International Climate Ambition Summit that Ukraine's goal is to reduce greenhouse emissions by almost 65% compared to what the country had in early1990's.
In October last year, Ukraine and the EU also signed a 10 million euros agreement on "Climate Package for a Stable Economy in Ukraine" during the Ukraine-EU summit in Brussels. It should help the country to move faster towards a climate-neutral economy and attract additional green investments.
At the same time, the country's green producers are facing one major challenge – the Guaranteed Buyer, the state company that is obliged to buy power from renewable developers, has fallen around 810 million dollars behind in payments as of February 1, Interfax reported. The debt was mostly accumulated before August 1, 2020, and the companies still have not received money for green electricity produced by their solar and wind farms.
3.BUSINESS REACTION
Ukraine's strategic development towards European Green Deal heated discussions among experts, business, and different industry associations. The views of its representatives range significantly, from loyal to negative.
Oleksandr Dombrovsky, chairman of the Board of Global 100% RE Ukraine public platform, is sure that Ukrainian business is highly dependent on EU decisions since over 40 percent of the country's export goes there.
"Ukrainian business simply cannot stand aside from global processes and must certainly join the European Green Deal as a full-fledged player," said Dombrovsky on December 18 during the online conference on Green Deal and its impact on Ukrainian business.
However, Olena Kudliak, executive director of Ukrainian Business and Trade Association, sees additional trade barriers for Ukrainian exporters among key threats of European Green Deal for national companies.
"Now, more than ever, it is important to think about close dialogue and interaction between experts, authorities and export-oriented businesses," said Kudliak, Ekonomichna Pravda reported.
Strategic Development Advisor to the President of the Ukrainian Agribusiness Club Volodymyr Lapa afraid that the new Green Deal reality may impose strict obligations on Ukrainian farmers, so it will be hard for them to match new criteria both financially and technologically.
The biggest threat, Lapa believes, will be for agrarian business concentrated on crop production as it generates much more greenhouse gas emissions if compared to livestock.
Overall, according to preliminary estimates, Ukrainian businesses will have to spend 6.5 billion euros to meet the new standards proposed by the European Green Deal, including 2.2 billion euros to cut usage of diesel fuel, 2.6 billion euros to invest into environmentally friendly land management, and 1.4 billion euros for sustainable production.
"If the financial burden will fall entirely on business, national producers and the economy in general will face difficult challenges. Even the biggest (companies) may not be able to deal with it," said Mykhailo Malkov, FAO Government and Donor Liaison Officer in Ukraine.
Reducing greenhouse gas emissions by 65% in the next ten years Oleksandr Kalenkov, head of  association of Ukraine's metallurgy enterprises Ukrmetallurgprom, called an "utopia," which undermines positions of Ukrainian exporters to the EU.
He says that government expectations are "extremely high and unrealistic," Metallurgprom news agency reported on December 3.
"Now we see three scenarios – optimistic, fantastic and utopian – and it is difficult to choose between them," said Kalenkov.
 As soon as the EU introduces new restrictions on "non-environmentally" import of metal products, Kalenkov forecasts that losses for Ukraine's metallurgy exporters will be very high.
"As a result, the business will be left alone with its problems," he said.
4. EXPECTATIONS FOR 2021
Business community expects a lot from this year in terms of the Green Deal and cooperation with the EU, but steps form the government remain unclear.
According to Anna Derevyanko, executive director at European Business Association, Ukraine needs to become the "part of this program at the stage of policy development" to protect interests of Ukrainian exporters.
There is a "need to involve business in the development of specific documents, positions, and plans for the implementation of the European Green Deal in Ukraine," Derevyanko said during the association meeting on January 19, 2021.
At the same time, there are no funds allocated from this year's budget for the Green Deal implementation, according to Lesia Vasylenko, MP from the pro-European political party Voice.
"This is not a betrayal. The explanation is very simple – so far there is no single decision that would make it possible to have a clear vision and calculations of the required amount of finance for specific programs," said Vasylenko.
When it comes to concrete legislative steps, starting this year Ukrainian industrial enterprises will have to prepare plans for the next year on monitoring greenhouse gas emissions. Plans will be approved by the Ministry of Environmental Protection and Natural Resources, while reports on emissions should be submitted by March 31, 2022.
Meanwhile, Dombrovsky forecasts that a full scale process on Green Deal implementation will start in the EU by the end of 2021 or in the very beginning of 2022. Everything will depend how the COVID-19 pandemic will influence economic processes.
Dombrovsky believes that raising money by reducing greenhouse gas emissions can be a key instrument of state support for Ukraine. For example, by selling emission quotas to other countries, and using the funds for environmental modernization.
5. DTEK STRATEGY AMID UPCOMING GREEN DEAL CHANGES
DTEK Group is the largest private national investor and a key player in the Ukrainian energy market, has already invested 1.2 billion euros in the country's green generation. Currently, the company operates several giant wind and solar power plants with a capacity of about 1 gigawatt.
The company actively works on decarbonization, development of renewable energy sources and transformation of coal regions in order to reach European Green Deal goals.
"DTEK has committed itself to transforming into a greener, more efficient and technologically advanced business. Implementing the company's 2030 corporate strategy will contribute significantly to the decarbonization of both the Ukrainian and European economy", said Maxim Timchenko, CEO of DTEK, during the Management Conference NEW STRATEGY DTEK 2030.
Energy giant, which employs around 70,000 workers and also owns coal mines, plans to decarbonize it's power generation by 2040.
"In the light of global trends, the Ukrainian energy sector is undergoing major transformations. Changes mostly concern the future of heat generation and the coal mining industry, as they will make the most significant contribution to the decarbonization of the economy and environmental protection," said Timchenko.
Moreover, in November 2019, DTEK Renewables was the first company that placed Ukraine's first 'Green Eurobonds' after a roadshow with meetings with more than 50 international investors — 325 million euro worth of 5-year bonds at a rate of 8.5% per annum, UBN reported.
According to the Global Landscape of Renewable Energy Finance 2020 report, co-developed by the International Renewable Energy Agency (IRENA) and Climate Policy initiative, annual investments in renewables must nearly triple to US$800 billion by 2050 (from US$300 billion currently) in order to fulfil key global decarbonization and climate goals.
Ukraine should adopt fair, free, and clear market rules to take advantage of the growing investment boom in renewables, Maxim Timchenko, CEO of DTEK, wrote in his article for the World Economic Forum online platform on January 18.