«Special Digest "30th anniversary of Ukraine's independence" by UBN and DTEK»
1. As Ukraine took a historic step and left the Soviet Union in 1991, the country celebrated its 30th anniversary on August 24.
After five presidents, 17 Prime Ministers, hyperinflation in the 1990s, the Orange Revolution in 2004, ongoing war with Russia after the Euromaidan in 2014, Covid-19 pandemic, the country still has a lot to be proud of.
In September 1996, the nation got its own currency — hryvnia. It was a rebirth of the currency, which was widely used in Kyivan Rus in the 11th century.
The same year, Ukraine finally got its Constitution, which cemented in the law basic human rights for any state, as well as sovereignty and territorial integrity of the country.
In 2012, Ukraine managed to stop its downward trend in the World Bank's Doing Business Rating.
Since then, the country has moved from 152nd place among 183 economies in the world to 64th last year.
Dynamic of Ukraine's Doing Business rating, 2006-2020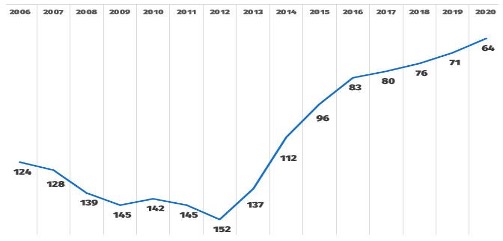 Source: Ukrainska Pravda
"It is important to take steps towards business climate improvement in Ukraine," said current Prime Minister Denys Shmyhal. "We expect that Ukraine will climb at least 10 positions higher in the ranking in 2021."
According to the World Bank report, last year Ukraine had visible progress in some key areas, like obtaining building permits, connection to power grids, property registration, protection of minority investors, and international trade.
Despite the challenges that many renewable energy investors currently face, the green economy is among the top declared priorities of the current government. As a result of efforts towards this goal, the law on green bonds — a type of debt with environmental benefits— entered into force in Ukraine on July 1. The law aims to attract investors to pour money into eco-friendly companies.
First Deputy Head of the State Agency for Energy Efficiency Konstantin Gura, estimated that by 2030 Ukraine will be able to attract $36 billion in investments through green bonds.
"Green Bonds will be vital for Ukraine's green transition," said Gura.
Dynamics of CO2 emissions in Ukraine, 1990-2016, million tons per yearSource: Ukrainska Pravda
Meanwhile, back in the 1990s, Ukraine's economy was one of the most energy-intensive economies in the world. The worst situation was in metallurgy, where energy resources were responsible for 60% of the price of rolled products, according to the National Institute for Strategic Studies.
This indicator was more than twice higher than in western countries. Partly, it led to the industry crisis in Ukraine and poor profitability in the mid-1990s.
Following the global trend, Ukraine began to decrease the share of electricity generated by coal-fired power plants and attract more investments to build solar power plants and wind parks.
In 1991, the country generated 298 billion kilowatts of electricity, with 70% made at coal-fired thermal power plants. As of 2020, coal-fired electricity production dropped to 32%, in Ukraine's total production of 148 billion kilowatts. Meanwhile, renewables — something that was unimaginable in the early 1990's — made up 11% of total electricity last year, the Ministry of Energy reported.
Nearly half of electricity was produced by nuclear power plants. In 2020, the government decided to complete the construction of two power units of the Khmelnytskyi plant in the next five years. It will cost $ 3-3.5 billion for the state budget, three times cheaper than the cost of building new nuclear power units from scratch.
"It will be done in a very short time, significantly shorter than any place in the world during the construction of new nuclear power units," said Vitaly Onishchenko, ex-deputy head of the Nuclear Fuel Working Group.
Moreover, in 2019 Ukraine finally switched to a new model of the electricity market.
"The massive investments needed for Ukraine's green transition will be available only if its energy economy is reformed and markets are free to function," -an international energy expert  Edward Chow wrote in his opinion piece for Kyivpost.
Previously, power plants that produce electricity sold it to the state-owned company Energorynok and the price for electricity was set by the national regulator. Much lower prices for households were offset by higher tariffs for businesses. With a new market, the price is regulated by the market and the state is losing its monopoly.
"The reform of the Ukrainian electricity market has surpassed all reforms in the country's economic sector since independence," said Ivan Plachkov, chairman of the All-Ukrainian Energy Assembly.
Once being one of the most recognizable countries globally in metallurgy, Ukraine is still ranked among one of the top countries in steel production. Last year, Ukrainian plants produced 20.6 million tons of still while in 1991 the figure was more than twice higher.
The same downward trend touched the oil refineries: in 1991, the country processed 58.1 million tons of crude oil at six oil refineries while last year the number was 25 times lower, which were processed at the two remaining refineries.
A similar tendency was in natural gas production — 24 billion cubic meters in 1991 versus 20.2 billion cubic meters in 2020.
In order to have a more competitive gas market in the country, the government decided to unbundle the gas system two years ago, as well as allow a wholesale and retail market of natural gas.
"A transparent and competitive gas market is a guarantee of Ukraine's energy security and fair gas prices for Ukrainian consumers," said Serhiy Makogon, CEO of Ukraine's Transmission System Operator.
Wireless mobile telecommunications technology, namely 3G and 4G, has been developing at an incredible pace in Ukraine for the past seven years. The country was the last one in Europe in 2014, where key mobile operators — Kyivstar, Lifecell, and Vodafone — did not have 3G internet. Everything changed in 2015 when it was launched. The number of users skyrocketed up to 34 million people versus 2 million in the very beginning. It turned out that mobile clients heavily used the internet, so the monthly data traffic grew tenfold to 6-8 gigabytes per person.
According to a World Bank study, increasing Internet penetration by 10% in developed countries, the economy receives an additional 1-2% of gross domestic product.
"For developing economies, as in Ukraine, the impact is even higher," said Olena Minich, head of the digital economy department at the Economic Ministry.
    2. Drivers of economy
By the end of 2020, among key sectors of Ukraine's economy were agriculture, energy companies, metallurgy, and IT.
Equally driven by the global trend towards renewable energy sources and massive energy threats amid Russia's upcoming Nord Stream 2, Ukraine is switching its energy production from fossil fuels to green ones.
Dynamics of installed renewable energy capacities in Ukraine, megawatts
(solar, wind, small hydro power stations, and biogas)
Source: European-Ukrainian Energy Agency
The total amount of investments into renewables since 2008, when Ukraine introduced one of Europe's highest feed-in tariffs, has now reached $12 billion. The biggest inflow of green investments was during the past five years — $7.2 billion, including $3.4 billion in 2020 alone.
As a result, in 2019, Ukraine was ranked 15th globally among the countries that have invested in renewables.
«Over the past few years, Ukraine has managed to provide the preconditions for large-scale changes in the renewable energy sector and to embark on a gradual phaseout of coal-fired generation," Maxim Timchenko, CEO of the country's biggest private energy company DTEK,  wrote for Kyivpost.
According to the DTEK's strategy, the company sets the key goal to produce at least one-third of electricity from renewables by 2030 and by 2040 to become carbon neutral.
This year, the agricultural sector — a key sector in the country that generates 40% of foreign exchange earnings and 20% of GDP — has made a tectonic shift.
On July 1, Ukraine reopened its land market, lifting a nearly two-decade moratorium on the sale of agricultural land. In the first month, according to the Ministry of Agrarian Policy and Food, more than 5,300 hectares have already been sold.
Due to the moratorium Ukraine's economy, by various estimates, lost around $40-50 billion.
According to Prime Minister Denys Shmyhal, with the opening of a land market, the country expects to attract $10 billion in investment.
"It will give an important impetus to economic development," said Shmyhal on July 8, Ukrinform reported.
The booming IT industry is another Ukraine's strong sector. In 2021, the number of the country's IT engineers was already 213,000, 16% more than the year before, Interfax reported on July 14.
Export of products they've created reached $5 billion. During the 2016-2020 period the amount of income from exported products amounted to $16 billion, according to Andriy Yavorsky, the Vice President for Strategy and Technology at GlobalLogic.
"The impact of IT (in Ukraine) is growing every year and helps the country strengthen its position in the global technology market," he said.