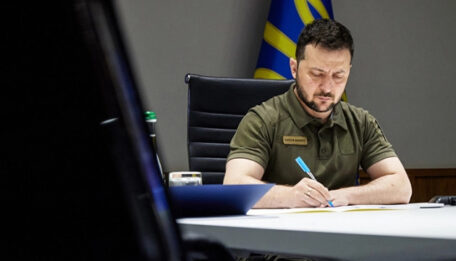 Thursday, November 24, 2022
President Zelenskyy signs Ukraine's State Budget for 2023 into law.
In the new budget, the real 2023 GDP growth forecast was adjusted to a more conservative 3.2% instead of the previous forecast of 4.6%, and the inflation forecast for 2023 has been reduced from 30% to 28%. More optimistic expectations for financial support from international partners have made it possible to adjust the hryvnia's exchange rate to the dollar. By the end of the year, it will be UAH 45.8 per dollar instead of the UAH 50 per dollar in the previous forecast. The state budget's revenues for 2023 are foreseen as UAH 1.330T, including general fund revenues of UAH 1.173T and special fund revenues of UAH 156B. The state budget deficit was also increased by UAH 17B, up to 20.6% of the GDP. Resources for national security and defense make up about 50% of the total budget. This is UAH 1.141T, or 18.2% of GDP.