President Zelenskyy met with Macron and Scholz, trying to convince them to deliver missiles and planes.
Friday, February 10, 2023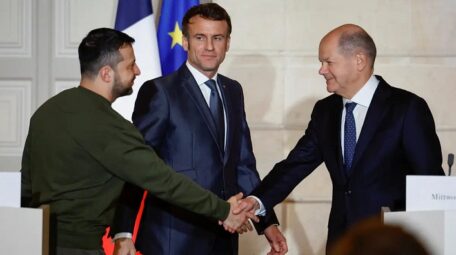 As Bild writes, the Ukrainian president convinced his French colleague and the German chancellor to provide Ukraine with combat aircraft and long-range missiles. "The sooner we get heavy long-range weapons, and our pilots get modern planes, the sooner Russian aggression will end," Zelenskyy said. Macron emphasized that Russia should not win this war. He assured Zelenskyy that Kyiv will receive as much French aid as needed. Scholz added that Ukraine belongs to the European family, and the EU summit should send a strong signal of solidarity with Kyiv. "We stand by Ukraine in its defense. The fact remains: Russia should not win this war," Scholz added.
Support UBN team