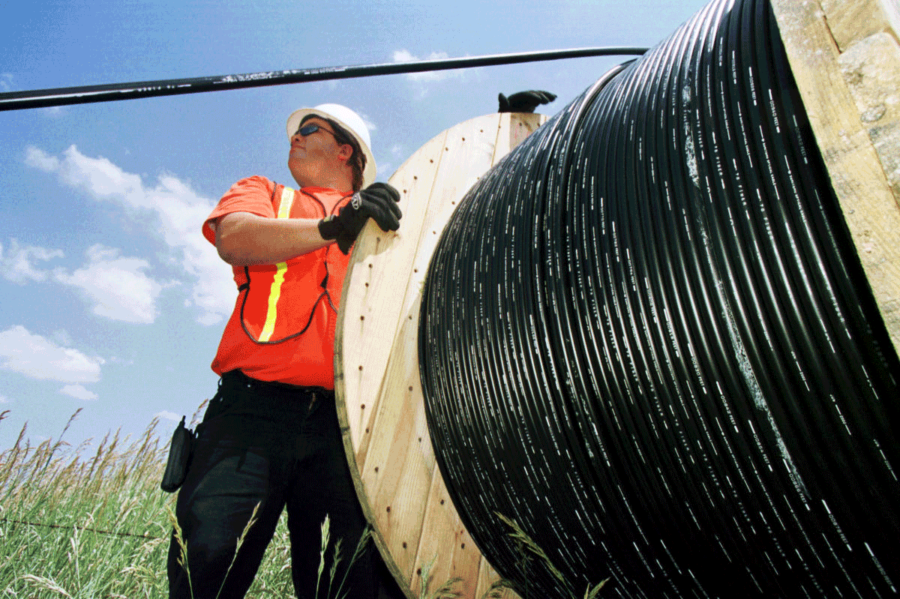 Tuesday, August 11 – Ukrtelecom plans to invest $110 million
$500 Million Planned Investments in High Speed Internet...Tax Breaks for Investment in Government-Controlled Donbas...China Gladiates for Zaporizhia Jet Engine Maker...Iran Says European Insurance Cos. Should Pay for Plane it Shot Down...
Ukrtelecom, the nation's largest Internet service provider, plans to invest $110 million to lay 50,000 km of fiber optic cable to bring broad band to 2.6 million rural Ukrainians by the end of 2022. The drive is part of a $200 million effort by Ministry of Digital Transformation to increase rural broadband connectivity from 65% today to 95% in 2024. Yuri Kurmaz, Ukrtelecom's CEO, says 8,000 rural clinics and 16,000 schools do not have broadband connections, reports Broadband World News.
Vodafone Ukraine says that within two years its LTE 4G network should reach 90% of Ukraine's population. By the summer of 2024 Vodaphone high speed network should cover "roads of international and national importance."
Kyivstar, plans to invest $180 million over the next two years to expand its 4G mobile Internet service to reach 90% of Ukraine's population, says Kyivstar President Oleksandr Komarov. In the last six week, Kyivstar has connected 765 settlements in western Ukraine, bringing 4G  Internet to 400,000 people.
To promote the economic revival of government-controlled Donetsk and Luhansk, the government is drawing up plans for a special status zone that would include major tax breaks and international arbitration for legal disputes. Prime Minister Shmygal tells RFE/RL the biggest incentives would be reserved for the "20-kilometer zone" to the west of the demarcation line. This line runs roughly 400 km northeast arc, from near Mariupol on the Sea of Azov, to the Luhansk border with Russia.
A "Donbas Economic Development Road Map" is to be submitted next month  to the Cabinet of Ministers, according to Oleksii Reznikov is deputy Prime Minister for the Reintegration of Temporarily Occupied Territories.  In a recent Atlantic Council Ukraine Alert Blog, he wrote  "Our objective is to create a special investment regime in the Ukrainian-controlled part of the Donbas.""We see the extension of international commercial arbitration rules to the region as an integral part of these plans. Additionally, the Ukrainian state should assume at least some of the insurance burden against the kind of political and military risks that are hard for investors to predict."
According to Oleg Ustenko, Presidential Advisor for economic issues,  the cost to rebuild the Donbas under Russian control would be $10 billion. Speaking to  Radio Donbas.Realii, an RFE/RL unit, he said that this would include donor money. The UN has fell far short in recent years in its campaigns for humanitarian aid to both sides of the line. Increasingly, Western donors funnel money into government controlled Donbas: a €64 million French loan for clean drinking water for Mariupol; a €25 million contract with Germany's KfW development bank for displaced people housing, and a €100 million World Bank credit to rebuild  infrastructure and revive farming in Luhansk oblast.
As rail freight volumes recover, Ukrzaliznytsia carried 25.2 million tons in July, only 3% less than the tonnage carried in July 2019, reports Rail.Insider news site. Volumes have increased steadily since May, the month when cargo hit "bottom," says Ivan Yuryk, acting CEO of the state railroad.
Ukrainian farmers have harvested 33 million tons of grain and legumes, one third of this year's forecast crop. Farmers have threshed 23 million tons of wheat, 87% of the forecast crop, and 8 million tons of barley, 90% of the forecast crop.
Ukraine's forecast bumper crop for corn may run into geopolitical barriers as the US makes record corn sales – totaling 3.7 million tons — to China, warns AgWeek, the Fargo, North Dakota-based news site. China made the record buys of US corn to comply with a Trump Administration drive for more balanced US-China trade. Although Ukraine traditionally ships 3.8 million tons of corn to China every year, "that might not be the case this year," warns AgWeek. China already has purchased enough corn to cover 80% of this year's needs.
Charges of "high treason" and a Presidential investigation surround a Chinese company's attempt to assert 75% ownership of a Ukrainian company that once was the largest manufacturer of airplane engines in the Soviet Union. Triggering the controversy, Beijing's Skyrizon announced last week that it has entered into a joint venture DCH Group, a powerful economic holding based Eastern Ukraine, to control Motor Sich. With the US government opposed to the Chinese purchase, Ukraine's Antimonopoly Committee has started what could be a 4-month review.
In a double barreled response, Wang Jing, Board Chairman of Skyrizon, and Alexander Yaroslavsky, the owner president of DCH, issued statements denouncing the government interference in the transaction.
"We are partners and strive to keep Motor Sich on Ukrainian soil," wrote Wang, whose company is based in Beijing. "It is Chinese investment that sustains the company's prosperity, saving thousands of jobs in the historic city…We are very sorry that, after five years, we have experienced only confusion and disappointment." Adding that "DCH will own more than 25% of the company's shares, which gives them the right to participate in the management of the Company and maintain its Ukrainian characteristics," he says: "We have an ambitious plan to achieve our long-term goal, which includes the infusion of significant investments into the Motor Sich company on the territory of Ukraine, in Zaporizhia, to maintain and increase the production capacity of the plant."
For his part, Yaroslavsky denounces as "state raiding" the government pressure on the investors in Motor Sich. From his base in Kharkiv, Yaroslavsky refutes press reports that key parts of the factory would be moved to China: "DCH Group is ready to use its experience and knowledge to ensure that Motor Sich develops and works for the benefit of Ukraine."  He warns that if the government stymies the joint venture, the future would be "filing of multimillion-dollar lawsuits by the Chinese side in international courts and a significant cooling of bilateral relations with China as Ukraine's main trading partner."
Iran will not compensate UIA for its jet Tehran shot down Jan. 8 because the Boeing 737-800 was insured by European firms, the head of Iran's Central Insurance Organisation said Monday, Reuters reports from Tehran. "The Ukrainian plane is insured by European companies in Ukraine and not by Iranian companies," said Gholamreza Soleimani, according to the Young Journalists Club news website affiliated with state TV. "Therefore, compensation should be paid by those European companies." A new Boeing 737-800 costs about $100 million. Separately, Iran is negotiating to pay compensation for the 176 passengers killed when an Iranian Revolutionary Guards air defense unit hit the civilian jet with two Russian-made surface-to-air missiles.
From the Editor: The foreign aid now channeled into Ukraine-controlled Donbas is praiseworthy. Ideally, it will be followed by private investment, most likely farmers reclaiming their fields. Gradually, good roads, decent salaries, modern shopping and fast mobile internet will make the case for Ukraine. Think West Germany-East Germany, South Korea-North Korea. But why should international donors fix Russia-controlled Donbas? When did the West ever give development aid to Moscow's Frankenstein creations? As Colin Powell would say: 'You broke it – you fix it." With Best Regards Jim Brooke