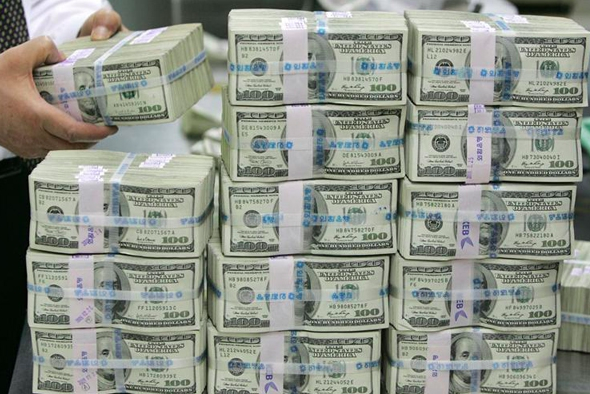 With Russia-Ukraine gas transit talks stretching into today, Gazprom showed its seriousness Friday by paying Naftogaz $2.9 billion. The money was paid in full – principal plus 10-months interest — for the Stockholm arbitration award of Feb. 28. "Yes, Ukraine received $2.918 billion from Gazprom in pursuance of the Stockholm arbitration decision," Yuriy Vitrenko, Naftogaz executive director, wrote Saturday on Facebook.
In tandem on Friday, Ukraine's Cabinet approved an agreement with Gazprom to settle an unrelated antitrust dispute. In that case, a Kyiv court in 2017 imposed a $7.2 billion fine on Russia's state gas company. In Friday's Cabinet decree, terms of the settlement were not disclosed.
In Vienna, Russian and Ukrainian teams negotiated Saturday and Sunday the details of a 5-year, 225 billion cubic meter gas transit pact.  Late Saturday, Naftogaz CEO Andriy Kobolev reported progress, but added: "The struggle is for every comma." A key sticking point is a tariff. Ukraine wants to retain transit fees near the current level of $3 billion a year. The current 10-year transit contract expires at 10 a.m. on Wednesday.
Removing one hurdle, the EU has certified the Gas Transmission System Operator of Ukraine, a Naftogaz spinoff company created this month. "The newly created operator of the gas transmission system of Ukraine is separated and configured to work in accordance with EU law," Maroš Šefčovič, the lead EU negotiator on the gas transmission talks, tweeted Friday. In recent days, Ukraine's new gas line operator signed an interconnection agreement with pipeline operators of Hungary, Moldova, Poland, and Romania. Now, it is talking with Slovakia's Eustream and Russia's Gazprom.
Russia's Energy Minister Alexander Novak predicted Nord Stream 2 gas pipeline will be launched by the end of 2020, Deutsche Welle reported Friday from Moscow. The work can be completed by a Russian pipelaying ship, Academician Chersky, he said. The vessel is currently in Nakhodka, Russian Far East, 12,000 nautical miles from the Nord Stream worksite in the Baltic. It will take two months to move the ship to the Baltic and more time to equip it to finish the job. Allseas, a Swiss company, stopped work Dec. 20, immediately after President Trump signed into law a bill sanctioning the Ukraine-bypass line.
Easing tensions between Russia and Ukraine, 200 prisoners were exchanged Sunday between Ukraine and the Russia-controlled sections of Donetsk and Luhansk. Ukraine sent 124 people to the Russia-controlled Donbas and received 76 prisoners in return. Four months earlier, in a direct Russia-Ukraine prisoner swap, each side repatriated 35 prisoners. The exchanges are seen as a step toward implementing a real cease-fire in 2020.
Intervening aggressively to weaken the hryvnia, the central bank bought half a billion dollars net Saturday. Coupled with Thursday's net purchase of $700 million, the National Bank of Ukraine's net currency purchases in 2019 were $8 billion, a record high since 2007. With last week's purchases, Ukraine's foreign currency reserves are about $23.5 billion.
The official exchange rate set through Jan. 7 is 23.69 hryvnia to the dollar. This is a 15.5% gain over the 28.03 rate of Jan. 10, 2019.
No economist forecast in January that the hryvnia would end 2019 as the fastest appreciating currency against the dollar in the world. But this does not stop the prognosticators from trying again.
Oleg Pendzin, a financial analyst, tells UNIAN: "Surely we will see a certain rollback of the dollar, a drop in the hryvnia. At least to the level of 27 hryvnias per dollar, since this figure is actually in the budget of 2020." Another financial analyst, Alexander Savchenko, forecasts a more modest weakening of the hryvnia: "I expect the dollar to strengthen around January, insignificantly, to the level of 24-25 hryvnias per dollar."
By contrast, experts interviewed by Interfax-Ukraine predict that the hryvnia will continue to strengthen in the New Year. Oleg Kurinnoy, Credit Dnepr Bank's Treasury Director, says: "With the continued demand for government bonds from non-residents, the rate can not only stabilize but also begin to strengthen."
Natalia Shishatskaya, Forward Bank's Head of Treasury, agrees, saying: "Given the budget deficit, the Ministry of Finance is likely to continue to place OVDPs [government bonds] at auctions next year, which means that the inflow of currency from non-residents for the purchase of government securities will remain one of the main factors affecting the strengthening of the hryvnia."
Ukraine is preparing 530 state companies for privatization, with auctions to take place on ProZorro in 2020, Prime Minister Honacharuk wrote Friday on his Telegram account. With the sales expected to draw about $500 million, these companies are between the 'small privatizations' — $10,000 – and the big multi-million dollar privatizations that are expected to draw political resistance. Ukraine has about 3,500 state companies.
With Brexit expected to take place in 2020, a UK-Ukraine free trade deal is "75% ready," Ukraine's Ambassador to the UK, Natalia Galibarenko, tells Ukrinform. "This is a matter of several months," she said of a document that would regulate trade between the two nations through the 2020s. Some negotiations revolve around extending British visa-free access to Ukraine, which expires next December with the end of Britain's transition period. In the spirit of reciprocity, the ambassador wants visa liberalization for Ukrainians visiting the UK
Ireland plans to open an embassy in Kyiv in 2020, reports Ukraine's Foreign Ministry. The timing and location was decided at a recent meeting between Simon Coveney, Irish Minister for Foreign Affairs and Trade, Vadym Prystaiko, Ukraine's Foreign Minister.  Dublin-based Ryanair started flying three times a week between Dublin and Kyiv Boryspil.
With the Boryspil express train to Kyiv increasingly popular, Ukrzaliznytsia is doubling capacity during peak hours, running a 3-car train with 170 seats between the capital and the nation's busiest airport. From 9 am to 6 pm, the new train will supplement service by the existing one-car, self-propelled train. With passenger flow topping 1 million in the first year, Evhen Kravtsov, CEO of the state railroad, is studying electrifying the 35 km route.
Lease tenders for restaurants, duty-free shops, and ATMs at Boryspil are to go through ProZorro, Infrastructure Minister Vladislav Krykliy, tells the Center for Transportation Strategies. "I definitely want ProZorro to have all our leases and sales next year," he said after a Ministry meeting on the issue Thursday. "For aviation, I want McDonalds to go to Boryspil airport. And they enter only when everything is super transparent."
From the Editor: It's forecast season again. Keep in mind: last December, no one predicted the hryvnia appreciating by 15.5% against the dollar, inflation falling to 5%. and growth rising topping 4% for two quarters. Oh, well. Forecasting a national economy is a bit like forecasting the weather. There are unknown events: the Ze euphoria boosting retail sales by 10%; Clearstream helping to inject $4 billion in foreign money into Ukrainian government bonds; wage remittances boosting construction by 20%; low gas prices and a strong hryvnia driving down inflation; and, oddly, Russia paying a fine. Looking ahead, remember: Ukrainian economists feel safe predicting: 'Cloudy with a chance of rain.' With best regards, Jim Brooke jbrooke@ubn.news