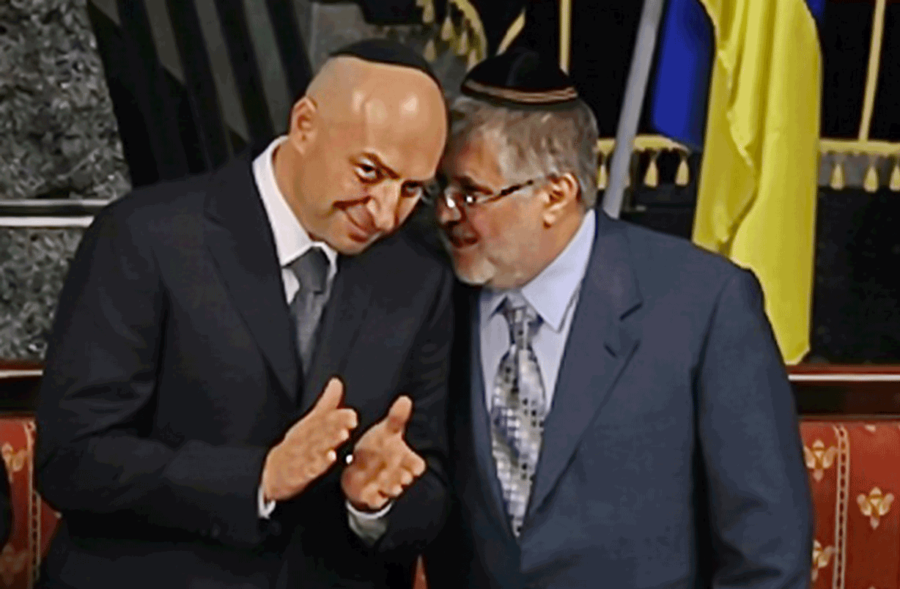 Friday, August 7
US Moves Against Kolomoisky...Norway's NBT Invests €1.6 billion in Ukraine Wind...China Looks at Ukraine Hydro...After Beirut, Controls Tighten on Nitrogen Fertilizers...Dutch, Koreans Invest in Mykolaiv Port...Good Investment: Modern Grain Silos...
The US Justice Department moved yesterday to seize commercial properties in Kentucky and Texas from Igor Kolomoisky and his business partner, Gennadiy Boholyubov, reports The Washington Post. In a civil forfeiture complaint, the government accused the duo of stealing billions from PrivatBank, and laundering much of the money in the US. "The men basically used [PrivatBank] as a personal account to build a business empire in the United States," the Post writes, citing the Justice Department. "They requested money from PrivatBank — which they always received because they were owners — then moved the money through a vast network of companies to 'thoroughly disguise their nature, source, ownership, and control,' the Justice Department alleged."
The civil asset forfeiture cases seek to seize a 19.5-acre office park in Dallas and the PNC Plaza building in Louisville, Kentucky. The Justice Department alleges that Kolomoisky and Boholyubov used PrivatBank money to buy 5 million square feet of commercial real estate in Ohio, steel plants in Kentucky, West Virginia and Michigan, a cellphone manufacturing plant in Illinois, and commercial real estate in Texas.
Separately, U.S. attorney's office in Cleveland is investigating Kolomoisky for possible money laundering. As a part of that case, the FBI raided on Tuesday two Kolomoisky offices in the US, one in Cleveland and one in Miami. Last year, Kolomoisky was the main media backer of Zelenskiy in his ultimately successful presidential campaign.
Timothy Ash ties the US Government moves this week to the removal last month of the 2014-2019 bank clean up team from National Bank of Ukraine: "The USG looks like it has seen enough in terms of risks of back tracking on the banking reform agenda and is taking matters into its own hands [with] this civil forfeiture case being launched against Kolomoisky."
Norway's NBT plans to invest €1.6 billion in Ukraine over the next year, Joar Viken, the company CEO, told President Zelenskiy yesterday. NBT is investing €1.2 billion to build Zophia, an 800 MW wind farm in southern Zaporizhia, on the northern shore of the Azov. The company also plans to invest €140 million to upgrade local power systems. In addition, NBT is spending €300 million to build with H2LLC a 200 MW hydrogen production plant, also in Zaporizhia.
China Gezhouba Group Corporation is interested in building hydro projects in Ukraine, Ukraine's Ambassador to China, Serhiy Kamyshev said after meeting the company's chairman Lyu Zexiang. The contractor for the Three Gorges Dam, the world's biggest hydro power producing dam, Gezhouba is aggressively moving abroad, seeking to raise international contracts to half of it revenue.
In the wake of the massive ammonium nitrate explosion in the port of Beirut, Ukraine, a major importer and consumer of fertilizers, is to tighten up its handling of this potentially hazardous product. President Zelenskiy ordered Prime Minister Shmygal yesterday to take measures to prevent 'manmade disasters' from the mishandling of "fertilizers, which, due to their intrinsic properties, can pose a threat to the life and health of people." Last year, Ukraine imported about 500,000 tons of ammonium nitrate, largely by sea.
Andrey Stavnitser, CEO of TIS, a major Odesa region port terminal, said his father, Aleksey, stopped handling ammonium nitrate in 2008 for safety reasons. Andrey Stavnitser wrote on Facebook that TIS used to transship 3 million tons a year, sometimes storing as much as 200,000 tons at one time. The Beirut explosion is traced to the storage of 2,750 tons in a warehouse.
Ukraine's largest nitrogen fertilizer producer, Dmytro Firtash's Ostchem Holding, released a statement yesterday saying the company follows "international standards" for safety and production. "Important point: the most dangerous is not so much production as storage of so-called of bulk ammonium nitrate," says the press release. "Almost 95% of ammonium nitrate at our plants is stored separately in hermetically packed special soft containers made of polypropylene fabric big bags, which significantly reduces its explosiveness."
Renaisco BV, a Dutch subsidiary of Glencore International, has won Ukrainian government permission to acquire a majority stake in Avery, one of Ukraine's leading vegetable oil exporting complexes. Owned by Kyiv's OREXIM and located in the port of Mykolaiv, Avery has a tank farm of 40 tanks, an annual transshipment capacity of 1.6 million tons, and enough berths to load three ocean going vegetable oil tankers at the same time.
South Korea's export credit agency, the Export-Import Bank of Korea, is providing $36 million in financing to a joint venture between Posco International, Korea's largest trading company, and OREXIM on the MMW grain terminal in Mykolaiv. The joint venture used the original financing to expand MMW,  increasing its annual  grain storage capacity to 2.5 million tons.  CMS Cameron McKenna Nabarro Olswang advised on the cross border deal.
Over the last decade, 14 million tons of simultaneous storage capacities have been commissioned in Ukraine, raising the total to 51 million tons, about half of this year's forecast crop. About one third of Ukraine's granaries are modern metal silos holding up to 100,000 tons. The rest are largely reinforced concrete leftovers from the collective farm era, reports Elevatorist news site.
Most of the new construction has been in central Ukraine, in five oblasts responsible for 35% of the nation's grain production: Poltava, Vinnitsa, Chernihiv, Cherkasy and Kirovohrad. "With climate change, the elevator potential in the western and northern regions increases, where grain production is currently increasing," says Alexander Lavrinchuk, an elevator business expert.
KMZ Industries, grain storage and processing equipment manufacturer, expects sales to increase by 60% yoy, the company tells Interfax-Ukraine. With 42 projects underway, Valery Kalashnik, company general director, attributes the growth to the high level of profitability of investments in the storage and processing of grain.
Sales of new commercial vehicles, a key indicator of business activity, were up 11% in July yoy. The July figure of 1,163 was 53% higher than June, reports Ukravtoprom.
Planning to build 2,900 km of cement roads by 2025, Oleksandr Kubrakov, head of Ukravtodor argues: "Concrete roads should be cheaper in Ukraine because we import 60% of bitumen, but cement is domestic." With temperatures Kyiv to top 28C again today, city authorities are banning the entry of heavy trucks from 10 a.m. to 10 p.m. Heavy trucks damage asphalt in hot weather.
From the Editor: Someone was thinking beyond the annual bottom line. Odesa's TIS port terminal once made 30% of its money importing ammonium nitrate. Andrey Stavnitser, CEO of TIS, writes on Facebook: "My father, who then ran the company, instructed me to stop working with saltpeter for safety reasons. When a very small amount of diesel fuel gets in – and there is enough in the port – the saltpeter turns into an explosive igdanite. And we also have a coal terminal nearby…If something happened, it would be Hiroshima. Alexey Mikhailovich Stavnitser was a very wise, prudent man. Yesterday was the day when I again mentally addressed him and said 'thank you.'" With Best Regards Jim Brooke