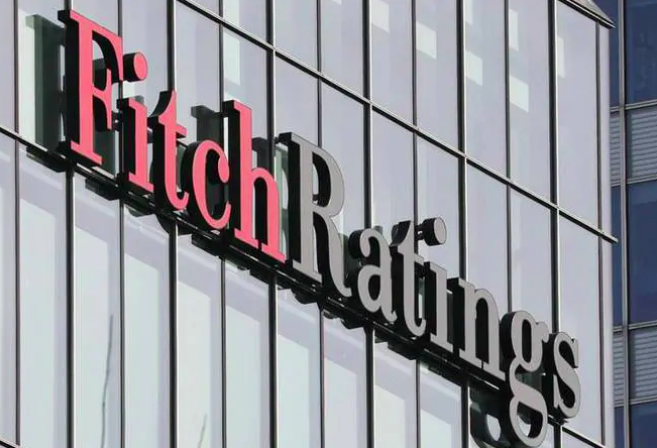 Monday, September 9
As IMF Flies In, Fitch Upgrades Ukraine Bonds...Gov't to Open Debt Agency...Ukraine's GDP Warrants: 'World's Best Performing Debt Instrument'....US Bond Broker BCP Opens Ukraine Office...With Grain Exports Surging, Cargill Opens $100 Million Grain Terminal...SAS To Return to Ukraine with Oslo-Kyiv Flights
With an IMF team arriving in Kyiv this week, Fitch has upgraded its rating of Ukraine's foreign- and local-currency debt to B from B-, with a positive outlook. The New York-based rating agency praised the new cabinet of "technocratic, pro-Western, and reform-minded ministers." "Fitch expects further improvements in creditworthiness," the agency says, citing a series of macroeconomic indicators, many inherited from the Poroshenko government.
Fitch forecasts:
The government debt to GDP ratio should decline to 48% at the end of this year, and to 44% in 2021. In 2016, this was at a record high for Ukraine — 69%.
International reserves should rise by $1 billion this year to $21.8 billion, and rise further, to $22.4 billion, in 2021.
Inflation should fall to 8.5% in 2019 and hit 5.7% in 2021.
Although Fitch predicts Ukraine will reach a multi-year agreement with the IMF this fall, it warns: "Risks to the program stem from Ukraine's weak track record in completing previous programs, potentially negative judicial rulings that lead to reform reversals, for example in relation to PrivatBank, execution risks after reforms are approved in parliament due to capacity constraints, and potential fragmentation of the President's Rada representation in the event of policy differences over policy priorities or influence of still powerful vested interests."
Ukraine's new Prime Minister, Oleksiy Honcharuk, greeted the upgrade, writing on Facebook: "Political will to implement difficult and necessary reforms is one of the reasons for improving Ukraine's position in the ranking…We will also continue our cooperation with international organizations and partners. Increasing investment attractiveness is one of the top priorities of our government's team. Technocratic, pro-European and reform-oriented."
In an effort to depoliticize foreign debt, the Finance Ministry plans to follow European practices and create a Debt Agency. A bill is to be submitted to the Rada to create this special status executive agency, answerable to the Finance Ministry.
Ukraine's GDP-linked warrants "must be the world's best performing debt instrument this year," writes Timothy Ash, a senior sovereign analyst for Blue Bay Asset Management in London. Their price has gone from 58 cents in January to just below 95 cents today, with forecasts taking them up to $1.50. The warrants kick in if Ukraine's 2019 GDP growth goes over 3%, a highly likely event. With complicated payout formulas, the warrants are destined to prove costly to Ukraine in the 2020s. The solution will be for the Finance Ministry to start to buy backs and swaps. Ash writes: "With price appreciation, the cost of buybacks is increasing all the time – indeed from $1.8 billion back in January to something close to par now, or close to $3.5 billion.
BCP Securities, the Greenwich, Ct.-based broker of emerging market bonds, opens its Ukraine office today in Kyiv's Leonardo Business Center. Founded 30 years ago by Randall Pike, the BCP originates bonds, trades them on the secondary market, and provides independent research until their maturities. Over the last 20 years, BCP helped raised $15 billion for corporate bonds, largely in Mexico, Brazil, and Argentina. Starting in 2014, BCP has had an annual Ukraine corporate bond conference in Kyiv. The managing director of BCP Ukraine will be James Brooke, editor of the Ukraine Business News.
Since the July 1 start of the grain marketing year, Ukraine has exported 10 million tons of grain – 47% more than in the same period last year. Ukraine has exported 6.1 million tons of wheat, 2.2 million tons of barley, and 1.7 million tons of corn, according to the State Service for Food Safety and Consumer Protection. In addition, 1.8 million tons of oilseeds have been exported – 50% more than this time last year. After good weather in June and July, the U.S. Department of Agriculture raised its forecast for Ukraine's grain exports to 54 million tons – 8% more than last year.
On Friday, Cargill and MV Cargo officially opened their new $100 million grain terminal in the nation's busiest port, Pivdennii (Yuzhne). Built in two years, the terminal is capable of handling 5 million tons of grain a year – 10% of Ukraine's total exports last year. Called 'Neptune,' the terminal features a one-time storage volume of 290,000 tons – 14 silos with 15,000 ton capacities, and a concrete floor warehouse capable of holding 80,000 tons, reports Elevatorist.com. Capable of loading a Panamax ship in two days, the terminal has a private 420 meter long pier, with a depth of 16 meters. Capable of handling three different crops at once, the terminal can take 300 rail hopper cars a day and an equal number of trucks.
Cargo handling at Pivdennii hit a record in August, the second record month in a row, the port administration tells the Center for Transportation Technologies. Cargo hit 5.4 million tons, up 55% y-o-y. From January through August, at Pivdennii, the nation's biggest Black Sea port, ore handling was up 53%, to 16.5 million tons, and grain shipments were up 61%, to 7 million tons.
Cargo on the Dnipro was up 29% through August, y-o-y, to 6.9 million tons. Last year, Dnipro cargo was up 22%, to 10 million tons. By Nov. 1, President Zelenskiy wants to pass an inland shipping bill that will restore the Dnipro to its past role as the Mississippi of Ukraine. In the late Soviet era, the river carried 65 million tons a year.
Nearly 75,000 tourists have visited Chornobyl this year, reports the State Agency for Management of the Exclusion Zone. Boosted by the HBO series in the spring, the nuclear disaster site has received 74,671 visitors through the end of August. In August, almost 500 tourists a day traveled two hours north of Kyiv to visit the site. With interest high, the Agency is approving new water, air, and land routes through the Exclusion Zone.
French airline Aigle Azur stopped all flights between Paris Orly and Kyiv Boryspil on Saturday as part of the discount airline's bankruptcy filing. The airline only started flying here in April. It is unclear if unused tickets will be reimbursed. The 73-year-old airline is accepting take over bids from shareholders or competitor airlines
Scandinavian Airlines, or SAS, returns to Ukraine next month, launching direct flights between Oslo and Kyiv Boryspil on Oct. 26. By eliminating stopovers, SAS will cut the flight time in half, to 2h20min. Prior to 2014, SAS flew between the two capitals. With Ukraine's visa-free regime extending to Norway, SAS hopes to generate enough tourist and business travelers to justify its schedule of three flights a week. UIA flies from Kyiv Boryspil to three other Nordic capitals – Copenhagen, Helsinki and Stockholm. Wizz Air flies from Kyiv Sikorsky to two Danish cities – Billund and Copenhagen.
From the Editor:  The Ukraine Business News Monday to Friday morning news email continues unchanged while I take on new responsibilities with BCP Securities. To help me with the workload, Li Luo starts this week to work on research. He is reachable at: luolipi@gmail.com. With best regards, Jim Brooke – jbrooke@ubn.news.