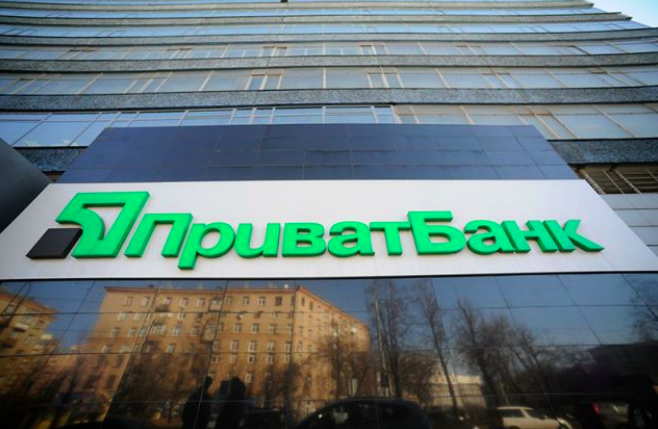 The threat of a return of PrivatBank to its former owners and an end to the independence of the central bank were the two main worries of the IMF team which left Friday without reaching a staff agreement on a new program. "PrivatBank and NBU independence," Kateryna Roshkova, deputy governor of the National Bank of Ukraine, told reporters Friday at ICU's Ukrainian Financial Forum. Noting that the IMF had 37 meetings with the central bank during two weeks, she said their concern over "liquidated banks applies not only to PrivatBank, but also to other large bankrupt banks, whose owners have big issues with the state."
The IMF end of mission report says the team "underscored the importance of central bank independence and safeguarding financial stability, as well as the need to make every effort to minimize the fiscal costs of bank resolutions." Both sides said talks will continue. Rozhkova predicted that an agreement will be reachable by the IMF Annual General Meeting in Washington in mid-October.
From London, Timothy Ash is less optimistic, writing: "My sense here is that the Fund will want resolution of the Privatbank issue in the courts and/or a much firmer statement…in support of the nationalization of Privatbank and central bank independence…by Zelenskiy himself before signing on the dotted line for a new Extended Fund Facility. At the moment Zelenskiy seems far too close to Kolomoisky and his team for everybody's comfort."
Two resignations hit Ukraine Friday, damaging its international standing.
Kurt Volker, the White House's special envoy to Ukraine, resigned after he was tangentially caught up in the Trump-Biden affair. During his two years as President Trump's point man for Ukraine, Volker, executive director for the McCain Institute for International Leadership, was an outspoken advocate for aid to Ukraine and for a united Western front in dealing with the Kremlin.
Oleksandr Danyliuk, the US-trained former Finance Minister, submitted his resignation as head of Ukraine's National Security and Defense Council. The resignation was submitted before  Zelenskiy traveled to New York, and the president has yet to accept it. Last spring, Danyliuk, a multilingual free market advocate who has worked in New York and London, generated key international investor confidence for Zelenskiy, a comedian little known outside of Ukraine and Russia. A strong advocate of the Dec. 2016 privatization of PrivatBank, Danyliuk opposed the rise of oligarch Kolomoisky, and his former lawyer, Andriy Bogdan, who is now Zelenskiy's chief of staff.
Timothy Ash writes: "Unless Danyliuk gets a bigger job, with oversight over the economy/finance and banking portfolios, with decision making ability over Privatbank, he is out."
Meanwhile, Valeria Gontareva, the former governor of the National Bank of Ukraine in self-exile in London, is not going away quietly. Over the weekend, Gontareva received a hospital visit from former President Poroshenko. By closing half of Ukraine's banks in the 2014-2015 financial crisis, Gontarev made many enemies in Kyiv. Over the last month, her house and family car in Kyiv were burned by arsonists,  her apartment was ransacked by 'police', and a car ran over her foot in London. Diane Francis, editor of Toronto's National Post,  writes on the Atlantic Council Ukraine site: "Gontareva said she has met 40 or 50 times with Kolomoisky over the years and each time was threatened."
S&P Global upgraded Ukraine's sovereign debt on Friday to B from B-, following a similar upgrade three weeks earlier by Fitch. "The country's economy is recovering and the debt-to-GDP ratio is declining," wrote Standard & Poor's. "The agency notes that Ukraine should maintain access to domestic and international capital markets, which will allow the country to repay its commercial borrowings through 2020."
Prime Minister Honcharuk wrote of the S&P upgrade on Facebook: "Confidence in Ukraine in the world is gradually being restored…This means cheaper resources and potentially lower debt servicing costs."
Ukraine plans to place only hryvnia bonds this fall, suspending auctions of dollar and euro-denominated bonds, Yuriy Butsa, the government's representative for public debt management told ICU's Ukrainian Financial Forum."Our goal in the future is to switch to exclusively hryvnia borrowing in the local market," he said, noting that half of the funding this year was in hryvnia. With the government needing only $2 billion to get through this year, it will also suspend issuing five-year bonds, he said. Instead, the weekly Tuesday auctions will be for 1-2-3-year bonds.
To sell more hryvnia bonds and to expand the international investor base, the Finance Ministry will offer government bond auctions via Bloomberg's Auction System. "Improved transparency and investor awareness should have a positive impact on the expansion of the investor base, and increase the share of national currency in the state debt," Butsa, the Public Debt Commissioner, said in a statement posted Friday on the National Bank of Ukraine website Nicholas Bean, Bloomberg's Global Head of Trading Venues said: "Bloomberg's solution provides an optimal, cost-effective and secure way to manage operations for primary markets for issuers who would otherwise have to conduct a manual process." No start date was given.
Priority for rail investment should be: unblocking bottlenecks at the Black Sea ports, building logistics terminals at the western rail hubs for exports to the EU, and buying new locomotives. These are from the five-year, $10 billion investment plan set out by Anton Sabolevsky, Ukrzaliznytsia director of strategic development.  Talking to KM, the Cabinet of Minister's information site, he said public concessions to private companies to run rail stations have "very high payback potential." The government plans to divide the state railroad into three companies: passenger, freight and infrastructure.
Ukrzaliznytsia is doubling its rail purchases – to 70,000 tons in 2020 – to upgrade 507 km of track next year. Despite this massive purchase, probably from Metinvest's Azovstal plant in Mariupol, the track only amounts to 2.5% of the state railroad's massive 20,000 km network. Earlier this year, the railroad closed 1,857 km of track due to poor conditions and low levels of freight. Despite these closures, speed limit warnings have grown by 35% over the last two years, to cover 339 sections of track, reports the Center for Transportation Strategies.
From the Editor: For the upcoming Central and Eastern Europe investors conference in Prague,  early-bird registrations end this Friday. Scheduled for October 16, the one-day conference is dedicated to Private Equity and Venture Capital. UBN is a media sponsor. For more information, check the conference website. Best Jim Brooke – jbrooke@ubn.news.