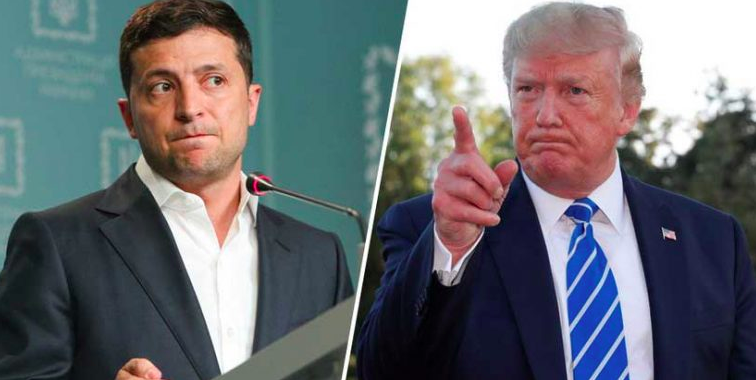 Monday, September 23
Trump-Zelenskiy to Meet in NY...Ukraine Open to Buying Gas from Russia, at Market Prices...Ukraine Easing Restrictions on Petty Trade with Russia-Controlled Donbas...Green Energy Rules Not to Change...20% More Kyivstar Users Traveled to EU Last Summer
Presidents Trump and Zelenskiy are to meet for the first time on Wednesday in New York. The meeting comes as US news sites are filled with reports of Trump's pressure on Zelenskiy to investigate Democratic presidential candidate Joe Biden's activities in Ukraine. The Washington Post reports from Kyiv: "Ukrainian leaders are trapped in the middle of a very Washington firefight…and are searching for a way to escape."
Zelenskiy promised leaders of the visiting IMF team Friday "my full support for structural reforms in the economy, independence of the National Bank and the comprehensive investigation of abuses in the banking sector." In the statement posted on the presidential website, Zelenskiy did not specify which banking abuses. Ihor Kolomoisky, the president's main media backer, is suing the government to reverse the 2016 privatization of his bank, PrivatBank, the nation's largest bank.
Reviewing President Zelenskiy's meeting two weeks ago with Kolomoisky and the series of attacks on Valeria Gontareva, former central bank governor, Timothy Ash writes from London: "Who does Zelenskiy work for and what does he ultimately want? Is he actually a Servant of the People…or does he still feel that he owes some kind of debt to oligarchs who perhaps helped him with his election campaign – in that case, he would be Servant of the Person."
By the end of this year, Ukraine intends to have in place EU-standard legislation that will allow European companies to buy gas from Russia at Ukraine's eastern border. "By the end of this year, all the necessary changes can be made," Naftogaz CEO Andriy Kobolyev told reporters in Brussels on Friday, the day after Russia-Ukraine-EU talks were held to renew the gas supply contract. With talks set to resume Oct. 20, Ukraine and the EU are pushing Russia for a 10-year contract with Ukraine's new pipeline company, stipulating a minimum flow of 60 billion cubic meters. Last year, 87 billion cubic meters of Russian gas flowed through Ukrainian pipelines to the EU and Moldova.
Ukraine is open to buying gas directly from Russia if the prices are fair market prices, Ukraine's new Energy Minister Oleskiy Orzhel told reporters in Brussels Friday. Currently, Ukraine uses Russian gas, but buys it from European companies, largely at the Slovakia hub. By the expected mid-October start of the heating season, Ukraine plans to have 21 billion cubic meters in storage.
Liberalization of petty trade and payment of pensions in the secessionist areas are parts of the "Zelenskiy formula" for winning the hearts and minds of people living in the Russia-controlled part of the Donbas, Ukraine's new Foreign Minister Vadym Prystaiko tells Evropeiska Pravda. "We do not cancel the blockade," he said referring to ban on major trade.
More coal from Colombia arrived last weekend at Pivdennii (Yuzhne) port. Cut off from coal mines in the Donbas, DTEK is importing coal from Colombia, a one month, 6,500-mile voyage from the Caribbean to the Black Sea. With the latest shipment of 73,000 tons, DTEK has received move than half the 400,000 tons of Colombian coal contracted through October.
Almost one-third of next year's state budget will go for servicing and repaying Ukraine's public debt, Finance Minister Oksana Markarova told the Rada Friday. By the end of 2020, Ukraine's debt to GDP ratio is to fall to 46.7%, she said. The draft budget is based on 3.3% GDP growth, slightly higher than the forecast for this year.
After four years and $75 million in investment, Biopharma, a manufacturer of blood preparations, opened Friday a German-designed fractionator plant in Bila Tserkva, 100 km south of Kyiv. Part of Biopharma's ambition to become one of the world's top five blood producers, the EU-equipped plants is capable of processing up to 1 million liters of plasma a year. Investors include Vasily Khmelnitsky, Horizon Capital, and Western NIS.
Installed renewable energy capacity should increase this year by 63%, to 5.4 gigawatts, according to the National Commission for Energy, Housing and Utilities Services Regulation. So far this year, 1.3 gigawatts has already been installed. The cost of green energy this year will be $1.1 billion, according to the Commission.
Solar and wind investors should not fear the Zelenskiy administration will change the rules of the game on green-energy rates, Alain Pilloux, EBRD vice president for banking, told reporters Thursday. He said: "We received yesterday assurances by the Presidential administration that the legislative regulatory framework will remain stable, which means no reduction in the feed-in tariffs."
Ukraine will reach the world's top ranks for data discovery, or extraction of actionable patterns from data, promises Mykhailo Fedorov, Ukraine's new Minister of Digital Transformation. "More and more businesses are based on open data," Fedorov told the Open Data Forum in Kyiv on Friday. "Our goal is to make the data 100% open."
The new State Customs Service will make public all information that does not violate commercial secrets, Maksym Nefyodov, the agency's head told the Open Data Forum."We are submitting a bill to open anonymized data at the customs. We want to open all the information without violating, of course, commercial secrets." To prepare, he said Customs will complete an IT audit by the end of this year.
Five Ukraine agro-businesses – including Kernel and UkrLandFarming — lease more farmland than the government's planned 0.5% nationwide limit for land ownership, according to the Leibniz Institute of Agricultural Development in Transition Economies. Noting that only 4% of Ukraine's 41.5 million hectares of farmland can now be bought and sold, Leonid Bershidsky writes in Bloomberg of Zelenskiy's draft bill for a land market: "This is Europe's last farmland frontier, and the fight over it is going to be messy." Economy Minister Timofey Milovanov writes on Facebook: "I call on the entire society to watch who will become landowners. That's important: It's not the law that protects, it's a society that protects."
Last summer, 20% more Kyivstar subscribers visited the EU than during June-August 2018. Overall, the number of Kyivstar subscribers using international roaming was up 13% last summer. The most popular countries for Kyivstar subscribers last summer was: Turkey; Poland; Italy; Spain; and Germany.
From the Editor: Wirtschaftsnachrichten der Ukraine auf Deutsch, or Ukraine Business News in German, was the topic of a stimulating coffee I had Saturday morning with Sven Henniger, the Vienna-based translator of the UBN. In Kyiv for the 30th anniversary of his company, Henniger Winklemann Consulting, Sven emails the UBN in German every week to 1,000 German-speaking investors who follow Ukraine from Austria, Germany, and Switzerland. Share the Wirtschaftsnachrichten with your German-speaking friends: https://ubn.news/de/  Best Jim Brooke – jbrooke@ubn.news.